It still can sound a little weird to people that in my part of the world, marriages get arranged.
You may wonder, 'marriages, of all things!?' But that is how it is in India.
An arranged marriage is exactly how it sounds: it refers to a marriage where the first meeting between the prospective couple has been organised either by parents, by a third matchmaker or by a matchmaking website. Usually, it means parents, and their approval, have a pivotal role as they play Cupid for their children.
I am in an arranged marriage. Many people ask whether such a situation works out well for the two individuals. Let me tell you that in most cases it does. I am living proof. I am crazily happily married.
In my childhood I was opposed to this traditional Indian set-up. Perhaps because I had watched too many movies and read too many romantic novels, my young heart craved for a knight in shining armour of my choosing. Or perhaps because I knew I would someday have to have an arranged marriage since everyone in my family has had it, so the rebel in me wanted to defy the rules.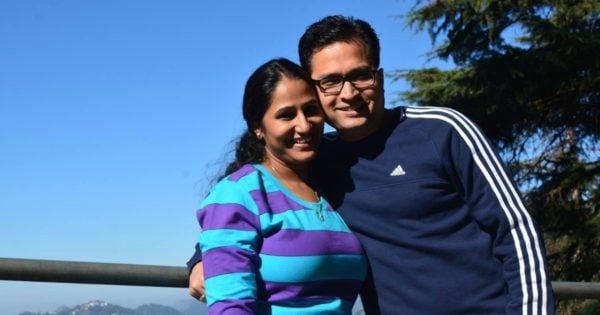 Surabhi and her husband. Image: Supplied.
Whatever it is, the bottom line is that I grew up imagining a particular, great love story blossoming in my life. My father, a liberal and educated man, gave me the freedom to pursue my desires but told me, 'If you study well, I will let you decide your life partner. No studies means no say in the marriage.'
That was enough to satiate and calm my impulsive heart. I worked hard and was able to secure a position in a reputable organisation. Now arrived the time to find my 'one'.
I left home for the new job and moved thousand of kilometres away from my parents. I worked with a multinational corporation and met men who were charming, smart and witty. Many of them impressed me but as is often the way, good girls do not always fall for good men.