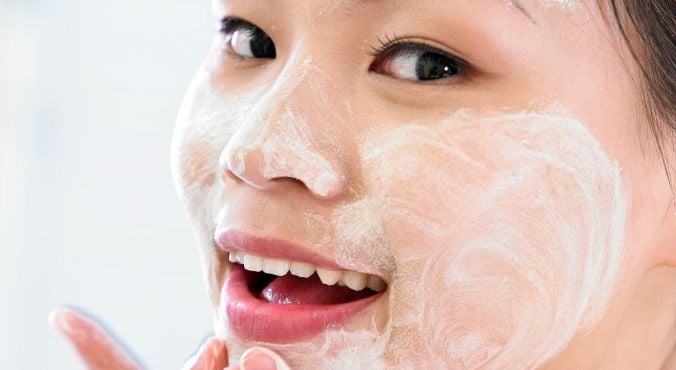 Image via iStock.
What does your cleansing routine look like? A quick pump of your face wash before drying off and adding moisturiser? It's the regime we've been keeping up since we were about 14 years old, but it's not the only way to get the desired result.
Here are the three best alternatives to your wash and wipe cleansing routine.
1. Micellar Water
Once you've converted, you'll never go back. For skeptics (I was one of you not so long ago) it may look like nothing special, but it works wonders.
Available in Australia since last year (but loved by the French and those in the know for many, many years) the magic lies in the "micelles", molecules that help cleanse and capture fatty molecules such as dirt, oil and makeup, without reddening or irritating skin. (Post continues after gallery.)
Micellar cleansing waters
It's so quick to use – simply squirt onto a cotton pad and wipe all over your face and neck and you're done. Skin feels clean without feeling tight and it can remove even the most stubborn of eye makeup.
RELATED: Hardworking facial cleansers that will leave you with change from a $20 note
2. Cleansing balms
Cleansing balms have grown in popularity over the past few years, and although they can seem a bit intimidating if you've never used them before, they're great for those sensitive or very dry skin.
Generally coming in a jar or tube, they're solid like wax, but melt when warmed in your palms and applied to a dry face. To remove it, wipe your face with a hot flannel or cloth, making sure to take the product all the way down the face, neck and decolletage.
RELATED: What happens when you stop using cleanser?
While they can tend to be a little on the pricier side, they're worth the investment – they get deep into your pores for a very thorough cleanse, last for ages as you only need a tiny bit of product each time and are also relatively mess-free because of their texture. (Post continues after gallery.)
The Glow Picks: Cleansing Balms
3. Cleansing Oil
Now that we've realised that putting oil on your face is actually a good thing, it's no surprise that cleansing oils are becoming an increasingly popular option for those with dry skin. (Post continue after gallery.)
The Glow Picks: Cleansing Oils
Cleansing oils are great at deep cleansing the skin without stripping it completely.
RELATED: Why argan oil is in everything from hair to skincare products right now
"They work on the principle that 'like attracts like', so the oil in the product attracts and 'grabs' the oil on the skin's surface as well as any dirt and makeup like stubborn lipstick, heavy oil-based foundations and waterproof mascara," says  Dermalogica's Education Manager of the Dermal Institute, Emma Hobson.
They can be a little messy at first, but once mastered are a great treatment for your skin.
What's your preferred cleansing method?
The Glow Teams' Favourite Cream Cleansers