41-year-old Peta Cooper was about to start the arduous and emotional journey with IVF when she found out she was four months pregnant.
"My husband Justin and I returned from a holiday in Bali ready to start the hormone injections stockpiled in the fridge. I had been feeling a bit sick, but put it down to a touch of 'Bali-belly' and as my periods had been erratic for months, I was convinced I was peri-menopausal.
"After a conversation with a friend who asked if I might be pregnant, I thought I should at least rule it out. The pregnancy test came back positive and when the GP confirmed I was actually four months gone, Justin and I were overjoyed!"
After a relatively straightforward pregnancy and birth, Rosie was born at 11pm on 7 May 2012, at Newcastle Private Hospital.
"I didn't enjoy the latter stages of pregnancy as I was enormous and uncomfortable, so it was a huge relief and a beautiful moment when she finally came out. Rosie was a wonderful baby, but I found those first few weeks and months incredibly tough.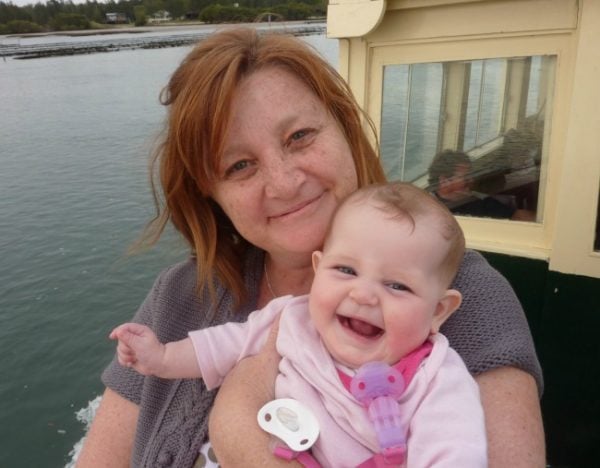 "As an older mum, there was an assumption by many health professionals, that 'Oh you'll be right, just use your common sense', but I had never had a baby before! Breastfeeding was difficult and the boredom of being at home was awful – I had enjoyed working in a challenging managerial job before going on maternity leave. I returned to work when Rosie was six-months-old, and Justin took on more parenting responsibility at home.
While Peta always felt like an 'older' mum and was used to this role in her mothers' group, it wasn't until she experienced an uncomfortable moment at a playgroup, that she realised people were confused about her relationship with Rosie.
"I took our 25-year-old nanny along to a playgroup when Rosie was 18-months-old and I sensed that the carers and other mums, who were mostly in their twenties, were having trouble working out 'who was who'. I was obviously 'in-charge' and closest to Rosie but I was definitely much older than they were. No one said anything but to me, it felt awkward."