For the last eight Christmases, Liam and his mum, Amy have gone to visit Santa. They've lined up with the hundreds of other screaming kids and their families, all hoping for five minutes to sit on Father Christmas' knee.
And every time, they've left empty handed, because Liam isn't like all the other kids.
He has autism, which makes experiencing the Christmas tradition most take for granted near impossible.
"My son has just turned eight and the only photo I had of him with Santa was from when he was one month old," Amy told Mamamia.
"Every year that I tried to take him since, and his special needs became more prominent, the harder it got. The loud crowds, the noises, the bright lights, the waiting in line and the squealing kids all excited to see Santa were all so overwhelming for him that it would lead to a meltdown.
"Unlike a 'tantrum', he'd start shaking and hyperventilating, and would do anything and go through anyone to get out of the situation."
But thanks to Westfield's Sensitive Santa, Liam and his younger brother and sister were all able to give Santa their letters together last weekend.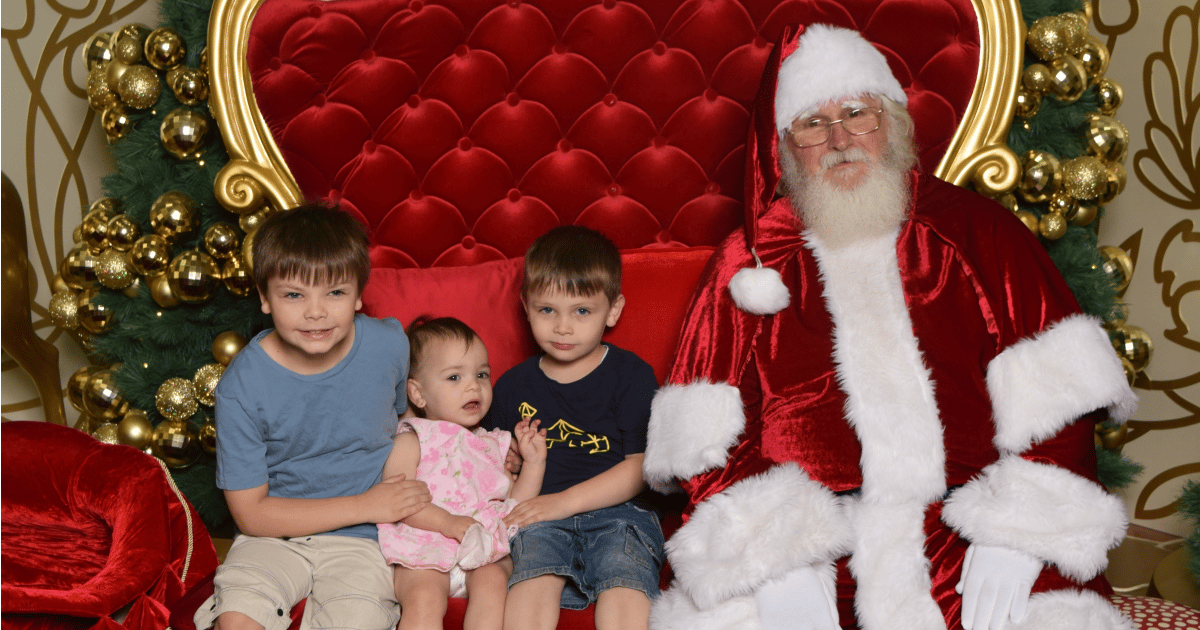 The initiative which so far is available in 18 centres around Australia gives families affected by autism a quiet, peaceful, supportive experience with Santa they just wouldn't be able to have otherwise.
Operating before centre opening hours, gone are the hoards of people, flashing lights and Christmas music. For ten or so precious minutes, children with autism are able to meet Santa and his elves with their loved ones in a low-sensory environment catered to their special needs.
"I have two other children, and I can't let one child experience something if the others can't. That's why Sensitive Santa is such a great family thing," Amy explained.
"They're aware, they understand what's happening, they're sincere and they know not to rush the child. My middle son wrote his letter to Santa and was going to get to talk to him, so it's amazing that he and Liam could go together and have their Santa moment."
LISTEN: The Binge unpacks how a Netflix series is changing the way people think about autism (post continues after audio...)
As well as finally being able to put a family Santa photo on her fridge, one of the best things about Liam's Sensitive Santa experience for his mum was having the chance to enjoy the moment with her family, without the judgement she often faces with Liam in public.
"I can't count the number of times I've attempted to go shopping and have had to leave the trolley behind. And the comments and sneers, the looks, the laughing and the judgement make things ten times worse."
"[Sensitive Santa] is something we really needed - to me, Christmas is about family, joy and happiness. Sensitive Santa gave us that."
For more information about Westfield's Sensitive Santa or to book your session, visit the Westfield Australia website or contact your local Westfield.
Amy and Liam's family are also holding a Christmas fundraiser on December 16 with all funds raised going to the Ricky Stuart Foundation. You can find out more about the event on their Facebook page.