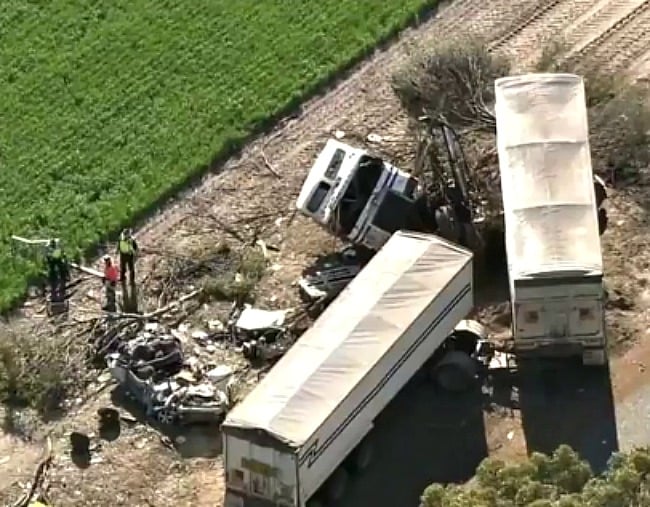 1. Stranded mother and son killed in semi-trailer crash.
A woman and her 10-year-old son have died after a semi-trailer crashed into the back of their parked car in rural Western Australia.
The car, which was towing a trailer, ran out of fuel about midnight on Sunday and the 27-year-old male driver and father was walking the 28 kilometres to the family's hometown of Corrigin to get petrol.
Police said a semi-trailer towing grain trailers came around the bend of the road and crashed into the rear of the car and trailer, pushing them into a nearby paddock.
The 26-year-old mother and her eldest son died at the scene.
Her three other children – two sons aged five and eight, and a three-year-old girl – were also injured and taken by helicopter to Perth Children's Hospital.
A hospital spokeswoman told AAP the five-year-old was in a critical but stable condition, while the other two children were in a serious but stable condition.
The 45-year-old driver of the semi-trailer alerted authorities to the emergency and is being questioned by police.
A mother and her 10 year old son have been killed after a semi trailer crashed into their parked car on a WA country road. Three other children somehow survived the impact. @katesmithers reports. #7News pic.twitter.com/13ggbduY7V

— 7 News Perth (@7NewsPerth) August 20, 2018
Police spotted the driver of the car, who is the father of the children, walking along the Brookton-Corrigin Road, about 11km west of the Wheatbelt town.
Superintendent Ian Clarke described the crash as a "terrible situation all around" and said major crash investigators remained at the scene.
"You just can't believe people have survived, but they have and they've come out of it relatively unscathed from an injury perspective," he said.