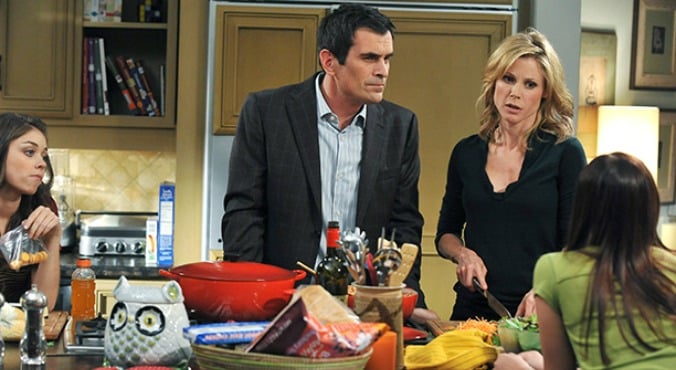 Image: Modern Family.
As children, so many of our ideas about the world are shaped by the behaviours we observe in our parents. If Mum and Dad do something, your developing mind figures it must be perfectly normal.
However, the transition to adulthood (and conversations with people who aren't blood relatives) can bring you to the realisation that a lot of those seemingly normal family habits were actually batsh*t crazy. And that they happened in your home and your home only.
A recent Ask Reddit thread dove into this topic with hilarious and completely puzzling results. One brave soul posed the question, 'What's something your parents did when you were a kid that you didn't realise was weird until you grew up?' and these are the best responses:
1. Not ovary helpful
"Whenever I would lose something I would always ask my mother if she knew where it was. Typically she did because that's what mums do. But she wouldn't just tell me where the lost item was. She would pause for a moment and close her eyes and say, 'let me use my uterus to find it.' It was obviously a joke, but I had no idea what a uterus was as a child. I have no idea how many times I suggested someone else use their uterus to find a lost item or told people my mother used her uterus to find lost objects…" – geoffersonspin
Watch: Mamamia staff share their opinions on smacking as punishment. (Post continues after video.)
2. Christmas traditions
"My dad did this thing around Christmas time, that was called 'Mr.Tree'. Basically, my mum would bring us to the window and he would stand behind the Christmas tree and pretend like the tree was talking to us. After Christmas, they would tell us that Mr.Tree went back to the Christmas tree farm. Imagine my horror when I learned that Mr.Tree was not a thing that other kids had." – kickingandsinging
"Our favourite part of Christmas was the 'beatin sticks'. We'd take the empty wrapping paper rolls and wrap them top to bottom with duct tape. Then we'd have a family battle royal until all of the beatin sticks had deteriorated and fallen apart.". – cexshun