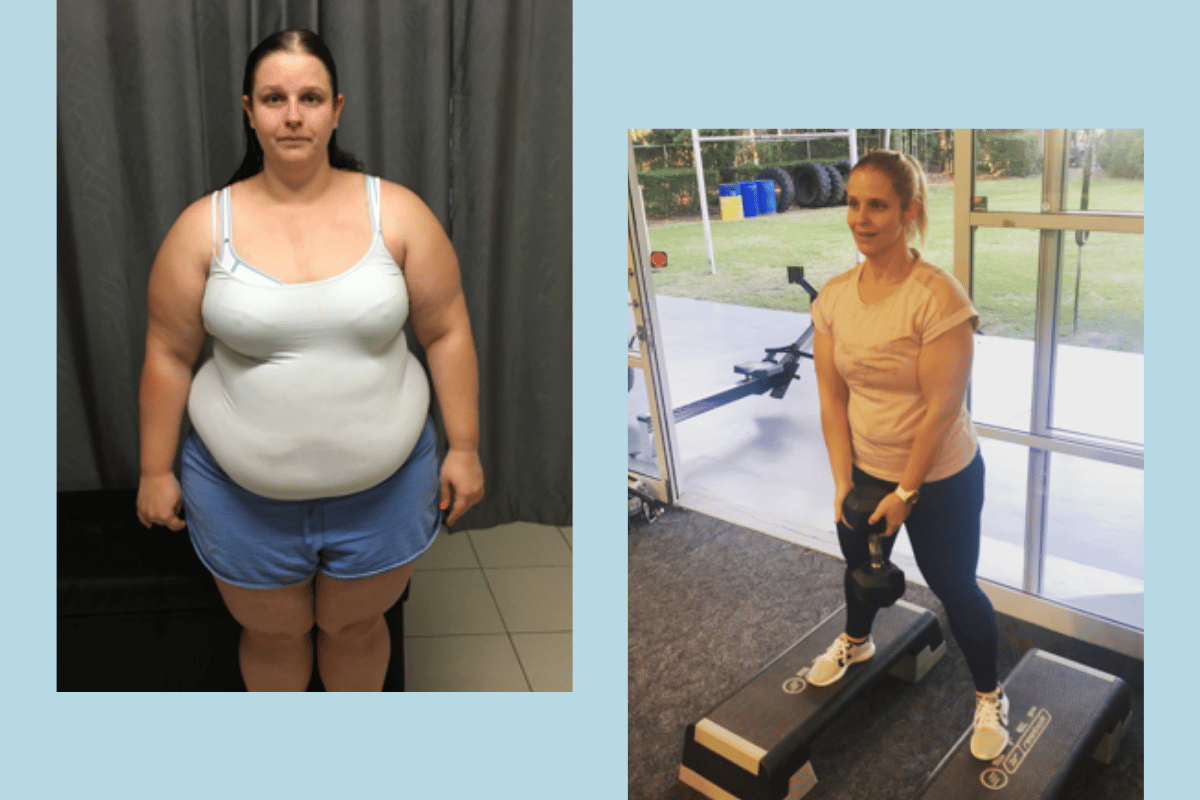 Warning: This post deals with abuse and may be triggering for some readers. 
When Jean would wake up in the morning, she'd be in pain as soon as she stepped out of bed.  
"My knees and my ankles, and my hips would all be aching as soon as I put my feet down on the ground," the Queensland high school teacher told Mamamia's daily news podcast, The Quicky.
"I was like, I need to lose weight. It's not an aesthetics thing... I'm in pain."
For the next two years, Jean, who was in her early thirties at the time, decided to do everything she could to try to lose weight. 
"I spent two years exploring every other option that I could... And in fact, I started when I was in high school, because I knew that I was heavier than the other girls. I was at the gym six days a week. I was meal prepping every Sunday."
For Jean, part of her weight issues stemmed from past trauma she experienced as a child. 
"I grew up in a household where I was abused, and part of that abuse was removing food to punish me. And then when I was removed from that home, I was nine and I went to live with my auntie and uncle who introduced me to a world of food and generally didn't really say no."
"I think some of my subconscious at the time definitely played into thinking 'You've got to eat, you've got to eat. What happens if you can't eat again? What happens if you get sent back to live with them again?'"
Eventually, after years of trying countless weight loss options, Jean decided to undergo weight loss surgery in 2017. 
It was "the best decision" she ever made. But one that saw her face a new kind of judgment. 
"It was mostly judgement [from other people saying], 'Oh, you had surgery? Well, why didn't you just stop eating?' And I'm like, well, that's not really how it works."
When dining out with other people, Jean also found others would watch how much she was eating after her surgery. 
"Everyone watches you eat and what goes off your plate... So imagine going from eating an entrée and a main to eating the amount of food that a toddler would eat. 
"They say that after you had surgery, the size of your stomach is equivalent to the size of a chicken's egg... So it was mostly about the amount of food that I wasn't eating, like surely 'we've watched you eat before, you're not full'."
"I stopped eating out with my friends because it was too hard to decide what you're going to eat when you got there. And then when you got there and you're paying $30 for a meal and you're eating three or four bites of it, or you do get resentful of it."
Jean's also been told that she somehow 'cheated' by losing weight through surgery. 
"It's not cheating. It's really hard," she told The Quicky.