Ah, weddings. The event full of love, hope and badly behaving relatives.
If there's anyone who sees the chaos up close, it's the videographer. And when they say they've seen it all, trust us – they have. Wedding photographers and videographers recently took to Reddit to share the worst things they'd ever caught on camera and well, let's just say it will make you think of your own big day a little more fondly.
1. Thinking out loud.
"I was filming the father of the bride speech, he mumbled his way through it. The guest in front of me said 'Well, that was f**king sh*t' and only then remembered I was behind him and sheepishly looked round."
2. Lit wedding.
"During the ceremony, they had candles lining the aisle and the mother of the bride decided to get closer so she could get a better picture. While she was taking pictures, she started walking backwards. Well, she walked backwards right into one of the candle holders and knocked it over right into someone's lap. Commence chaos!" wrote one user.
"Guy jumps up trying to put out the fire that's now in his lap, guys wife starts screaming at the women. Took about 20 minutes to get everything calmed down. Marriage went off without a hitch afterwards. And yes it was all caught on camera although the bride insisted it be cut out of the final video."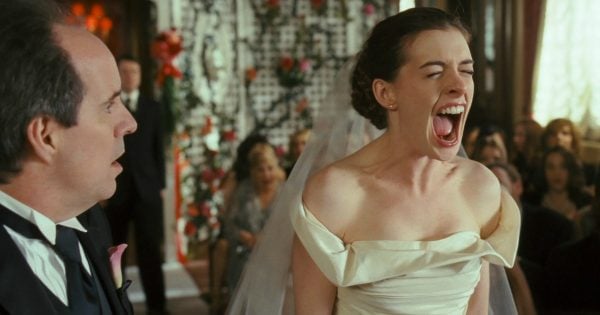 3. Striptease.
"I used to be a video guy in the '80s and '90s. I've shot probably around 500 weddings so there were lots of things that had to be edited out. Some of the more memorable ones are the time the brother of the groom stripped completely naked on the dance floor in full view of everyone or the time when giving a congratulatory interview on camera, the very drunk bridesmaid started deep throating the microphone."