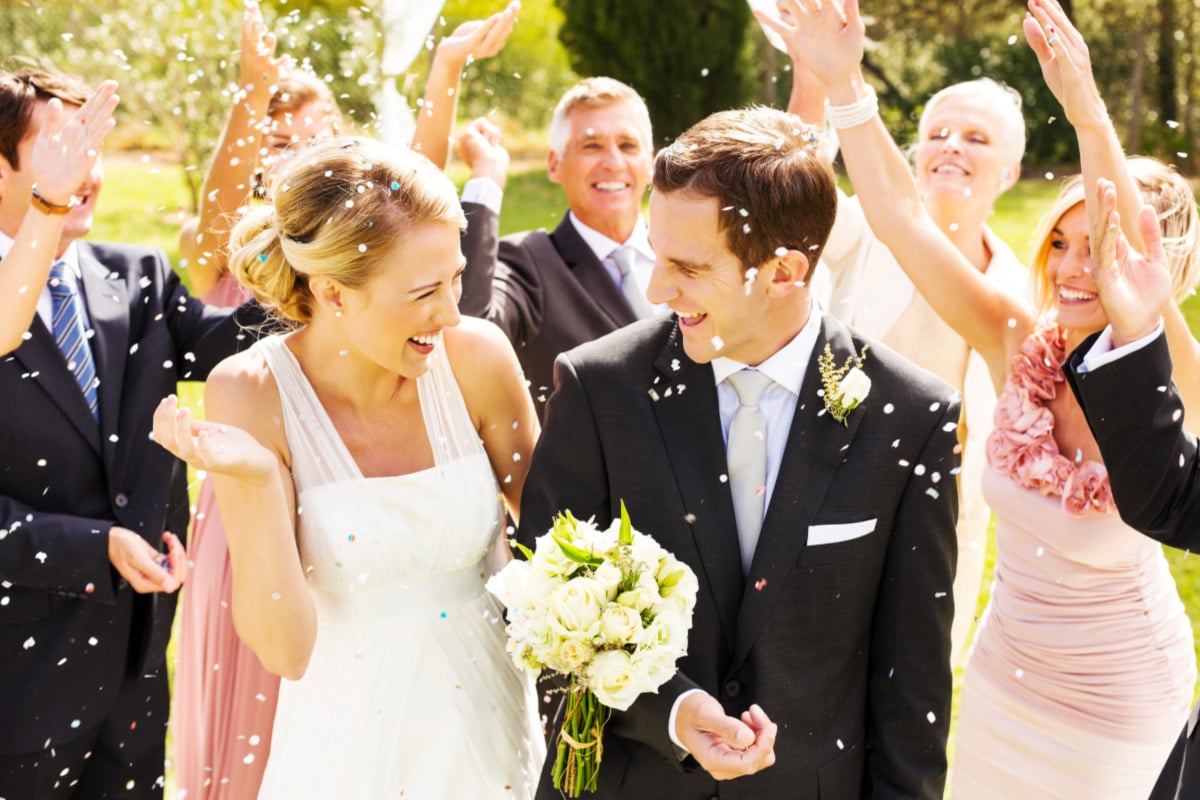 The results of a survey of the most loved and hated wedding trends of 2019 have been released and suggest we are perhaps becoming a little… cynical.
The survey, conducted by jewellery brand Goldsmiths UK, asked 1000 people what they did and didn't like about weddings last year and it's safe to say there were a few surprises on the list.
I mean, who hates dogs as ring bearers?
Watch: Check out engagement ring trends from past decades. Post continues after video.
The most hated wedding trends of 2019.
Over the top wedding hashtags
Think your oh-so-clever and complicated wedding hashtag is the bomb? Doesn't matter, chances are your guests think it's cringy as anything. 43.5% of respondents thought complicated wedding hashtags were the worst trend of 2019.
Doughnut walls
This next one we can barely believe: 37.2% said doughnut walls were their most hated wedding trend was the doughnut wall, and surely this survey isn't accurate because… doughnuts.
Elaborate wishing well poems
Many couples think straight-up asking for money is a little curt, to say the least, so they'll put this in rhyme to make it sound just that bit classier. Turns out, everyone sees through this romantic cash grab and wishes you'd be less… Shakespeare about your intentions. Confusing wishing well poems got a 37.2% disapproval rate.
Pets as ring bearers
We must all be heartless monsters because who does not want to see Barney the labrador handing over the rings for his parents? 36% of people said they were not keen on pet ring bearers. Good gracious, people.
Cake in the face photos
…also, doesn't this ruin the bride's makeup which she probably paid $120 for plus a trial? If my future husband pulls this stunt I'll be ropable.
Venues in the middle of nowhere
Well, this is an obvious one. Who wants to drive/fly/sail to the middle of nowhere, splash out on the only (and therefore expensive) accommodation in town and have nothing to do before and after the wedding?
Bucks nights
Surprisingly, a fifth of men reported strongly disliking stag dos and not wanting to attend at all, which is weird because isn't there approximately 238 movies made about these nights/weekends? Perhaps it has something to do with the cost/extravagance/week-long affairs of bucks/hens dos in 2019.