If the thought of reading a poem out at your wedding – whether it be during your ceremony or as a treat during the reception speeches – sends a cold shiver down your spine, you're not alone.
Some people believe the terms "wedding" and "poem" should never appear in the same sentence. But we promise there's a wedding poem out there for you that's not only cheese-free and completely genuine, but perfect for whatever day you are planning.
What use is a wedding poem if it doesn't speak volumes about you and your new partner?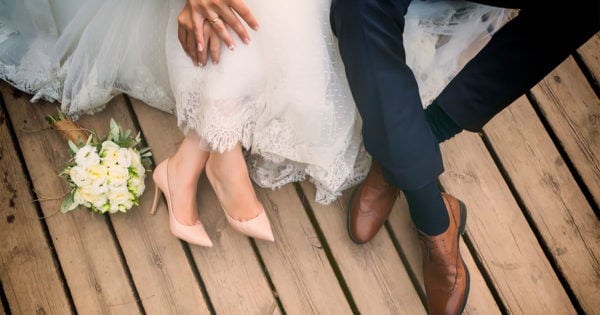 Here are some ideas to get you started. And yes, get the tissues ready, because these beautiful poems will strike a chord with you and your guests.
(Oh, and P.S. they don't always have to rhyme...)
For the Shakespeare fan
This short and sweet excerpt from Shakespeare's Hamlet proves you can say so much with so few words.
Doubt thou the stars are fire;
Doubt that the sun doth move;
Doubt truth to be a liar;
But never doubt I love.
For something more recognisable, why not try your hand at some classic lines from Romeo and Juliet?
But soft! What light through yonder window breaks?
It is the East and Juliet is the sun!
Arise, fair sun, and kill the envious moon,
Who is already sick and pale with grief
That thou her maid art more fair than she.
Be not her maid, since she is envious.
Her vestal livery is but sick and green,
And none but fools do wear it. Cast it off.
It is my lady; O it is my love!
O that she knew she were!
Listen: Osher Günsberg is here to help you break the cycle of bad relationships. Post continues... 
For something a bit more modern
The author of this beautiful poem - about choosing to marry your best friend - is unknown, but it's fast becoming a wedding favourite.