Planning a wedding is no mean feat, no matter what your budget or guest list.
An extra task you don't need? Hassling your guests for RSVPs they've either forgotten to give or can't be bothered doing.
It's also not uncommon for a bridal couple to find they have more guests than they expected or paid for when extras turn up on the day after not RSVP-ing at all.
However more and more couples are using a simple hack to ensure that doesn't happen. The trick? Not putting the address on your invites at all.
Listen: Are wedding invites over entirely? Post continues after audio.

According to Easy Weddings, the trend sees couples only pass their details onto guests AFTER they've RSVP'd.
It means brides (and grooms) no longer have to waste time repeatedly chasing up RSVPs or annoy the venue managers and caterers by springing five extra guests on them an hour before the reception.
While it does work out to be an extra cost should you choose to give the address out on another paper invite, it can just as easily be done in an email or other form of online communication.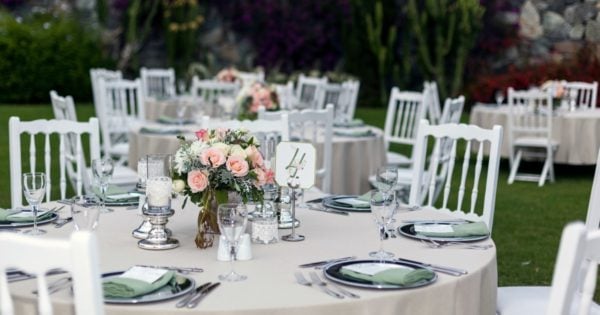 And if the whole thing still seems like too much hassle, consider scrapping the idea of posted invites altogether.
In the latest episode of Mamamia Out Loud, host Jessie Stephens shared of the latest wedding she attended where there was nothing but an email giving guests details of the event. She was a fan.
"You just put in whether you had any dietary requirements, a song request and all that. Then two weeks before, you got a reminder! I thought it was fantastic. Why the hell are people still sending out paper invites?" she said.
Is it time we said goodbye to the drama of the paper wedding invitation?