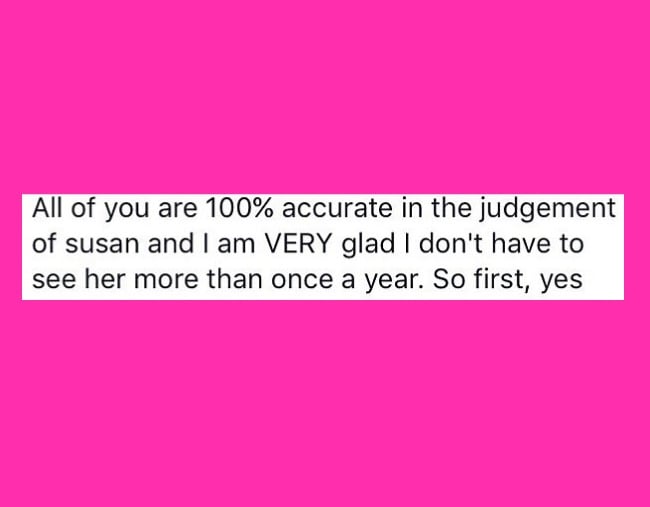 Hello.
Yes.
Earlier this week we introduced you to a woman named Susan.
Susan had posted an epic rant on Facebook after her wedding guests refused to "donate" $1500 each, so she could have the "blow out" wedding of her dreams.
In the ridiculously long Facebook rant, ole' Susie called her friends and family a bunch of "snakes" and "c*nts".
Susan explained that she had called off the wedding, dumped her ex-fiance, and was planning to delete Facebook and backpack around South America for two months, to get away from all the "toxic energy".
In the self-described "mini novel", Susan called out her former maid of honour who is apparently a "filthy f*cking poor excuse for a friend".
Susan also wanted her former fiance to know that she's not some "hooch piece of f*cking trash, a hooker".
You can read Susan's full rant here.
Susan, of course, quickly went viral.
Now an alleged "cousin" of Susan has come forward with a lil' background info on the woman who "just wanted to be a Kardashian for a day".
Since she has not provided us with her real name, we shall call her "Barbara".
Barbara is allegedly the person who reposted Susan's original rant.
Barbara says Susan is definitely a "living breathing human being" and she shares a "small percentage of DNA" with her.