Forget about the horror stories about brides, there are plenty of instances about wedding guests behaving badly.
And in news sure to make you feel better about your own upcoming/past nuptials, users on Reddit have been sharing the most obnoxious requests made by wedding attendees and BOY do they take the (wedding) cake.
Like the bridesmaid who thought her best friend's wedding was the perfect opportunity for a free photoshoot.
"One of the bridesmaids brought her fiancé to the wedding, and wanted our photographer to do an impromptu engagement photo shoot," one user wrote.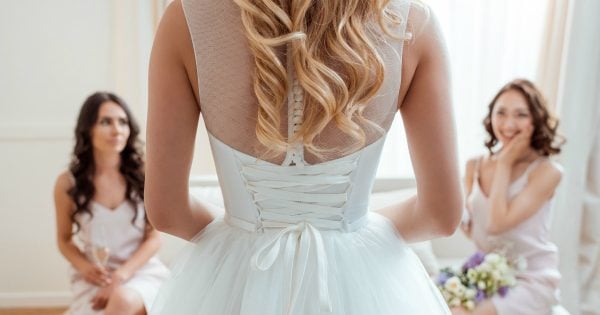 "Photographer laughed in her face."
Turns out she's not the only one who's tried to exploit the photographer.
"A few days before my wedding, my husband's aunt called us wanting to do individual family photos. I refused to entertain the idea of it and said I find it extremely rude she would call the bride with less than five days till the wedding and ask a huge favor and change in the wedding," another added.
"Then a bunch of people got involved. I told them all no and I won't hear anymore of it. If you want family photos hire your own photographer."

Fair enough.
According to a supposed professional wedding photographer, it happens more than you might expect.
"Pretty much every wedding there's at least one subfamily who tries to hijack the portrait session and get a whole set of family portraits done," wrote user John_wik.
"'Oh can we get a couple of just my kids, too?' I normally say 'I'm sorry we really need to get on to the reception venue, here's my card if you'd like to book a session'."
Another common cause of conflict? Mother in laws.
"My mother-in-law wanted to wear a white gown down the aisle. Insisted. Denied, Then complained the wedding didn't focus on her enough," contributed one user.
Listen: Are singles lists a good idea for weddings? Post continues after audio.

"MIL wouldn't let me be in photos with her side of the family because I wasn't "real family", even though I just married their daughter," added another.
"Mother In Law asked us if we could reschedule our wedding closer to step brother's so she could come into town once for both. Our date was booked a year previously during the time of the request," submitted another.
But the one that possibly tops them all?
"My MIL tried to manipulate my wife into letting the MIL'S boyfriend walking my wife down the aisle instead of her father."
Err, right then.
Have you got a wedding guest horror story to contribute? Vent below!