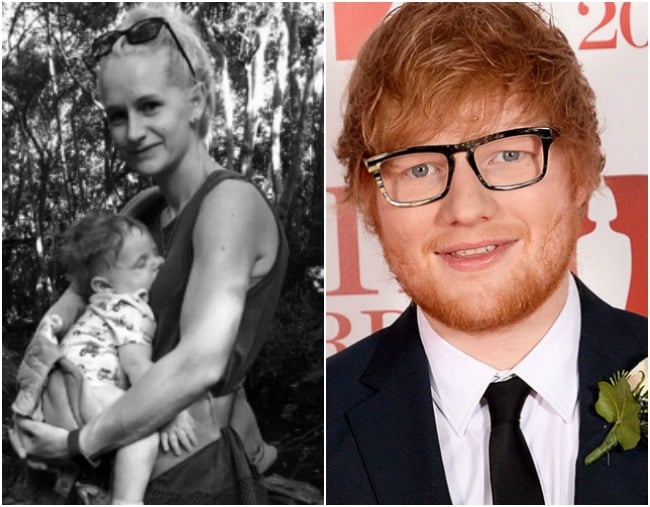 1. "Simply being money hungry." Breastfeeding mother told to pay full price to bring her baby to an Ed Sheeran concert.
Brisbane mother Kirsty McDonald was looking forward to attending Ed Sheeran's concert at Suncorp Stadium this Wednesday along with her mother, sister-in-law and – she thought – her four-month-old son Leni.
She was planning on giving Leni earmuffs and carrying him in a strap-on baby holder – taking him to the concert seemed like the best option as Leni is breastfeeding and refuses to drink from a bottle.
Then, last week, she was told she'd need to purchase another ticket, full price (about $100), in order for Leni to attend.
"This, in my eyes, is simply being money hungry," McDonald told Yahoo7 News. "The promoter should have made tickets for infants, like airlines do."
"In this day and age people take their children along to any number of events that prove to be noisy."
McDonald contacted Ticketek as a precaution, to double check bringing her son would not cause any issues.
She said the email she received in reply said "free on the knee" admissions were not permitted, Yahoo7 News reports.
In a statement to the ABC, the event's promotional group, Frontier Touring, doubled down on the decision.
"Part of the reason that we require people to have a ticket is knowing exactly how many people are in the venue, which is primarily for a safety reason," a spokeswoman said.
2. "The sky was completely red." Trapped wedding party forced to hide in stables as fire approached.
A wedding party in Victoria has narrowly escaped after a bushfire ravaged the property and they were forced to hide in the horses stables.
"We smelled the smoke at the venue and within 10 minutes the sky was completely red," Elle Moyle, who was hosting her friend's wedding at the Gazette property told the ABC.
Watch Elle Moyle speak to Nine News about the fire that trapped a wedding party at her property in Victoria.
The party of 150 was trapped as the fire drew closer – the bus driver was missing and the bus was locked.
Everyone, understandably, was terrified.
"Initially there was no way to get them out because the bus driver wasn't there and the bus was locked so no one could drive it," Moyle said.
"The flames were only 100 metres away. The winds were crazy."
Moyle directed the party to the large brick stables, which are surrounded by water gardens. She said the bride – still in her dress – and the groom remained in good spirits, despite the danger.
"We did our best to keep everyone safe and get them out of there but it was very touch and go."
The only way to get 150 wedding guests out of the path of a fast-approaching bushfire was by bus — but the bus was locked and the driver wasn't there https://t.co/aK21zM1xkq #vicfires pic.twitter.com/nYdDI2fG8v

— ABC News (@abcnews) March 18, 2018