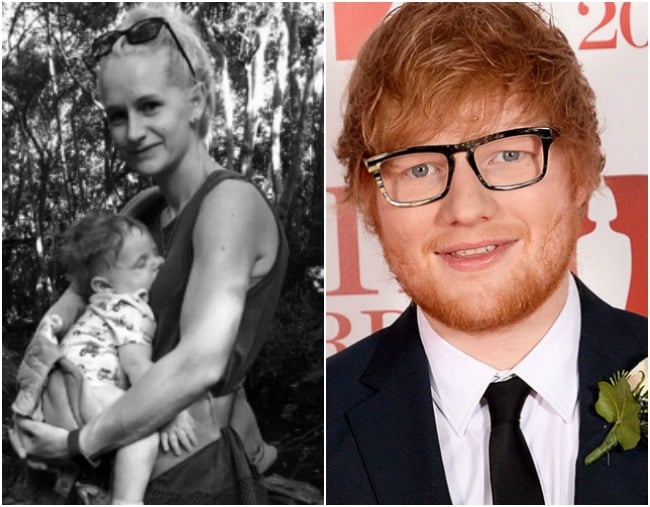 1. "Simply being money hungry." Breastfeeding mother told to pay full price to bring her baby to an Ed Sheeran concert.
Brisbane mother Kirsty McDonald was looking forward to attending Ed Sheeran's concert at Suncorp Stadium this Wednesday along with her mother, sister-in-law and – she thought – her four-month-old son Leni.
She was planning on giving Leni earmuffs and carrying him in a strap-on baby holder – taking him to the concert seemed like the best option as Leni is breastfeeding and refuses to drink from a bottle.
Then, last week, she was told she'd need to purchase another ticket, full price (about $100), in order for Leni to attend.
"This, in my eyes, is simply being money hungry," McDonald told Yahoo7 News. "The promoter should have made tickets for infants, like airlines do."
"In this day and age people take their children along to any number of events that prove to be noisy."
McDonald contacted Ticketek as a precaution, to double check bringing her son would not cause any issues.
She said the email she received in reply said "free on the knee" admissions were not permitted, Yahoo7 News reports.
In a statement to the ABC, the event's promotional group, Frontier Touring, doubled down on the decision.
"Part of the reason that we require people to have a ticket is knowing exactly how many people are in the venue, which is primarily for a safety reason," a spokeswoman said.
2. "The sky was completely red." Trapped wedding party forced to hide in stables as fire approached.
A wedding party in Victoria has narrowly escaped after a bushfire ravaged the property and they were forced to hide in the horses stables.
"We smelled the smoke at the venue and within 10 minutes the sky was completely red," Elle Moyle, who was hosting her friend's wedding at the Gazette property told the ABC.
Watch Elle Moyle speak to Nine News about the fire that trapped a wedding party at her property in Victoria.
The party of 150 was trapped as the fire drew closer – the bus driver was missing and the bus was locked.
Everyone, understandably, was terrified.
"Initially there was no way to get them out because the bus driver wasn't there and the bus was locked so no one could drive it," Moyle said.
"The flames were only 100 metres away. The winds were crazy."
Moyle directed the party to the large brick stables, which are surrounded by water gardens. She said the bride – still in her dress – and the groom remained in good spirits, despite the danger.
"We did our best to keep everyone safe and get them out of there but it was very touch and go."
The only way to get 150 wedding guests out of the path of a fast-approaching bushfire was by bus — but the bus was locked and the driver wasn't there https://t.co/aK21zM1xkq #vicfires pic.twitter.com/nYdDI2fG8v

— ABC News (@abcnews) March 18, 2018
Finally, the bus driver was located and the party evacuated – just in time, as much of the property was destroyed.
"Then right at the dying hour the bus driver showed up so were able to get everyone safely out on the bus," Moyle said.
3. Homes destroyed by bushfires in New South Wales and Victoria, as blazes continue to burn.
More than 30 homes and buildings, including a popular caravan park, are feared destroyed after an out-of-control bushfire tore through a seaside town on NSW's far south coast, AAP reports.
Residents of Tathra, just east of Bega, were told it was too late to leave on Sunday evening as the blaze raced towards properties, with one describing the situation as "dire".
The NSW Rural Fire Service issued an emergency warning after the fire, which started in Tarraganda early in the afternoon, crossed the Bega River.
Fanned by strong winds and high temperatures, it burned through seven kilometres of bushland into the township and right to the coast.
The threat was downgraded late on Sunday night after a southerly change helped ease conditions but a great deal of damage had already been done.
"We're aware of about 35 homes that are potentially damaged or destroyed," Bega Valley mayor Kristy McBain told AAP.
No fatalities have been reported but there are concerns for some people still stuck in the town.
Fires continue to rage in Victoria, also, with more than 700 firefighters tackling bush and grass blazes in Victoria's southwest in an attempt to bring them under control.
Incident controller in Warrnambool Russell Manning said the aim for his team on Monday was to bring the eastern edge of the fires under control with six fire bombing apparatus and two helicopters to help.
He said a team of 16 vets would also work in the area to assist animals.
About a dozen homes have been destroyed by fires across Victoria and hundreds of beef and dairy cattle killed, with about 40,000 hectares burnt out.
Farm buildings have also been ruined with some of the hardest hit areas including Cobden and Terang to Camperdown.
It comes after 800 people sought seek shelter at relief centres with many still there on Monday.
Emergency Management Commissioner Craig Lapsley told reporters on Sunday not all of the homes destroyed were occupied, and there had been no deaths or major injuries reported.
4. Teenager yells "sorry" after stabbing a woman in a crazed attack in Perth.
A teenager has been accused of stabbing a woman five times before robbing her as she walked from a Perth train station, AAP reports.
The 27-year-old is in a serious but stable condition in Royal Perth Hospital after she was attacked about 9.20pm on Saturday as she left Claisebrook train station.
The accused tried to flee the scene on a bicycle, but was apprehended by police down the road.
Nearby residents say they heard the teenager yelling "sorry" while being arrested, Nine News reports.
"He kept screaming he was sorry and the he didn't know what he was doing," one woman said.
A 15-year-old boy is due to appear in Perth Children's Court on Monday, charged with aggravated armed robbery and grievous bodily harm.
5. Who wore it better? All good boys at a Guide Dogs fashion show in Melbourne.
It's a rough choice between the dogs putting their best paw forward modelling custom-made coats on the runway as part of Melbourne Fashion Festival's show finale on Sunday evening.
Australian designers Camilla, Manning Cartell and Romance Was Born are among 12 labels showcasing custom-made, one-of-a-kind canine coats modelled by Guide Dogs Australia's labradors and other breeds alongside an item from their latest collection, AAP reports.
"There is nothing this city loves more than haute couture and puppies, and I cannot wait to see the two pair up," Guide Dogs Victoria CEO Karen Hayes said.
Guests with blindness or low vision won't miss out, with guides providing audio descriptions of the event.
There will also be a chance to go backstage after the show to hear the designers discuss their creations.
For those eager to ensure man's best friend looks its best, an auction for the coats will open on Sunday evening and run for 10 days until March 28 online.
All proceeds will help the vision impaired.
6. Dora the Explorer to film in Queensland, amid controversy over how much money was spent securing the deal.
Dora the Explorer will be filmed in Queensland after the state government agreed to cough up the extra cash needed to keep the production on Australian soil.
But Premier Annastacia Palaszczuk has come under fire for refusing to say how much taxpayer money she spent to secure the live-action blockbuster.
Ms Palaszczuk on Sunday said the state would top up the federal government's tax concession to Hollywood film studio Paramount.
It followed federal Treasurer Scott Morrison's decision on Friday to reject the company's request for a one-off increase from the standard 16.5 to 30 per cent.
Paramount was asked to extend its deadline by 48 hours so the state government could find the extra money.
It will now chip in the 13.5 per cent difference, but Ms Palaszczuk has refused to say how much that is.
"That's commercial in confidence," she said on Sunday.
Opposition Leader Deb Frecklington would not be drawn on whether she supported the film being produced in Queensland.
"We don't know what Queensland has spent getting this, so we don't know what Queensland's going to get out of it," she said.
"The question remains to the premier: How much has she spent?"
Ms Palaszczuk said the actual dollar amount would remain confidential until filming finished.
But she did confirm some of the money was sourced from a $20 million fund the government established in 2017 to attract more blockbuster films to the state.
The rest came from a Commonwealth Games legacy fund.