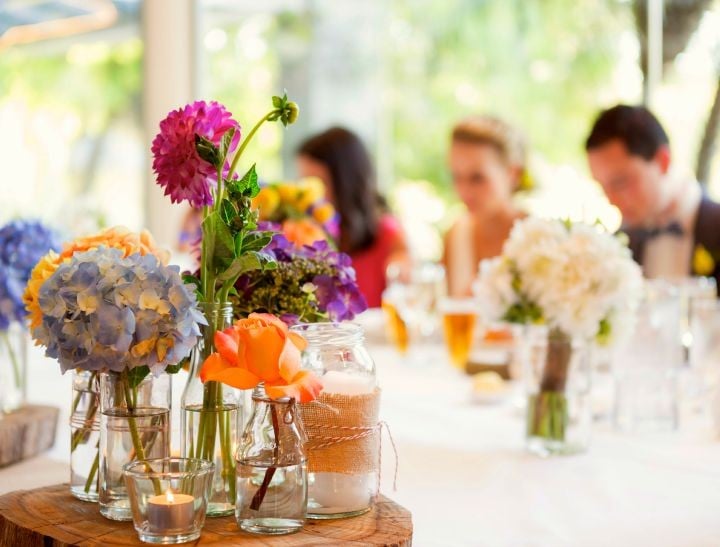 Yes, weddings are expensive. But these tips will save you thousands.
It's not news to anybody that weddings are freaking expensive.
Recent stats show that the average cost of a wedding for Australian couples is now more than $65,000.
Who can afford that without delaying home ownership dreams by a decade or going into debt (something 60 per cent of Aussie couples are doing, according to an IBISWorld report)?
Wedding days are special. They should be lovely and memorable. But they are just one day in a lifetime full of many days. Of course, no one wants to scrimp on the good things – venue, food, alcohol – but saving on other less-noticeable items would certainly save a few headaches.
Here are some tips about how to save thousands from someone who's been there:
1. Channel your inner craft goddess and DIY.
When it comes to wedding planning, you'll quickly notice that anything with the word 'wedding' attached comes with a massive mark-up. The easiest way around this? Make as much as you can yourself.
From stationery to wedding decorations and everything in between, it's amazing how much you can make yourself with a few friends and bottles of wine.
If you're not the crafty type, use your contacts. Family, friends, family friends, colleague, strangers.
Seriously. People are totally thrilled to be included in the 'big day' and they can be surprisingly resourceful.
Also, Pinterest is your friend. Snapshot and replicate.
This is what I managed to conjure up for our wedding day (with a little help from my friends):
2. Do your own flowers.
I got a whole bunch of quote from florists for my wedding. The cheapest was somewhere in the vicinity of $4000 and the most expensive was double that. Yep, $8000 for those colourful things that grow everywhere and die within two days. (I've heard of others being quoted anywhere between $1500 and $30,000.)