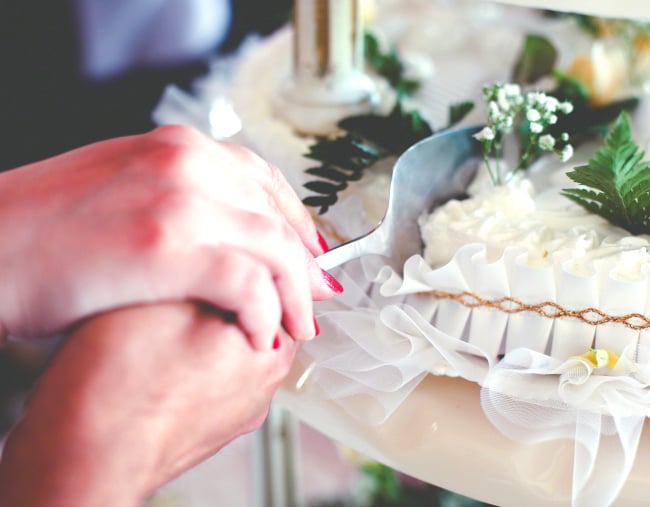 Bride walks down the aisle. 'You may now kiss the bride.' Hours of taking wedding photos with no food or alcohol. The couple's first dance. Cutting the wedding cake before gracefully feeding one another.
That's just how most weddings go, right?
But have you ever stopped to wonder why the cutting of your wedding cake is such an important bridal moment? Of course you haven't.
You were too busy eating (or watching other people eat) the most expensive cake you'll probably ever buy.
So, we did some digging and traced the history of the wedding cake way back to the love birds of ancient Rome.
Their wedding ceremonies were finalised by breaking a cake made of wheat or barley over the bride's head as a sign of good fortune, according to historian and author of Wedding cake: A Slice of History Carol Wilson. Romantic, eh?
Side note – here's the songs your favourite celebrity couples chose for their first wedding dance. Post continues after video.
The newlyweds would then eat only a few crumbs of said cake together before guests got to gobble up the remaining crumbs.
When Rome invaded Britain in A.D. 43, they brought their interesting wedding customs with them. Not content with simply smashing the wedding cake over the bride's head though, The Telegraph reports Brits began throwing cake and bread at her too, to symbolise her fertility.