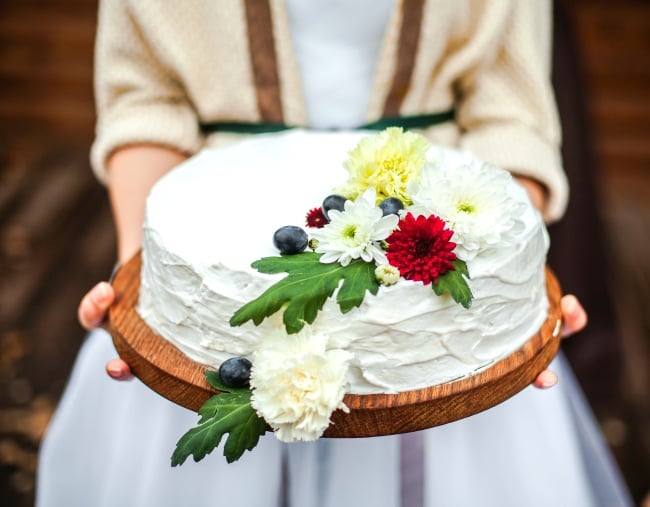 Weddings are expensive. Sadly, they always will be… unless you elope… or hold the party in your backyard, which considering the price of wedding venue is a pretty great idea.
One part of wedding planning that is always shockingly exxy (as in, it's a shock when you see the price lists) is choosing your wedding cake.
While wedding cakes are really fun and delicious, it's not always as simple as popping down to Woolies for a mudcake.
Because everything that has 'wedding' in front of it is instantly more expensive – wedding venue, wedding cars, wedding flowers, wedding dress – wedding cakes are an investment item.
However, with some wedding venues, the cake itself isn't where the wedding cake costs end.
Enter… cakeage.
In the latest episode of Mamamia's wedding podcast Hitched, Bridechilla founder and wedding expert Aleisha McCormack explained why you need to ask your venue about this hidden fee before you choose your wedding cake or dessert.
"Ask your venue or caterer about cakeage, a sh*tty little annoying fee that some venues, not all, charge for bringing in your own cake and plating that cake," she said.
"As always, be aware of these extra charges and make sure you're not going to end up spending $200 on a cake, to then be charged $8 a plate cakeage, completely blowing your cake budget."
Want to hear to more? Subscribe to Hitched.
The cost of cakeage will vary depending on your venue, but if you've 100 guests at roughly $8 per head, that's an extra $800 you didn't budget for. Even worse is sometimes not every one of those 100 'heads' will eat their slice of cake anyway.
The best way to get around a cakeage fee is to either: have guests serve their own cake, or don't have a cake at all.
"One way to get around it is to bring cupcakes or other desserts, have them on a table and have people go and physically serve themselves, then the venue can't charge you cakeage," Aleisha said.
If cake is your thing and there's no getting around cakeage, Aleisha recommended not including a dessert course in your catered menu.
"If your venue is providing your catering, advise them you don't want to pay for and have their dessert, as you'll have your cake/desserts instead. That way at least your cakeage money will be well spent."
On the other hand, Aleisha said brides shouldn't feel obliged to go for a cake if they want to go a bit rouge and ditch the tradition.