As we've seen so many times in the past, some brides have the tendency to make a number of… interesting requests leading up to their "magical" day.
But, erm, this bride may have crossed a line.
The nameless bride posted to a private Facebook group called Vegan Revolution – which was then posted on Reddit – ridiculing her omnivore wedding guests for expecting to be invited to her vegan wedding.
"…We don't want to host murderers at our wedding which is supposed to be one of the happiest days of our lives," she wrote.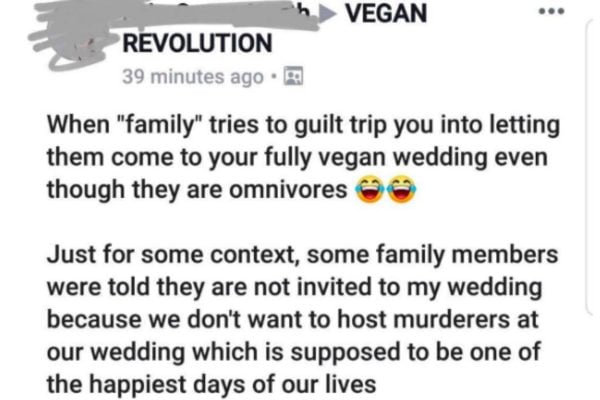 To clarify, this bride is calling her mother, father, family and closest friends murderers.
Through subsequent posts made by her ex-bridesmaids and wedding guests, it can be deduced that the bride had initially sent out invitation to her guests, before... retracting them. Is that even allowed?
"I just got un-invited to a wedding that I was meant to be [a] bridesmaid for, because I'm not vegan... to make matters worse (sic), this girl is FAMILY who I've grown up with my whole life," an ex-bridesmaid wrote on Facebook.
"...Making the wedding completely vegan including the guest list... her own mother can't even go," wrote another axed bridesmaid.
Sorry, what?
Reddit users have voiced their opinions on the herbivore versus omnivore situation, and to be frank, there's not been much sympathy thrown in the vegan bride's direction.
"Why would you go to this wedding anyway? To give you an envelope full of money and in return you give me a bowl of salad for dinner? You're doing me a favor (sic) by not inviting me. Nah man, I'll stay home," one user wrote.
"When you have so much empathy that you stop empathizing (sic) with your own family," another joked.
It's safe to say, the situation is rather intense for all involved, meat eaters and herbivores alike.