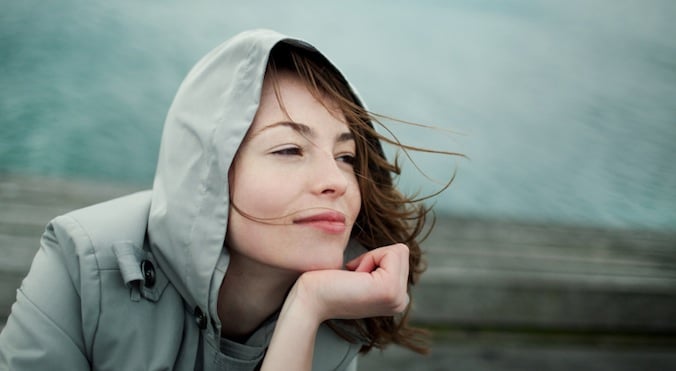 Here in Sydney the weather has been crazy. One minute its so stinkin' hot and the next it's pouring down. Not only is it bloody hard to know what to wear in the morning but the unpredictable weather wreaks havoc on your makeup.
RELATED: 7 biggest hot weather beauty mistakes
If you're sick and tired of getting home to panda eyes and streaky cheeks thanks to another afternoon downpour, watch this video or some awesome tips on getting your makeup to last rain, hail or shine.
How To
1. After washing your face, apply a good moisturiser. My favourite at the moment is Really Useful Face Cream by Go-to skincare. This will prepare your skin for the makeup and make sure your face doesn't absorb it.
2. Next, find yourself a good oil controlling primer. This one is Clinique's Superprimer Superbase, which will ensure your makeup won't slide off with the heat. Primers make sure the skin is smooth before you apply your foundation and ensure it lasts a lot longer.
3. Choose a long wear foundation like Colourstay from Revlon and apply with a stippling brush all over your face and neck. Try to use dabbing motions to work the foundation into your skin rather than brushing it on. This will help it sink in better. Think about it as pushing the product into your skin rather than letting it sit on top. You can always build up coverage if you wish, but I really think applying your foundation like this helps it to stay on a lot longer.
RELATED: 2 great foundations that cost less than $30 each
4. Use a long wear creamy concealer like NARS Radiant Creamy Concealer under the eyes and over any blemishes. Use your ring finger to blend the product in. This will help decrease the chance of any crepey lines.
5. Using a light translucent or skin tone powder, concentrate the product on your t-zone (forehead, nose and chin) to control any shine and lock that foundation in. Don't go overboard, a light dusting is all you need.
5. Use a yellow based finely milled powder to set the concealer under your eyes. I find this step really important to making my under eye makeup last. This one here is the Bobbi Brown concealer duo. The powder is very fine so it doesn't cake up.
6. Skip the bronzer. If you get sprung in a sudden rain shower  bronzer is going to ruin it for you. Think streaky, rain stained cheeks. When the weather's being a downright moody bitch it's best to stay with the natural look and leave the bronzer for when things are a little more stable.
7. Use a stain like Benefits Benetint on your cheeks. I've found that the fewer powder based products you use, the better your face will look through humidity and rain. A cheek stain will stay in place and you don't need to worry about it washing off unevenly in heat or showers. Plus, a stain looks a lot more natural than a powder based blush.
8. If you like, use a cream or liquid highlighter to perk up your face. My favourite is this one by Josie Maran. It's called the Argan Oil Illuminator and it's also great to mix in with foundation for a subtle glow.
9. To make sure your eyebrows go the distance invest in a good waterproof product like Stila's Stay All Day Waterproof Brow Colour. It's kinda like a felt tipped pen but deposits very little colour so it still looks super natural. Then use a waterproof brow gel to keep those puppies in place. This one is Benefit's Gimme Brow which has little fibres in it to create the look of fuller brows (which, being a child of the 90s, I need) but you can also use a clear gel if you don't want to add anything more.
10. Curl your lashes and apply a good WATERPROOF mascara. This is crucial. A non waterproof formula will leave you looking like a very sad little panda come home time where as a waterproof formulation will ensure pretty peepers all day long. Just make sure to have a good eye make up remover on hand for taking if off at night.