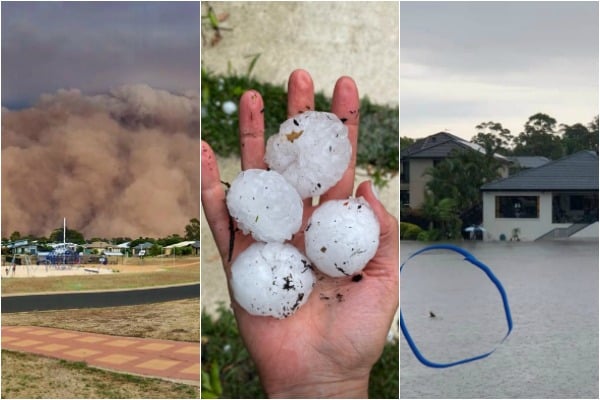 The bushfire disaster has had a stranglehold on Australia for months now. With 12 million hectares of land burnt through in five months; and lives, homes and more than a billion animals lost in the flames.
All we wanted was rain.
We begged Mother Nature for rain.
This fire footage was from New Year's Eve. Post continues after video.
Last week and over the weekend she delivered, and it helped.
In fact, dozens of bushfires were extinguished in New South Wales by downpours.
Before the rain, there were 120 burning, now according to Fires Near Me, there's 83.
But what was once a bushfire disaster, has quickly morphed into a water disaster with extraordinary weather events of all shapes and sizes witnessed across the country this weekend.
Here are just 7 photos that show how scary the effects of climate change are in 2020.
1. Huge hail in Victoria.
In Melbourne, there was hail the size of golf balls.
"This is the worst hail storm I've ever seen in my life," said model Megan Gale on Instagram stories, while watching the hail fall on her backyard.