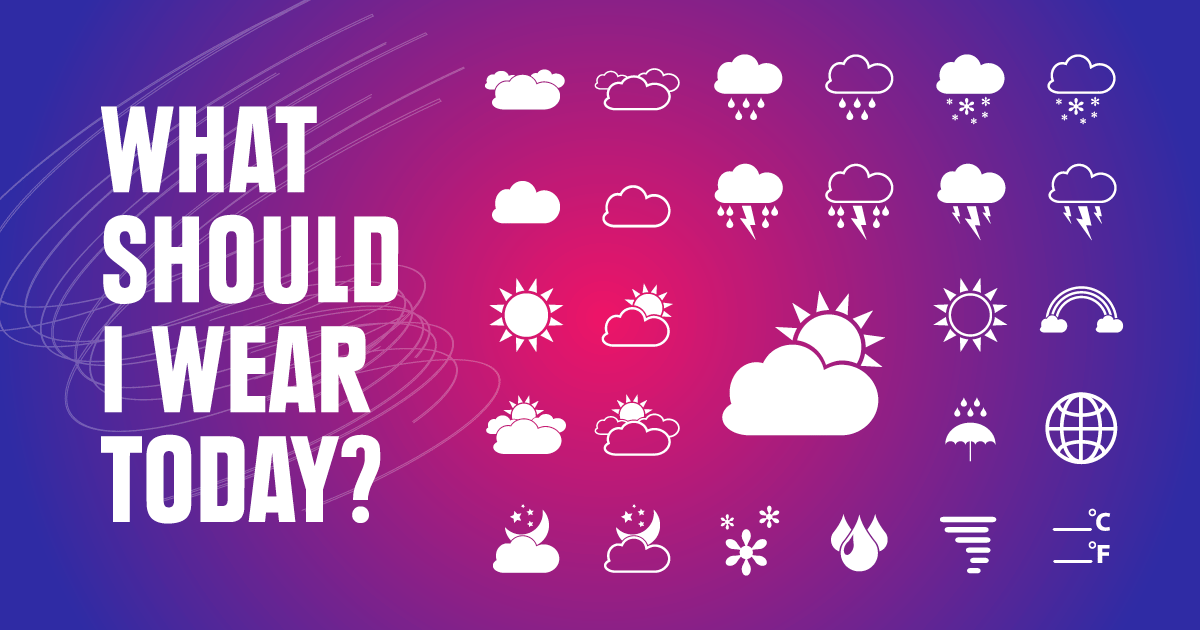 Here we are again, at the start of another week of work and weather.
Here's your Monday guide to today's forecast, and the fashion that goes with it:
Adelaide
You're waking up to a cloudy Monday, with the temperature hitting a top of just 19 degrees.
There's a 40 per chance of rain along the coast, up in the hills and in southern suburbs. Everywhere else? Your chances of getting caught in the rain are much lower.
Fail-safe outfit options:
If you're moving around the city today, pack an umbrella so the rain doesn't catch you unawares
A top of 19 degrees means only one thing: it's cozy cardigan weather
Brisbane
A beautiful Monday is headed your way, Brissy: a max of 30 degrees with sunny skies and a low chance of rain.
If you're up and about early, you may see some patchy fog hanging around, so snap an eerie sunrise photo and stay safe on the roads.
Fail-safe outfit options:
A printed maxi dress to ease you out of the weekend and into the work week 
Sunglasses to combat those sunny skies and inevitable UV rays
Canberra
Oh, Canberra, you really should just curl up, stay in bed and start your week tomorrow.
Kidding! Who says weather has to get you down? Today will be cloudy, with a top temperature of a chilly 15 degrees with rain hanging about all morning and afternoon.
Fail-safe outfit options:
Umbrellas at the ready all day, Canberra friends
Long pants and a cozy jacket to get you through an unseasonably chilly Monday
Darwin
A hot Monday is in store for Darwin, with temperatures reaching a top of 32 degrees. There may be a shower or two throughout the day, which could turn into a thunderstorm in the evening.
Winds may pick up, too.
Fail-safe outfit options:
Hair in a ponytail or a pretty braid today, Darwin, to avoid that 'windy-haired' look
Enclosed ballet flats to keep your tootsies dry if and when the rain begins to fall
Hobart
A chilly Monday for Hobart, with a top temperature of just 16 degrees. There may be some 'early drizzle', but, stay positive, because it's clearing throughout the afternoon.
There's always tomorrow, right?
Fail-safe outfit options:
Your favourite pair of high-waisted jeans are just begging to be worn today
A bright-coloured cardigan to remind you that sun might just be on the way later in the week
Melbourne
After a rainy Sunday, Monday isn't looking too much better, Melbourne.
The city will hit a top of 16 degrees today, with an 80 per cent chance of rain and some high winds about.
Fail-safe outfit options:
With wind wreaking havoc, it's definitely a pants kind of day. Or a stay inside in your PJs kind of day
Umbrellas and gumboots to (attempt) to stay dry on your commute to and from work
Perth
It's another lovely day in Perth: temperatures will max out at 30 degrees, and there is no chance of rain – hooray!
Light winds arriving in the evening might bring a welcome temperature shift from a hot and sunny day.
Fail-safe outfit options:
Did someone say pleated floral skirt? Yes, we did. Put it on and try not to smile today
Sandals with plenty of colour, jewels and tassels should be a Monday staple (and if you don't have a pair, Monday lunchtime is the perfect time to scour the shops for some!)
Sydney
Sydney, you're in for a friendly, Monday reminder that summer may well be officially over. Sorry.
Temperatures will hit 20 degrees, with partly cloudy skies and a chance of a shower throughout the day.
Fail-safe outfit options:
That well-worn leather jacket is perfect for showing Monday who's boss
Since we're going for a 'tough-chick' look, pair with a distressed pair of comfy jeans
Forecasts sourced from the Bureau of Meteorology.