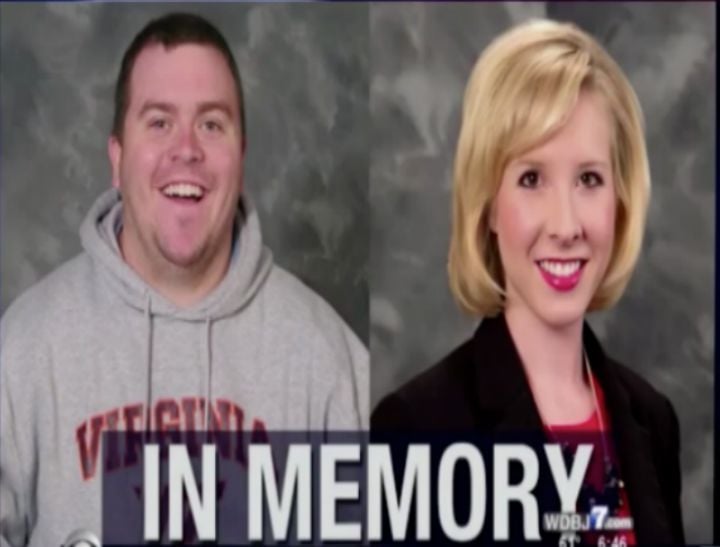 One day after Alison Parker and Adam Ward were killed their colleagues are back on air.
They are back at work one day after their beloved colleagues were gunned down.
Tearful. Heartbroken and still filled with the horror of the last 24 hours, but back at work.
Back doing the job they love for the people they love.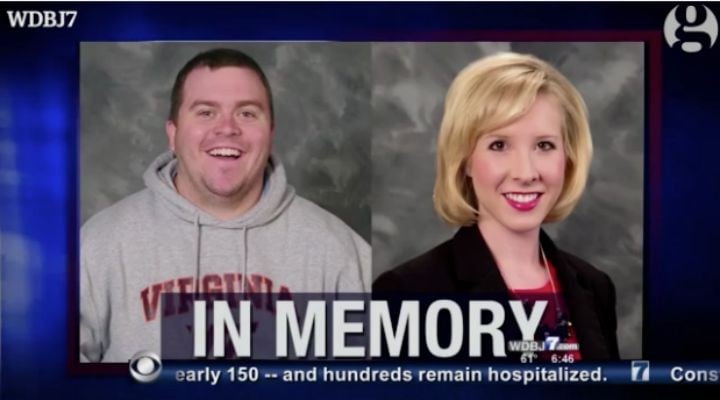 It was a solemn morning show for WDBJ 7 who went back on air a day after 24-year old Alison Parker and 27-year old camera operator Adam Ward were killed by a disgruntled former colleague.
Host Kimberly McBroom, who was on-air yesterday when the shooting happened, was at the desk – supported by a journalist from a sister station brought in from another city to give support and step in if needed.
The hour-long broadcast was dedicated to the slain journalists with photos and memories of the two shared.
At around 6:45 a.m. the time of the shooting the team held hands and began a minutes silence.

Kim McBroom's voice broke as she said "We are different people this morning. We are grieving."
"It's a loss that will never be filled. Your support has been a lifeline for us."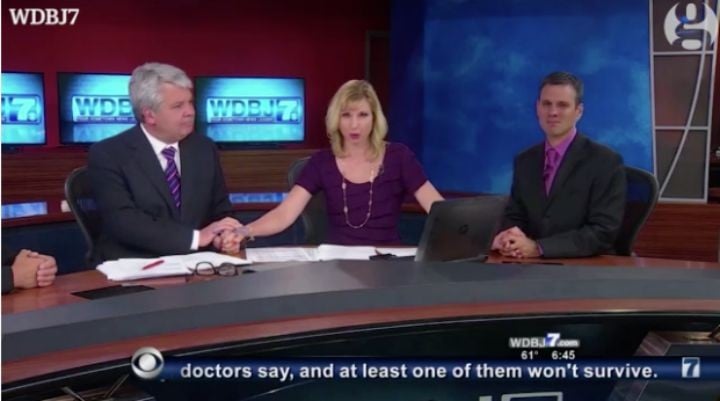 Right throughout the show the faces of Alison and Adam lit up the screen.
"The sun will shine just as bright today as Alison and Adam," said weatherman Leo Hirsbrunner, who wept through the show.
"They brightened our newsroom every day, every year."
"They're doing as well as can be expected," station general manager Jeff Marks told ABC News. 
"They're choking back tears and their emotions show, but they're covering the news."
Just before they went to air McBroom wrote on Twitter, "Preparing for a very difficult WDBJ7 Morning broadcast. But I am strengthened by your love and condolences. We will get through this together."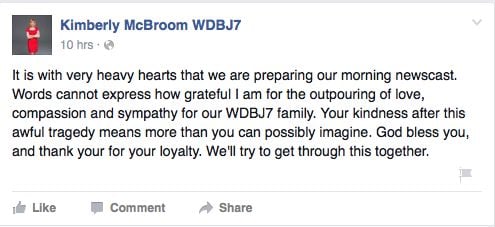 The team wore the colours maroon and teal to represent the pair.
"Maroon represents Virginia Tech and the teal was just Alison's favorite color." Station Manager Jeff Marks said.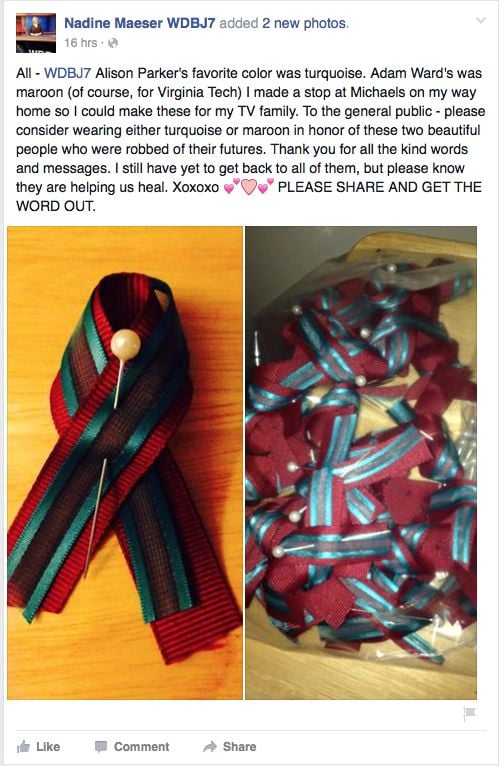 Earlier the partner of Alison Parker, Chris Hurst, also a reporter at the station told CBS how he found out she had died.
"So our schedule was pretty much I would come home from work around midnight, I would stay up until she got up and I would make her breakfast and make her her lunch and send her off her day," Chris Hurst explained.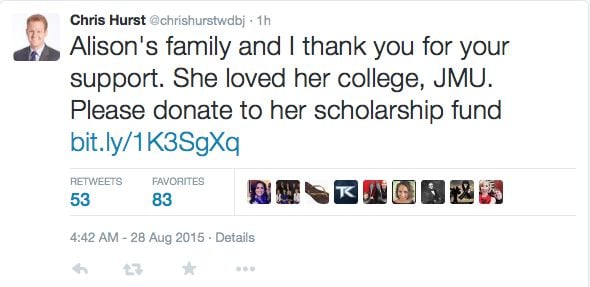 "She texted me when she got to work at around 3 a.m. that said 'Goodnight sweet boy' and that was the last that I had heard of her. And then about 7 o'clock yesterday morning I got calls from the station that there was a shooting live on-air and that I needed to come to the station."
Hurst told of how the nine-months he and Alison had spent together were "white hot"
"I can tell you guys that it was a white-hot relationship that burned full of love. We were betrothed to each other, we were going to get married," Hurst said.
"We moved in together in August because we wanted to save money to buy a house and buy a ring. We were living the dream and that dream was shattered.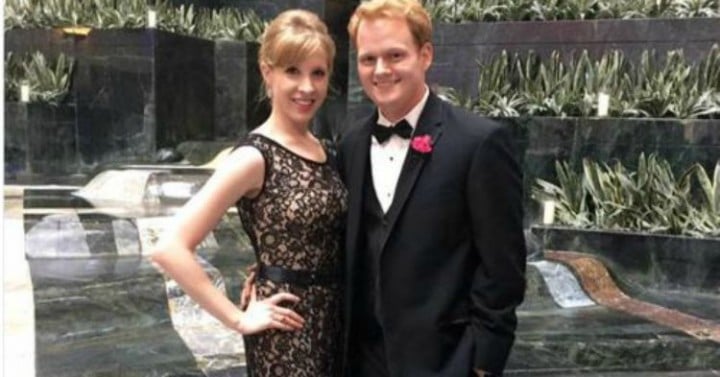 "She was phenomenal and she was the love of my life and she told me every day that I was the love of hers," Hurst said. "This was two of us gunned down. We will not forget them."
Meanwhile the father of Alison Parker has said he won't rest until the country finds a way to keep guns out of the hands of people with mental illness.
Andy Parker said his grief has turned to anger "because how many times are we going to see an incident like this happen? You know, Newtown, Charleston, the movie theaters, you name it. It's got to stop. It has got to stop."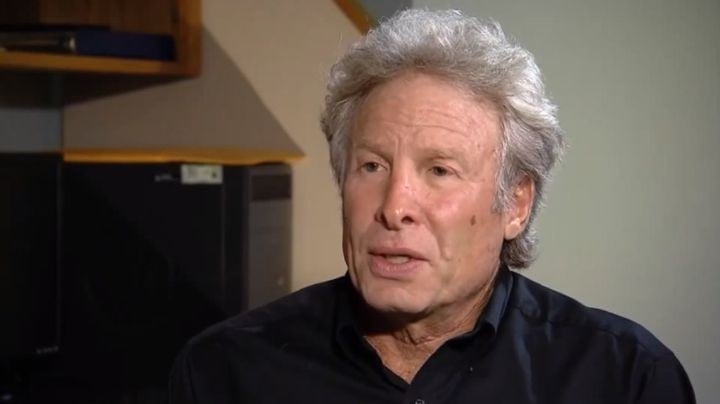 "We've got to find a way to keep crazy people from getting guns, mentally unstable people," he told NBC News. "The people that do this are mentally unstable, and somehow they're able to get guns."
"I know how this stuff works," he said. "This is going to be a hot story for two or three days, typically, and then it just goes away: 'OK, next. Let's see what Trump is doing.' That can't happen. That can't happen. I'm not going to let it happen."
Want more?

This morning, I saw the face of a woman just moments before she died.

What cameraman Adam Ward did in his final seconds may have saved many lives.