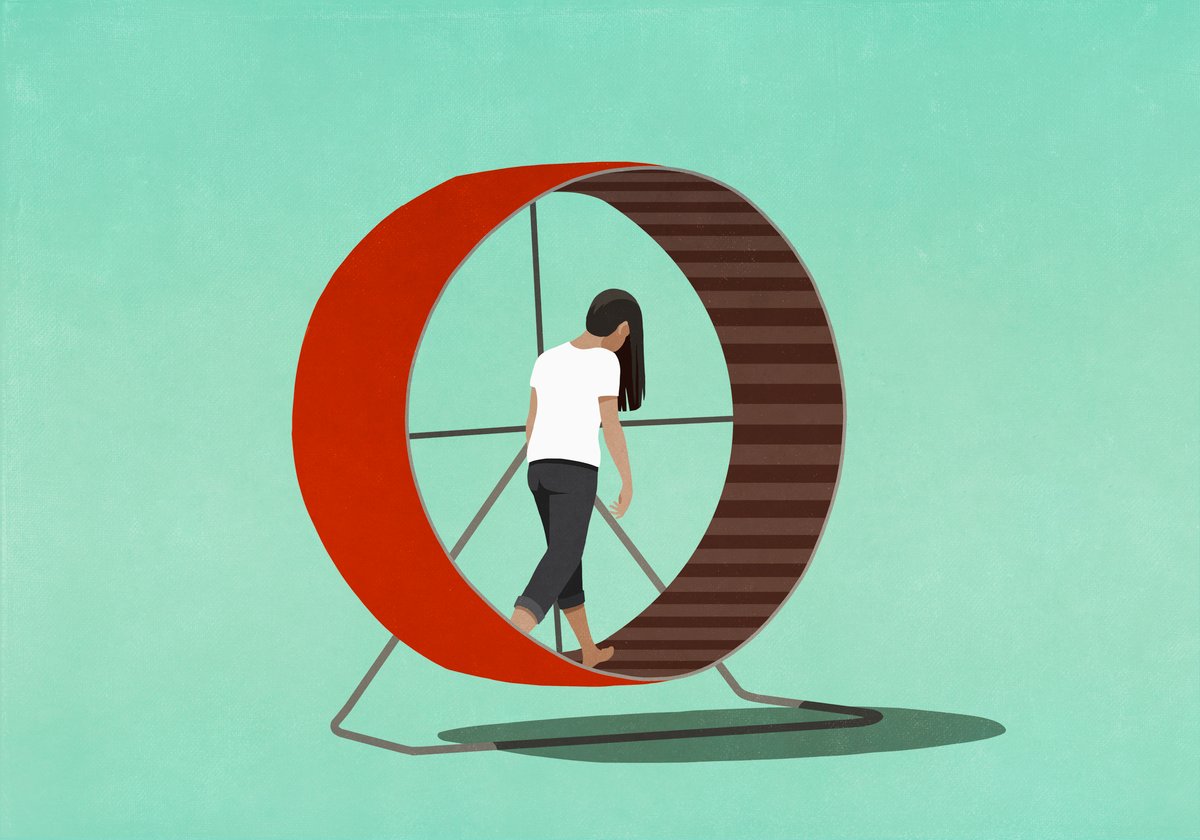 Question for you: Have you ever felt like your worries and what-ifs have just completely spiralled out of control? It usually starts with something small - an email from your boss, a message from a friend - and then suddenly it spins into a full-blown rabbit hole of anxious thoughts.
Known as 'worry spiraling' or a 'worry cycle', sometimes it can feel impossible to pull yourself back once you've started the process. You literally feel you're on some kind of human hamster wheel.
And while it isn't for anyone else to decide what is and isn't worth worrying about (*insert people telling you: "don't worry about it!"*), it is possible to overthink your worries and end up falling into an endless stream of panic.
Watch: Talking in your sleep? Here's why. Story continues below.
So, what can you do to break this feeling? And what does it mean for your health if you're anything but the 'chill girl'? (Don't worry, she doesn't exist).
We had a chat to Lysn psychologist Nancy Sokarno to find out more.
What is a 'worry cycle'?
Sokarno basically describes the 'worry cycle' as what happens when you fall into a spiral of worrying about a potential 'threat' or fear around a future event that you perceive might be negative.
She said, "It is similar to an 'anxiety cycle' however a little different because while the term anxiety is often thrown around loosely. Anxiety can be recognised as a disorder if it has effects to your day to day functioning, whereas worry isn't."
"Worry or stress are absolutely still mental health concerns, but most humans experience these feelings regularly, whereas not everyone has diagnosed anxiety disorder," said Sokarno.
So, to make it clear - just because you worry too much, doesn't necessarily mean you have anxiety. These are two separate things.
While we hear the phrases 'stressed' and 'anxious' being thrown around interchangeably, Sokarno reminds us that those specific phrases can mean different things to different people.
"If someone says that they had an anxiety attack, they often mean they felt anxious or were suffering from feelings of stress and worry, or perhaps they felt the symptoms of a panic attack."
She said that understanding the differences between stress, worry and anxiety can be difficult because all conditions can have similar feelings and symptoms.