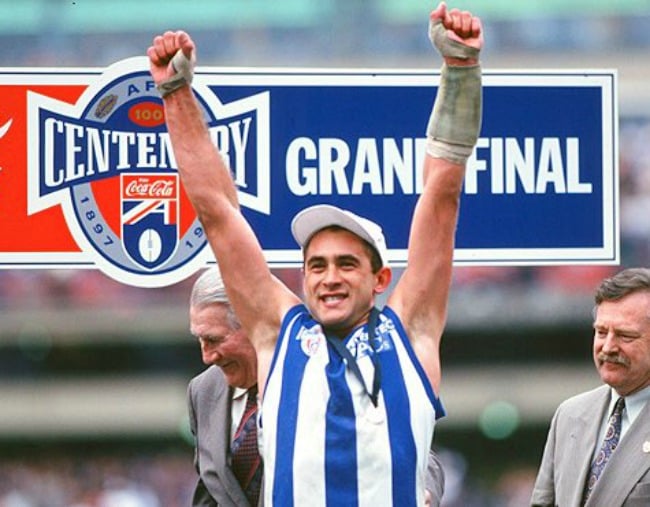 Warning: This post discusses suicide and could be distressing for some readers. 
Wayne Schwass was 27 on the last Saturday in September of 1996.
He had been playing AFL ever since he moved to Australia from New Zealand when he was 10, and in his eighth year of playing for North Melbourne Football Club, he was standing on the Melbourne Cricket Ground for Australia's 100th AFL Grand Final. But out of a crowd of 94,000, his wife Rachel and his GP were the only people who truly knew what was going on.
North Melbourne won the premiership by 43 points, and like his teammates, Schwass raised his arms in victory, with a medal around his neck, and smiled at thousands of screaming fans. In that moment, his joy is indiscernible from that of his fellow players, all beaming with pride during what might have been one of the happiest days of their lives. It's a moment many young men dream about.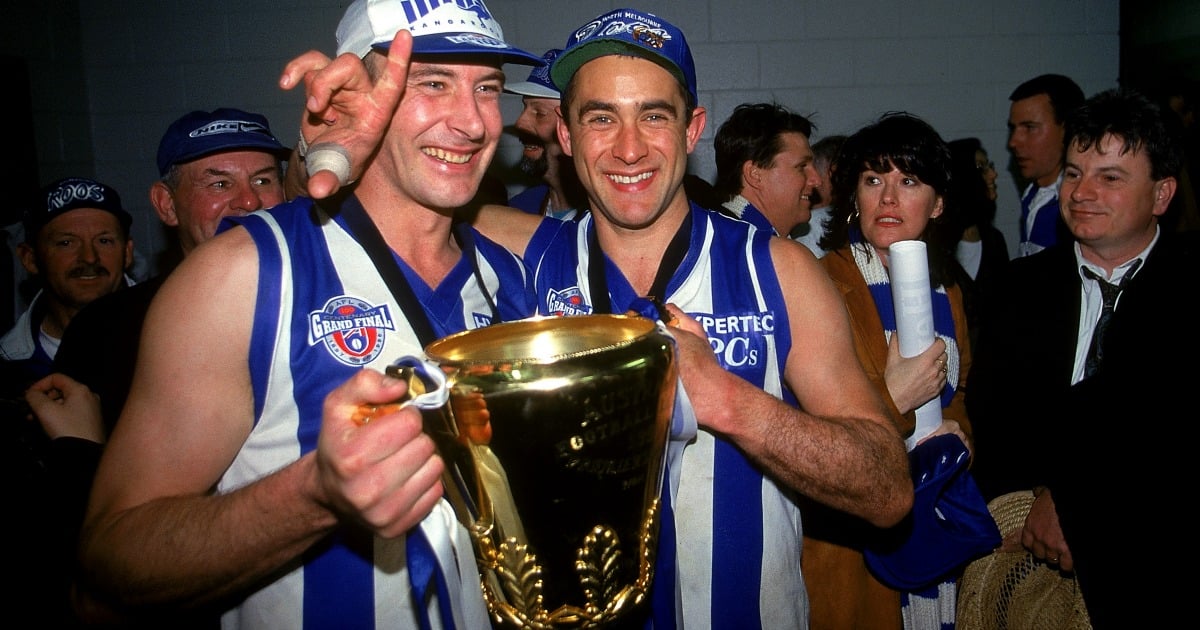 But in the years since his career-defining moment, Schwass has spoken at length about the story no one knew. That three years prior to North Melbourne's win, he had been driving home from training when "for no apparent reason" he burst out in tears. The same thing happened every day for two weeks, until in August 1993, he was diagnosed with depression.
When the crying first started, he didn't tell his then-fiancee Rachel because he was ashamed and embarrassed, and was convinced she would leave him if she knew who he really was.
"I would park my car outside the house for as long as it took me to stop crying and compose myself before I could go inside the house," he told Hamish McLachlan from the Herald Sun earlier this year. But he ended up not really having to tell Rachel - because she already knew.
"Rach sat me down and said she knew something wasn't right, without knowing what it was, and suggested we see my doctor," Schwass told McLachlan. "We subsequently made an appointment see my very dear friend, Harry Unglik, who was the North Melbourne doctor for 30 years. So on the 9th of August, 1993, we sat in his room for 45 minutes, and the only thing that I can remember in the conversation were the words he said towards the end of it our consultation, which were: 'Wayne, you are clinically depressed'. That was the beginning of a very long and painful journey."
In a tweet shared on Wednesday, now 49-year-old Wayne Schwass has shared a haunting image from that Grand Final day in September 1996 - over 20 years ago.
This is what suicidal looks like. Fake smile, act happy, celebrating premiership success with @NMFCOfficial in 1996. Truth was, incredibly suicidal, looking for my wife in the crowd because I wanted to end my life. Only 2 people knew in a crowd of 94.5k my wife & GP #pukaup pic.twitter.com/jRfLMAYY4k

— Swatta (@WayneSchwass) December 13, 2017
"This is what suicidal looks like," he wrote. "Fake smile, act happy, celebrating premiership success..."
"Truth was, incredibly suicidal, looking for my wife in the crowd because I wanted to end my life. Only 2 people knew in a crowd of 94.5k my wife & GP."
While Schwass has been a crucial voice for men's mental health and wellbeing since he began speaking publicly about his depression in 2006, this image in particular - of a seemingly happy man, celebrating profound success - is an immeasurably powerful one.
In an image-based culture, where individuals construct their identity and what they want others to know about their lives through photographs, Schwass' image is a timely reminder of the struggles that go unseen. A reminder that even a person who appears to be at the height of their career can simultaneously be feeling their lowest, and that a person surrounded by tens of thousands of admiring fans can be looking for just one face who really knows them.
Listen: Mia Freedman interviews author Marian Keyes, who says while people expect depression to be a sadness, everything in her was heightened. (Post continues after audio...)

At the time, Schwass was convinced that talking about his mental health would mean losing "friendships, relationships, opportunities and most importantly respect". But as one of Australia's first sportspeople to speak openly about depression and alcoholism, he paved the way for current AFL players like Lance Franklin, Alex Fasolo, Tom Boyd and Travis Cloke to be honest about their personal experiences and take time away from the field for their wellbeing.
As a father of three, Schwass is determined to make a real difference when it comes to the mental health of all Australians.
His new social enterprise, PukaUp, invests in creating safe and non judgmental conversations about mental health, wellbeing, and suicide prevention, and the community Schwass has created has already had a profound impact.
Speaking to McLachlan, Schwass tells a story about giving a 15-minute presentation at one of his children's schools, where 400 parents were present. "I didn't appreciate how much it connected until I received a message the next day," he said.
"It was from a man who was in the audience the previous day. He was a father of two kids whose marriage had ended, and he was doing it very tough. He hadn't reached out for any help. On the morning of my presentation, he was standing on a bridge about to end his life when he remembered I was going to be talking that day at his kids' school, and thankfully he decided to hop off the bridge and come to the presentation. Once he saw the presentation, he reached out to some family and friends, told them what was going on, and I glad to report he is getting the necessary help."
"That's why I do what I do."
If you're suffering from depression or any other mental health problem and need help, or just someone to chat to, you can call Lifeline on 13 11 14 or BeyondBlue on 1300 22 4636. You can also find excellent resources at Sane and Black Dog Institute.