The mother of New Zealander Warriena Wright, who died after falling from the balcony of Gable Tostee's 14th floor Surfer's Paradise apartment, has criticised the judge in Tostee's murder trial saying she didn't want to hear her daughter's screams.
Merzabeth Tagpuno said in a statement, read out to media by a family representative, that the "media… have made this trip the most saddest, hardest trip I have ever had to endure".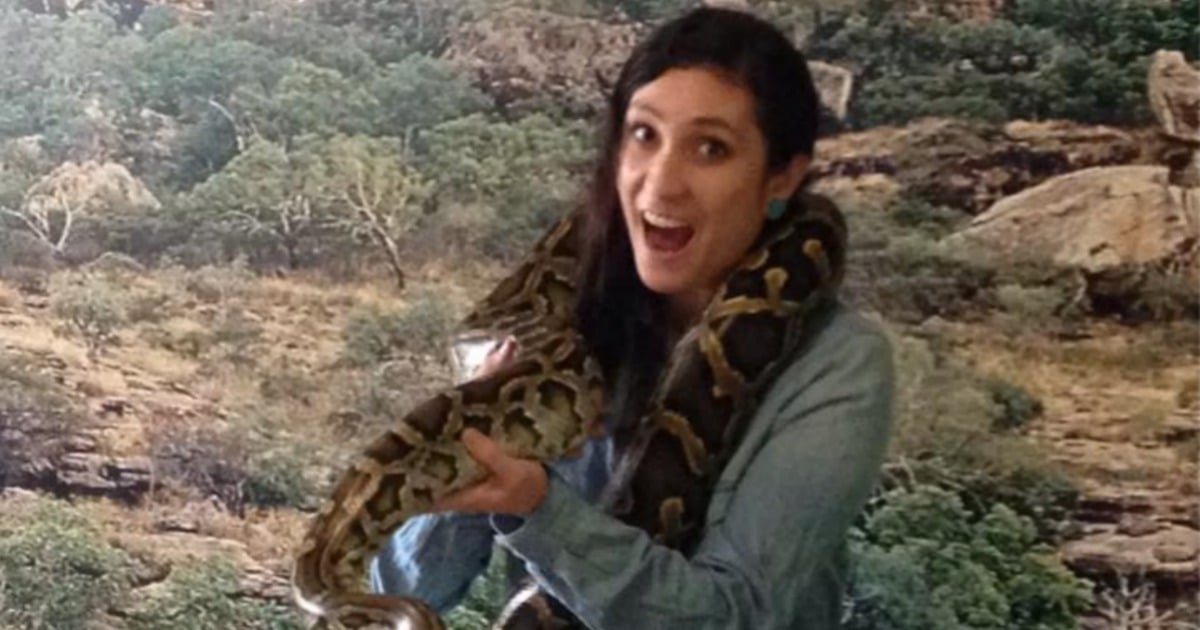 Warriena Wright's mother's angry statement. Via Facebook.
"I asked not to release the audio tapes - yet I was over-ruled by the judge. I did not want to hear my daughter screaming, 'No, no, no'. I did not want to remember her like that," Ms Tagpuno said.
"I feel our family had been disrespected by the judge's ruling to release the audio tapes to the media. To those who want an exclusive from my family, we're saying 'No'.
"The judge gave you everything - that is enough."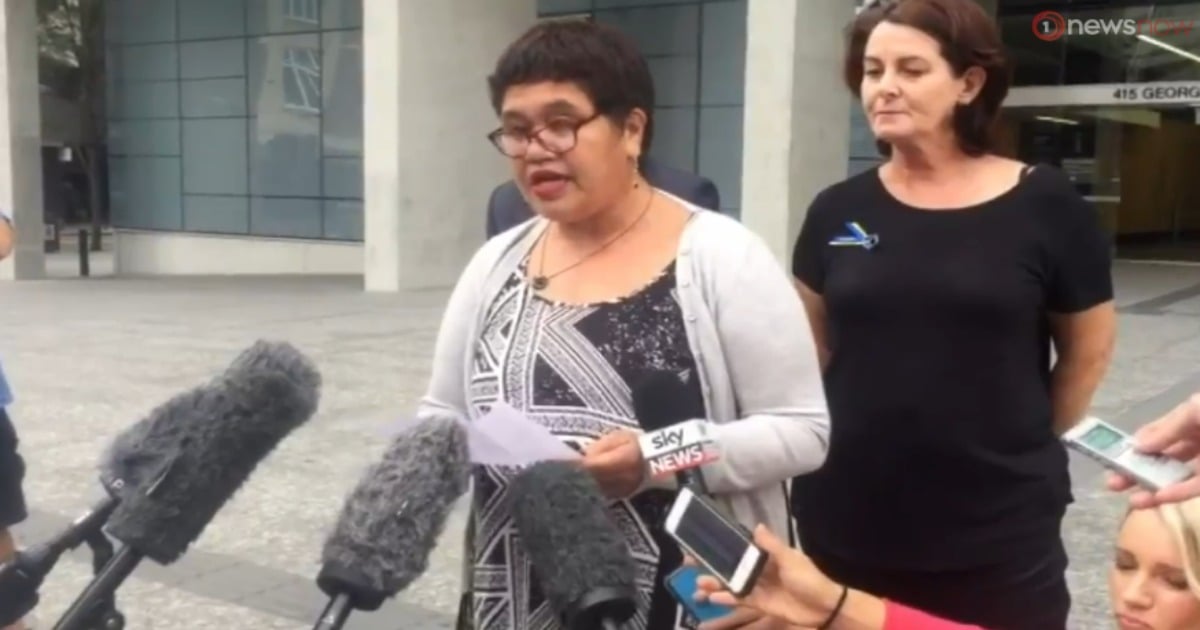 A family friend read the statement. Via 1 News.
She said:"The media have hurt me so bad. When this is over I will go back to New Zealand. I want to be left alone. Please respect my privacy, I will not talk to anybody; just leave our family in peace.
"No matter how this goes, I just want to go home."
Audio recorded by Tostee of the night appeared to show the pair fighting, and captured Wright's terrified screams, as Tostee allegedly refused to let her go home.
The court heard that he locked her on his balcony, before she plunged to her death while trying to climb to the balcony below.
While prosecution has not suggested Tostee pushed or threw Ms Wright off the balcony, but that he locked her outside and intimidated her so much she felt her only means of escape was climbing down. Prosecutor Glen Cash also alleges Tostee choked Ms Wright after she threw a decorative rock at him.
But Defence barrister Saul Holt QC has argued Tostee was within his legal right to protect himself and his property by restraining her.
"She is outside, he is inside and he has caused a locked door to be between the two of them," Mr Holt said in his opening address. "What happened in this case is nothing like murder or manslaughter, it doesn't fit."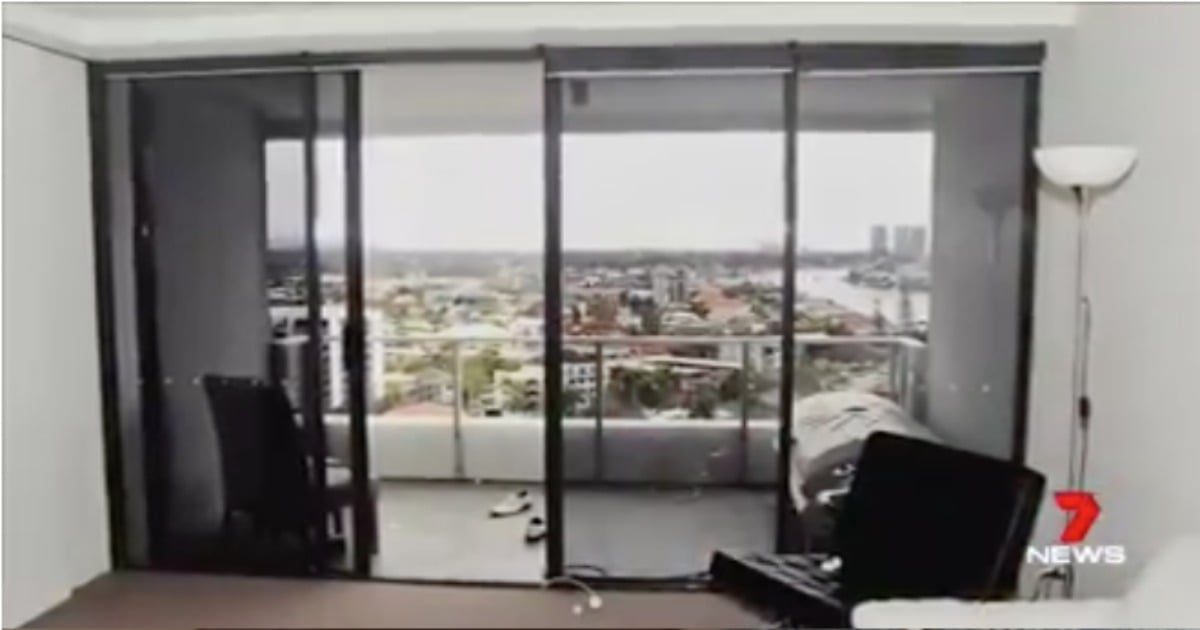 Gable Tostee's apartment. Via 7 News.
Yesterday, Gold Coast doctor Dianne Little told the Brisbane Supreme Court that Ms Wright had more than 80 injuries after she fell from Gable Tostee's apartment.
Her blood alcohol reading was estimated to be 0.156, or more than three times the safe driving limit.
Dr Little, the last witness in the Crown's case, told the court it was hard to conclusively determine Wright's height, because "there was severe disruption to her body due to trauma".
"She had severe injuries to all of her body that caused her death," she said. "At the time she arrived in the mortuary her body was almost folded over on itself, her head was hyper-flexed down towards her trunk.
"There was a piece of her jeans caught in a skull fracture."
Ms Wright's sister, Reza Tagpuno Wright, 25, has previously spoken of how Warriena was "responsible" and "intelligent".
The Daily Mail reports she said: "She was a very beautiful, cheerful, intelligent person who not only was my sister but my best friend. She looked out for me, made sure I was okay. Most of the time we really only had each other.
"She was very responsible."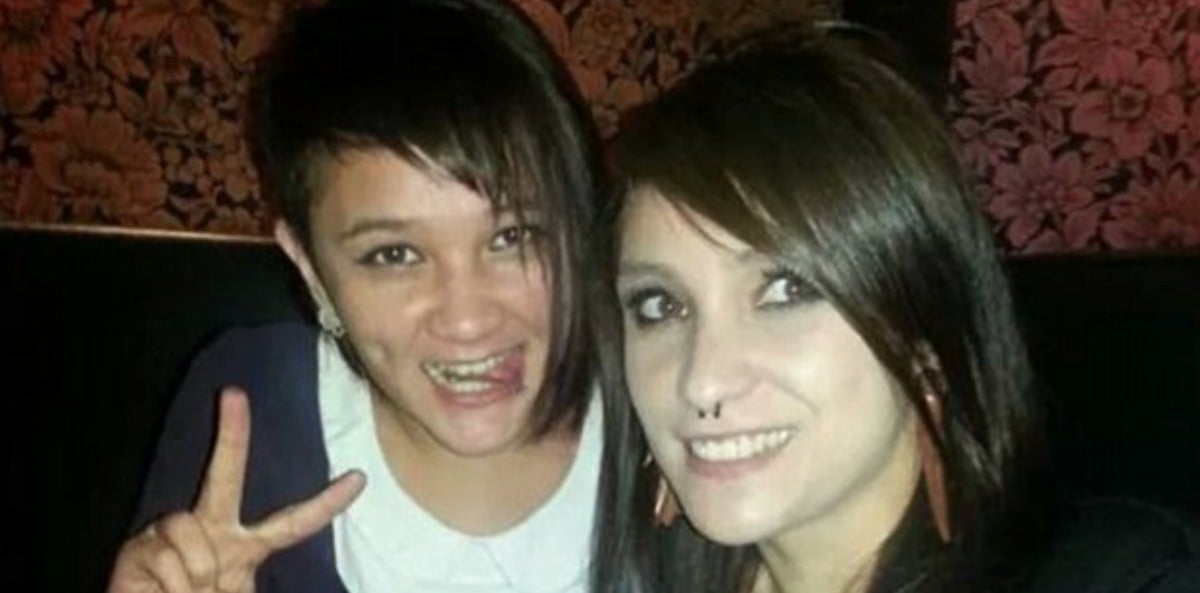 Warriena and her sister, Reza Tagpuno Wright. Via Facebook.
Reza said Warriena was 'very excited' about her trip to Australia for the wedding of a former work colleague.
She said the photograph of her sister laughing with a snake wrapped around her neck on a visit to Australia Zoo days before her death was 'typical' of 'Rrie'.
"She was a practical joker. She always played pranks on me," Reza said.
During the trial the court has heard the salacious Tinder messages between the two with Tostee telling the 26-year-old she looked "delicious" and he wanted to do "dirty things" to her.
The pair first started messaging each other on the dating app on August 1 before arranging to meet in person on August 7, 2014.
Tostee then asked Ms Wright whether she was a "freak in the sheets" and told her he was a "pornstar after a few drinks."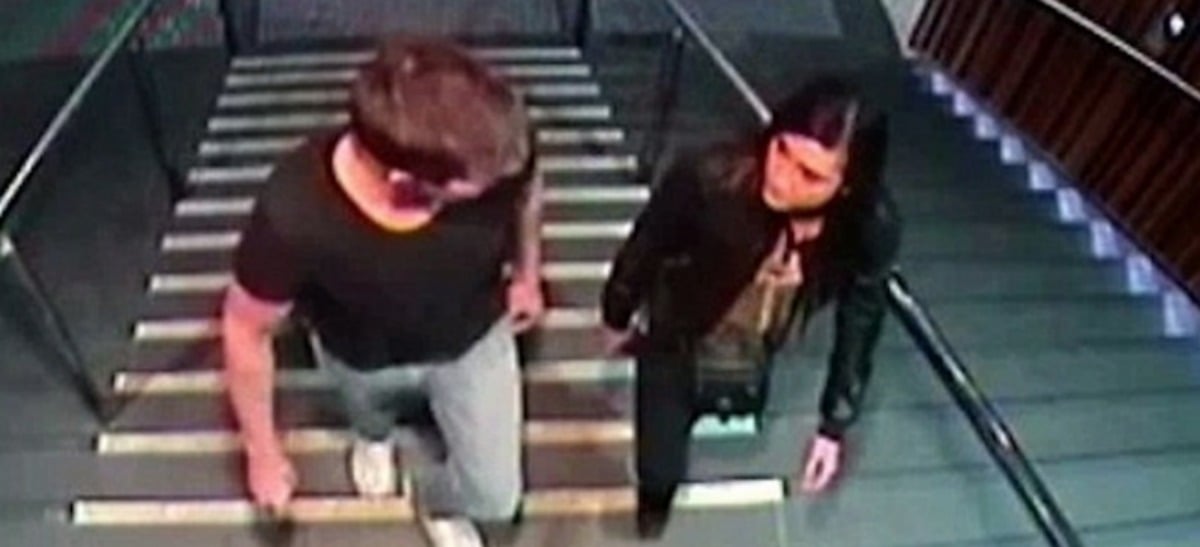 The pair enter Tostee's apartment. CCTV.
At 1am on Friday, August 8, 2014 Tostee began recording on his mobile phone. It is alleged that the two had had sex and been drinking before he switched his device to record.
At 2.14am – Tostee says "You have to leave." Ms Wright replies "It's all good." Tostee: "You're f***ing insane."  Then a minute later, Tostee: "You're lucky I haven't chucked you off my balcony you goddamn little pschyo bitch."
2.17am - Tostee: "I'm gonna let you go, I'm gonna walk you out of this apartment just the way you are. You're not going to collect any belongings, you're just going to walk out. I'm gonna slam the door on you. If you try to pull anything I'll knock you out, I'll knock you the f*** out." Heavy breathing then crashing sound
Three minutes later Tostee says "You just don't understand. Let go! You think if you hit me I'll just fall down like in the movies?" Ms Wright then screams "No, no, no, no, no. Just let me go home." Tostee: "I would but you have been a bad girl."
The 26-year-old screams again, a chilling fearful scream and cries out "I want to go home, I want to go home."
The sound is muffled and the screams become distant followed by loud heavy breathing.
At 2.22am  Tostee says "s**t"Where the f*** are my keys?"
He then leaves his apartment, travelling down to the ground floor before looking around the corner near where Ms Wright fell then heading back inside and going to the basement. He leaves via the car park. For the next hour he walks around the Gold Coast entertainment precinct.
At 3.11am he orders and eats pizza from a Cavill Ave shop and calls his dad "Hello dad, might have a bit of a situation ... I locked her out on the balcony and I think she might have jumped. I've been walking around and there's million cops around my building ... I swear to God I didn't push her. I just chucked her out on the balcony because she was beating me up ... why does s*** happen to me, I didn't do anything wrong."
Half an hour later Tostee is picked up by his father Gray Tostee in car. Tostee's words: "Oh my God I hope she's not dead."