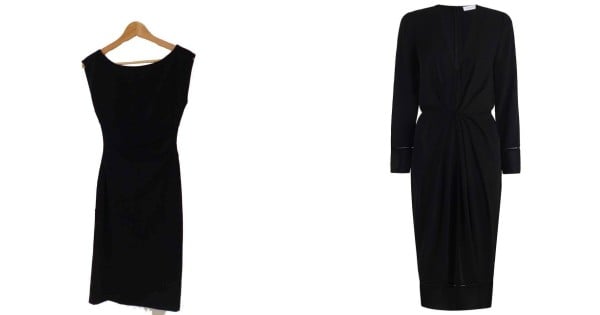 Getting older has some fabulous up sides. Confidence. A stronger identity. A less hit-and-miss wardrobe.
As a stylist and owner of online boutique Acey Acey, the one question I'm always asked by clients 30 and above is, "What clothes do I actually need?" Here are the five items that'll keep you looking as sharp as Beyonce's eyebrows.
A snug pair of jeans.
When it comes to staple items, denim is the new black. Like those friends who find your snort-laugh adorable, a pair of forgiving jeans that fit well and make you feel three million bucks are always required.
There's a smorgasbord of styles (skinny, boot-leg, flare, cropped, frayed, embellished) so take your sweet time figuring out which suits you best and don't feel guilty dropping some serious coin on them if you need to (a good pair will last and last). I love Frame denim, an LA-based designer that really gets a woman's body.
Our picks: Frame Jeans, $162.00  The cut is fabulous and this colour is perfect for everything. Want something darker? these Target Shape Your Body Jeans, $49, are super flattering and comfortable to boot.
A goes-with-everything button down shirt.
A crisp shirt is the vanilla flavour of the top kingdom. It's not going to set your world on fire but goodness it's versatile and familiar and goes with everything. You'll never go wrong if you choose classic black or white over anything patterned.
Our picks: This Portmans Pintuck White Shirt, $69.95 will never date while Witchery's Sofia Piping Shirt, $179.95 adds a little zoozh to a simple staple.
 The look-at-me jacket.
Known by fashiony types as a "statement jacket" (you can bet the term rolls of Anna Wintour's tongue on the reg), think of this item as a distraction device. If you're running on four hours of sleep, throwing a dazzling sequin jacket on over your tired person is going to do wonders for your mood and will take all the attention away from any under-eye bags. Owning one fun, bright, over-the-top jacket is never a bad idea.
Our pick: ASOS sequin jacket $98.00. A classic cut updated with a killer sequin design. You'll stop traffic - literally. Country Road's Metallic Soft Jacket, $171.75, is a shiny coat for all seasons.
 The denim jacket.
Repeat after me: A denim jacket will never go out of style. Also repeat after me: always gently remove your eye makeup - do not drag. Okay, we're getting a little off topic here. What you do need to know is that the denim jacket has long been emancipated from its Wild West reputation and is now the perfect transeasonal jacket. Wear it in summer over a maxi dress or in winter over a knit.