Has there ever been a warmer, more nurturing TV mum than Julie Rafter?
When our beloved Rebecca Gibney ditched her Gold Logie winning role to pull on Lola Buckley's baseball cap for season one of Wanted, it came as a shock to the systEM.
Listen to Rebecca Gibney explain why Wanted is the one Australian TV show you should watch this week on The Binge.
Lola is certainly no Julie. She's a tough-as-nails single mum on the run, guarding the secrets of her troubled past.
But just a few minutes in, we recovered. And we discovered an incredible, fast paced show, worlds away from the Rafter's picture-perfect suburban lives.
This is Gibney as you've never seen her, in what may be her best role yet.
Joining The Binge podcast this week, the actress told hosts Laura Brodnik and Clare Stephens that she wrote Lola's character because she wanted to play someone with 'edge.'
And she wrote a lot of herself into the character.
"I actually think it's just the fourteen-year-old me grown up, 'cause I used to live in flannelette shirts and Ugg boots," she says.
And she was definitely onto something real.
"I wanted to make Lola even more different, which is why she drinks beer and she burps and she loves a burger and she doesn't care about her weight and she doesn't care how she looks."
"Even in season two, there's still so much about her you don't know," the 52-year-old says.
When it came to production the show stayed true to its gritty roots, right down to the characters' makeup. Would a woman on the run be wearing a full face of foundation and perfectly applied mascara? Absolutely not.
"It's gotta be authentic…When we were in Thailand we had some makeup on wanting us to look hot and sweaty and it actually looked like we had makeup on, so in post we had to get it taken off," Gibney explains.
So what's ahead for the coming season?
"Season two starts with a bang," says Gibney.
And she's not lying – Lola and her timid accomplice Chelsea Babbage return in the colourful city of Bangkok.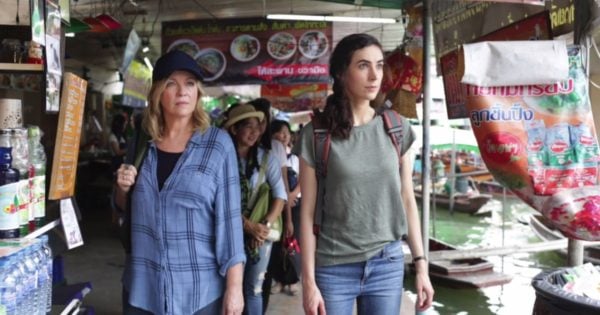 "We realise Lola's son David has been taken in Bangkok... once they get there, something terrible happens for Lola," Gibney says.
One of the overarching story lines that weaves through both seasons is an issue that is very close to the actress - violence against women.
"The reason Lola is on the run initially comes from domestic violence. And obviously when you're portraying something like that you have to be incredibly careful how it comes across.
"But having been raised in an environment like that I kind of feel like I had a little bit of licence to do that anyway. Because I know it. I've lived it," the New Zealand born actress says.
Season two of Wanted airs 8.40 pm tonight on Channel 7. 
Listen to the full episode of The Binge here:
You can buy any book mentioned on our podcasts from iBooks at apple.co/mamamia, where you can also subscribe to all our other shows in one place.