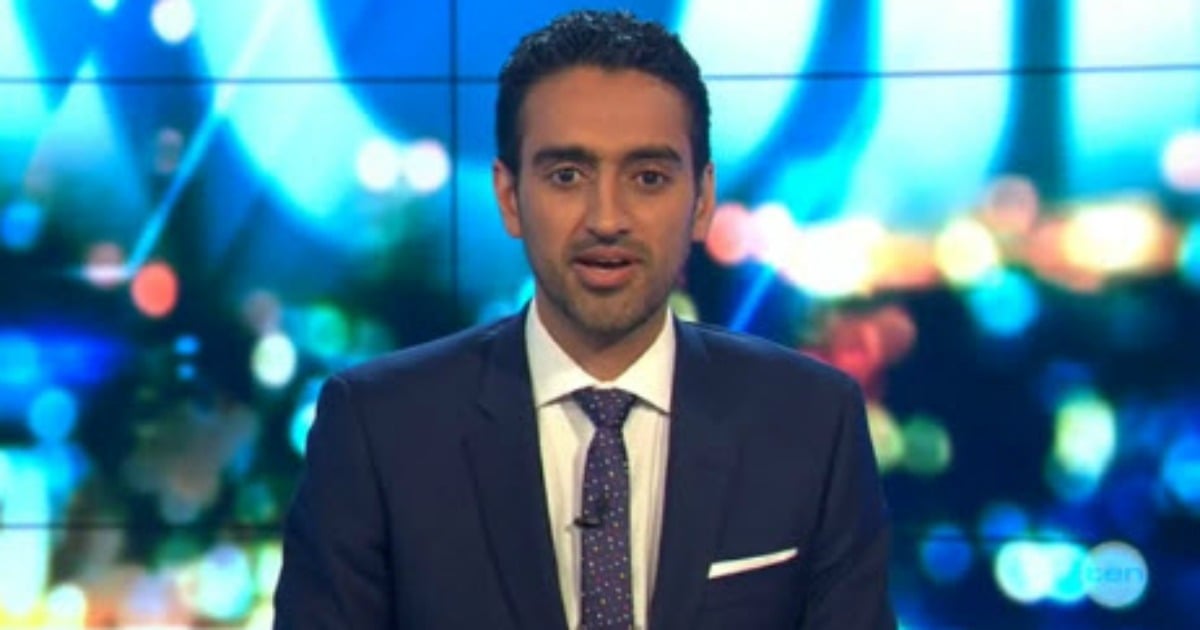 Waleed Aly — famous for his epic, passionate and totally sensible diatribes — has hit out at the "sexist, provocative, homophobic, elitist, smug and offensive" Daryush "Roosh V" Valizadeh.
And nailed it. Again.
The controversial "pick-up artist" and author has organised meet-ups of like-minded pro-rape cretins in Australia on the weekend, inevitably whipping up a media shitstorm.
"For the past 48 hours, Australia has been under attack by a pro-rape internet troll… threatening to come to our country," Aly said on tonight's episode of The Project.
"What he has to say is intentionally shocking and it's had many of us taking to social media to express our outrage. And that's why this is something that we shouldn't talk about."
Aly says Roosh — whose rants have included topics such as why "fat girls" are unattractive, how women who wear flip-flops are slobs, and why rape on private property should be legal — has only one thing on his agenda.
"Before you let your outrage fly, you should also know that this 'man-beast' is also intelligent, calculating, manipulative and focussed almost entirely on one thing – increasing his public profile," he said.
Watch the radical rant here (post continues after video):
How you can stop misogynistic internet trolls #clicksomethingelse
Written by Waleed & @twhittyer #TheProjectTV https://t.co/IqxQrcT9Ds

— #TheProjectTV (@theprojecttv) February 2, 2016
According to Aly, Roosh has a very specific modus operandi, which has proved successful in several other continents.
1. He unleashes "revolting, provocative statements" to varying degrees of offensiveness to get our attention.
2. Once he has our attention, he announces he will visit a country to meet up with like-minded "man-beasts".
3. Then, after mainstream media inevitably bites, he prolongs the story with social media posts intended to further bait and provoke people.
4. Finally, he exploits his spotlight to sell books and plan his next speaking engagement "where he'll entertain his audience with an arrangement of words that would not be out of place were scrawled misspelt on the back of a piss-soaked, broken public toilet door".
Aly says on his website that Roosh brags that he has been written about in the media and "triggered entire nations" – including Iceland, Denmark, Estonia, Latvia, Lithuania, and Colombia, Poland, Norway, England.
And now, Australia.
"Like everyone before us, we took the bait," Aly says.
"So how do we beat him? Well, if you really hate what this man-beast does, I challenge you to join me by hijacking his campaign. Instead of linking to articles about Roosh or responding to his calculated, vile tweets, which just keep him trending, I challenge you to click something else."
Aly, again very sensibly, encourages people to instead share a link to Lou's Place, a women's refuge in Sydney.
"You've never heard of them because they don't troll people with deliberately outrageous sexist comments and they're not pumped-up self-important media hacks who give trolls like that [for] attention," he pointed out.
"They actually do amazing work and they receive no ongoing government funding. They rely on donations from people like you.
"Let's highjack everything this guy stands for and click something else."
Bravo, Waleed.
You can share this link (http://lousplace.com.au) and donate by transferring money to 'The Marmalade Foundation Ltd'. BSB: 062 124. Account number: 1088 3779.