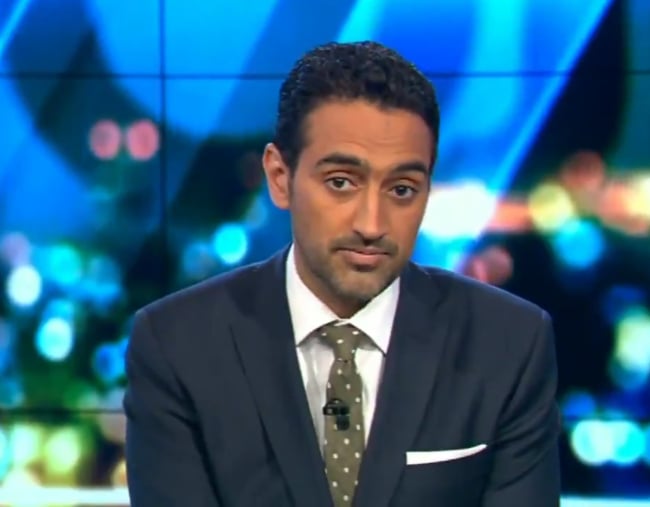 1. Waleed Aly launches blistering takedown of Prime Minister Malcolm Turnbull's claims.
The Project host Waleed Aly has accused Prime Minister Malcolm Turnbull and senior coalition MPs of dishonesty over their claims about African gang violence in Victoria.
In a blistering takedown on Thursday night's episode, the academic and television host took aim at comments made by Prime Minister on radio station 3AW this week.
"There is real concern about Sudanese gangs," the Prime Minister said on air on Tuesday. "You'd have to be walking around with your hands over your ears not hear it."
Aly, a Melbourne resident, noted that the only place he'd heard such concerns was precisely where the Prime Minister had made his comments: on talk-back radio.
It's time for our politicians to be honest about 'African gangs'. #TheProjectTV | Written by Waleed Aly and Tom Whitty (@twhittyer) pic.twitter.com/5GFGKkyGUh

— The Project (@theprojecttv) July 19, 2018
While he conceded that people of African descent were slightly over represented in certain crime statistics, he presented Victorian data which demonstrated that politicians were overstating the issue.
"Take aggravated burglary for example, where they were responsible for 3.8 per cent of incidents," Aly said. "That sounds huge until you look at the raw numbers, and you realise you are talking about just 70 incidents over the entire year."
"I'm sorry to say I think it's our politicians who aren't being honest here," Aly continued. "I think the government is facing the super Saturday elections next week. To put it crudely, they want to appear tough on Sudanese migrants despite the fact they're responsible for just one per cent of crime because being tough on that community wins votes in this country."
2. An 11-year-old boy is the sole survivor of a horror car crash that killed his dad, sister.