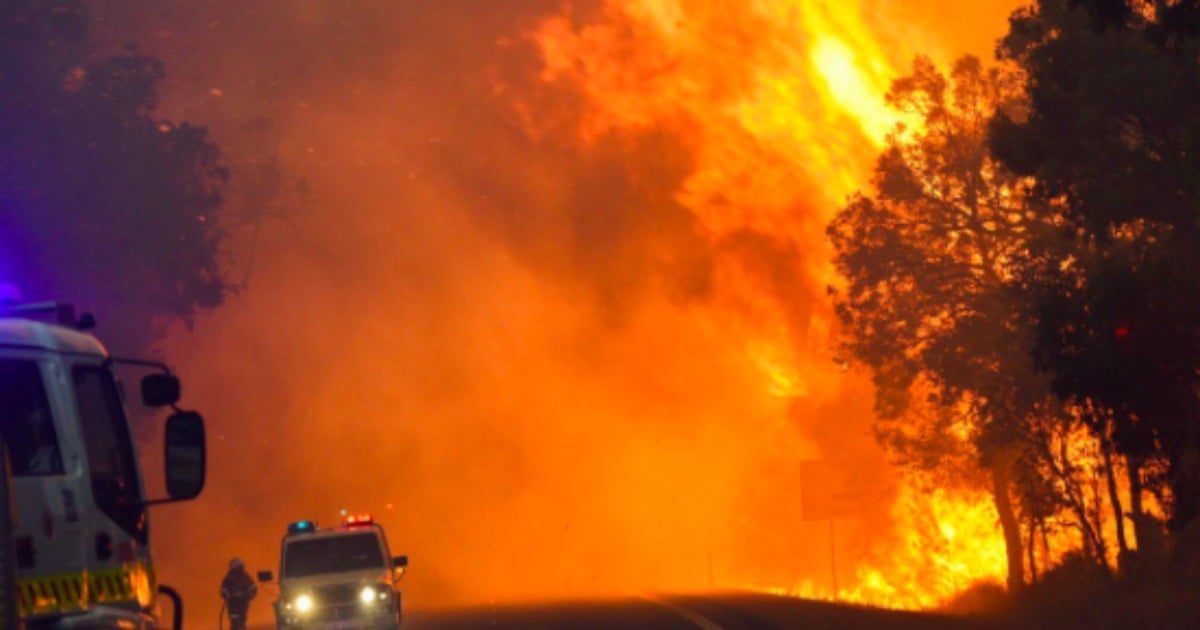 1. WA bushfires continue to spread. 
An emergency warning remains in place for a number of suburbs in Western Australia, after a massive blaze began on Wednesday.
The warning affects Waroona, Harvey, Preston Beach, Lake Clifton, Myalup, and surrounding areas. Many residents have been told it is no longer safe to leave, and to prepare to defend their homes.
The blaze has destroyed over 100 properties in the historic town of Yarloop, and burnt through 67,000 hectares of land. Along with homes, the local hotel, 110 year old Yarloop Workshops and Steam Museum, heritage doctor's residence and most of the local school have also been destroyed. It is believed to have taken the inferno just 7 minutes to sweep through the town on Wednesday night.
The blaze had been travelling at 1.5km per hour in a South Westerly direction towards Harvey, but authorities say easing winds overnight has slowed the blaze's progress. But the 200 plus crew of firefighters will have more hot weather to contend with today, with temperatures expected to reach the mid 30s, along with dry thunderstorms.
Residents who had been unaccounted for have now been found. There have been no confirmed serious injuries in the fire.
2. Mexican drug kingpin recaptured.
Fugitive drug kingpin Joaquin "El Chapo" Guzman has been recaptured by Mexican authorities, six months after he escaped from a high security prison.
Mexican marines had been conducting extensive operations in the northwestern states of Sinaloa and Durango in search of the 58 year old. The arrest has come as a huge relief for the President, who was criticised and humiliated after the escape.
The US Drug Enforcement Administration (DEA), which played a key role in Guzman's previous arrest in 2014 by providing intelligence, praised Mexican authorities.
On July 11, after 17 months at the Altiplano maximum-security prison in central Mexico, Guzman slipped through a hole in his cell's shower, climbed on a motorcycle mounted on rails, and traveled 1.5 kilometers through a tunnel to freedom.
Officials say he then flew to his home at the Sinaloa-Durango state border, where he is revered as a modern-day Robin Hood.
More than a dozen prison and federal police officials have been arrested on charges of helping Guzman flee, along with several associates of the drug lord who worked from the outside on building the tunnel.
3. Man charged over New Year's Day one-punch attack.
A man has been charged over a one-punch attack in Canberra's city centre, after CCTV footage was released to the public.
The 20 year old Braddon man handed himself in to police yesterday afternoon, and is helping police with their investigation. He has been charged with one count of recklessly inflicting grievous bodily harm, and has been released on bail. He will appear before the ACT Magistrates Court on January 15.
The victim had emergency surgery following the punch. In the footage, he can be seen falling sideways and hitting his head on the concrete.
Constable Jarrad Drennan said the victim was lucky to be alive and the outcome could have been far worse.
4. Search resumes for missing swimmer at Hawks Nest.
Police have resumed their search off the coast at Hawks Nest in the Hunter region for a missing 20 year old.
Police were called to Bennetts Beach at 4pm on Friday following reports a swimmer had gone missing. The man was swimming with three other men when two were caught in a rip. One managed to make it back to land.
Graham Nickisson, from the Westpac Helicopter, says the man was last seen face down in the water by his friends.
Police from the Port Stephens Local Area Command, as well as water police, Marine Rescue and Surf Life Saving officials searched until about 7.30pm on Friday when it was suspended due to poor visibility. The search resumed at first light this morning.
5. Cologne police chief suspended after New Year assaults. 
Cologne police chief Wolfgang Albers has been suspended, following criticism over his force's failure to prevent the sexual assaults on New Year's Eve.
Albers, 60, has been put into temporary retirement, according to interior minister for the North Rhine-Westphalia state, Ralf Jaeger.
"My decision is necessary in order to regain public confidence in the Cologne police force's ability to act, particularly in view of upcoming major events."
The suspension comes as authorities say many attackers were asylum seekers.
The world was shocked by the news that women had been victims of groping, insults and thefts at New Year festivities. More than 120 complaints have been filed by women, with assaults allegedly committed in a large crowd of partiers outside of the city's main train station, and the Gothic cathedral.
6. NSW Police officer lays daughter to rest after fatal crash. 
Almost three weeks after turning up to a horrific crash scene only to find his children in the wreckage, a NSW Police officer has laid one of his daughters to rest.
Sergeant Steve Underhill had been stationed nearby when he was called to the scene. His daughters, Elle and Elaina were in the back seat of their babysitter's red Mazda, when it collided with a car near Casino in northern NSW, on December 18.
The car was torn in half, leaving Elle, 4, with fatal injuries, Elaina, 2, with  serious injuries, and the babysitter with an arm laceration.
Colleagues and relatives consoled a distraught Sgt Underhill after Elle's small white coffin was carried out to the song Amazing Grace.
Hundreds of people, including Deputy Commissioner Catherine Burn, turned out to pay their respects and hear Elle's grandmother give the four-year-old's eulogy.