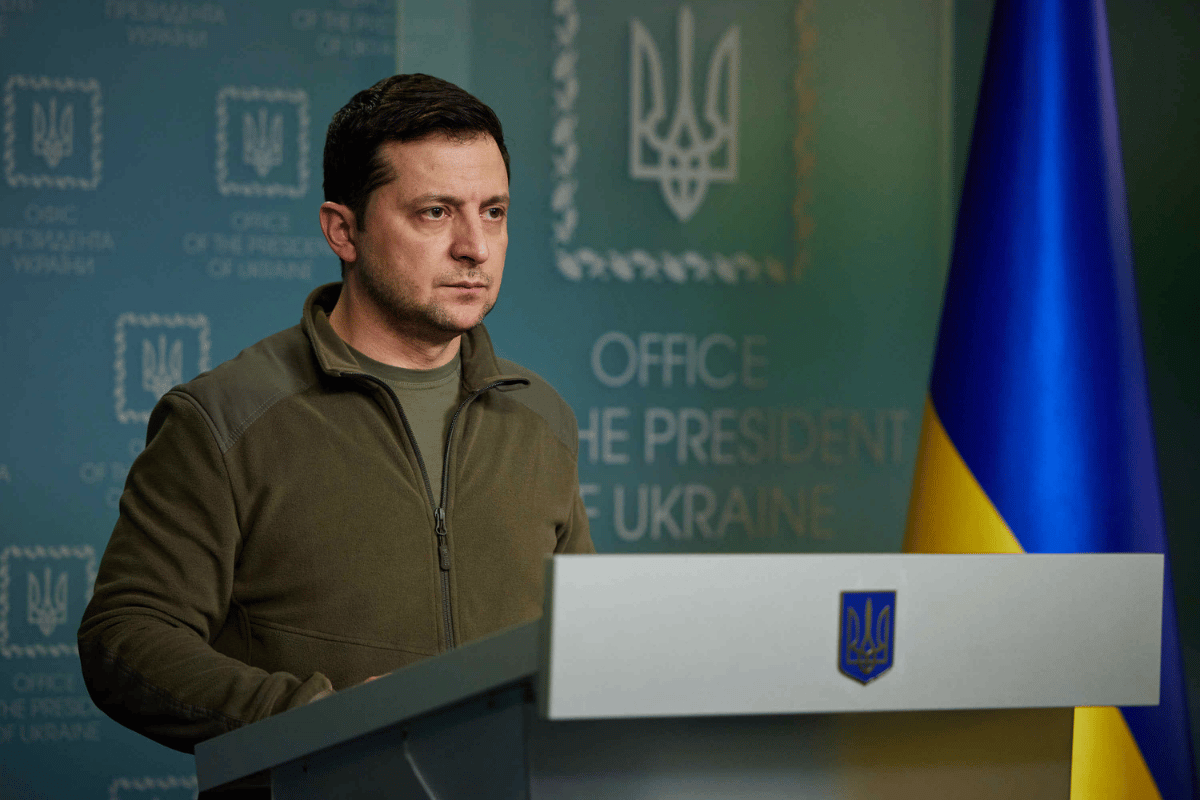 Ukraine's President Volodymyr Zelensky has been a figure of stoicism and defiance since Russian President Vladimir Putin ordered a "military operation in eastern Ukraine" following months of increased tensions.
Even amid the very real threats to his own life - Zelensky himself saying he is Putin's "number one target" - the Ukrainian President has vowed to stay in his country and fight.  
But what some may not know is this isn't the first time Zelensky has 'played the role' of a powerful leader. In 2019, he had a starring role as President on a popular Ukrainian television series. And only three years later, Zelensky is now leading Ukraine through war.
Ukrainian President Volodymyr Zelensky shares a message from Kyiv. Post continues below.
Video via USA Today. 
Here's everything we know about the Ukrainian leader.
Zelensky is a comedian and actor turned President.
Volodymyr Zelensky was born to Jewish parents in 1978 in the Ukrainian city of Kryvyi Rih. His father was a professor, his mother a former engineer. 
As a young adult, Zelensky studied and received a law degree from the Kryvyi Rih Institute of Economics. But alongside his legal studies, Zelensky was passionate about comedy. 
In his late teens, Zelensky decided to join a local sketch-comedy competition called K.V.N., a Soviet-era international comedy competition that remains popular in post-Soviet countries. Building on his love and talent for making people laugh, Zelensky began organising comedy shows and had his big break in the Ukrainian entertainment industry.
After starring in various feature films, it was in 2015 that Zelensky became the star of the television comedy and political satire series, Servant of the People. Ironically, he played the role of the President of Ukraine. Zelensky's character was a high-school teacher who surprisingly wins the country's presidential election after a video of him ranting against government and political corruption goes viral and catapults him to fame.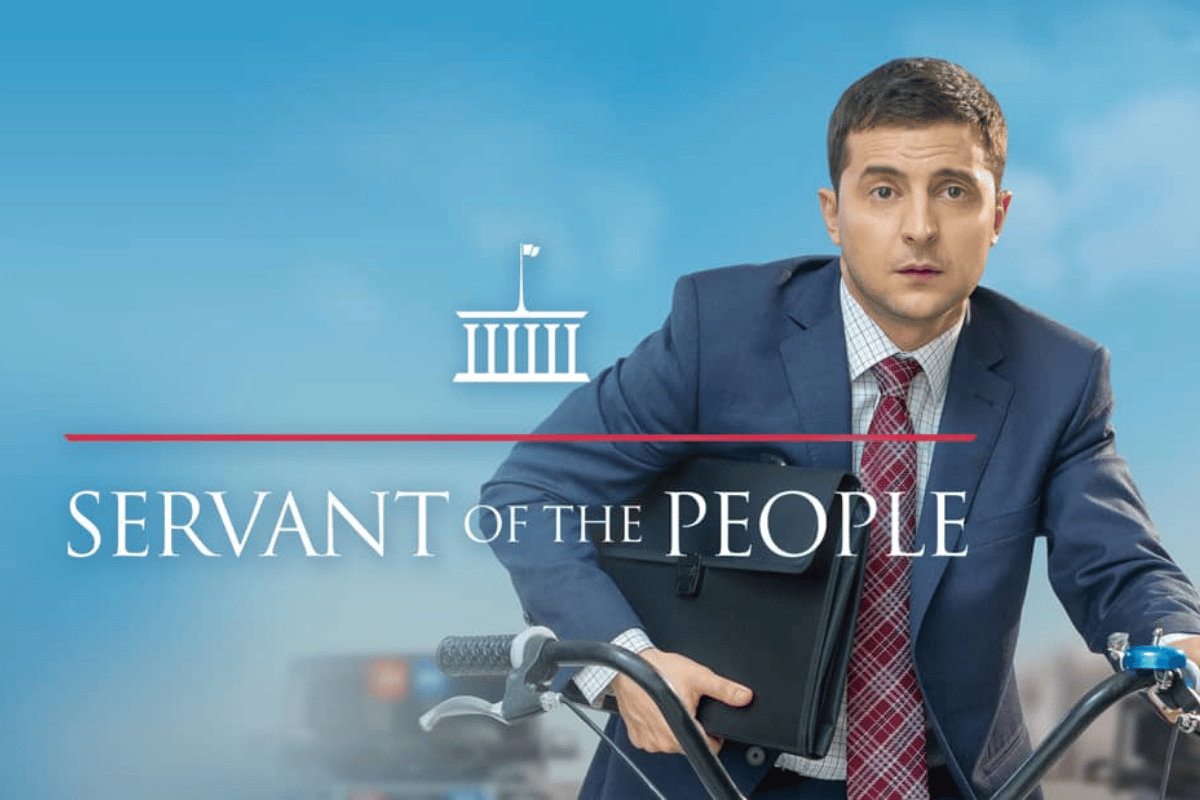 Zelensky in Servant of the People 2015. Image: Kvartal 95/Netflix.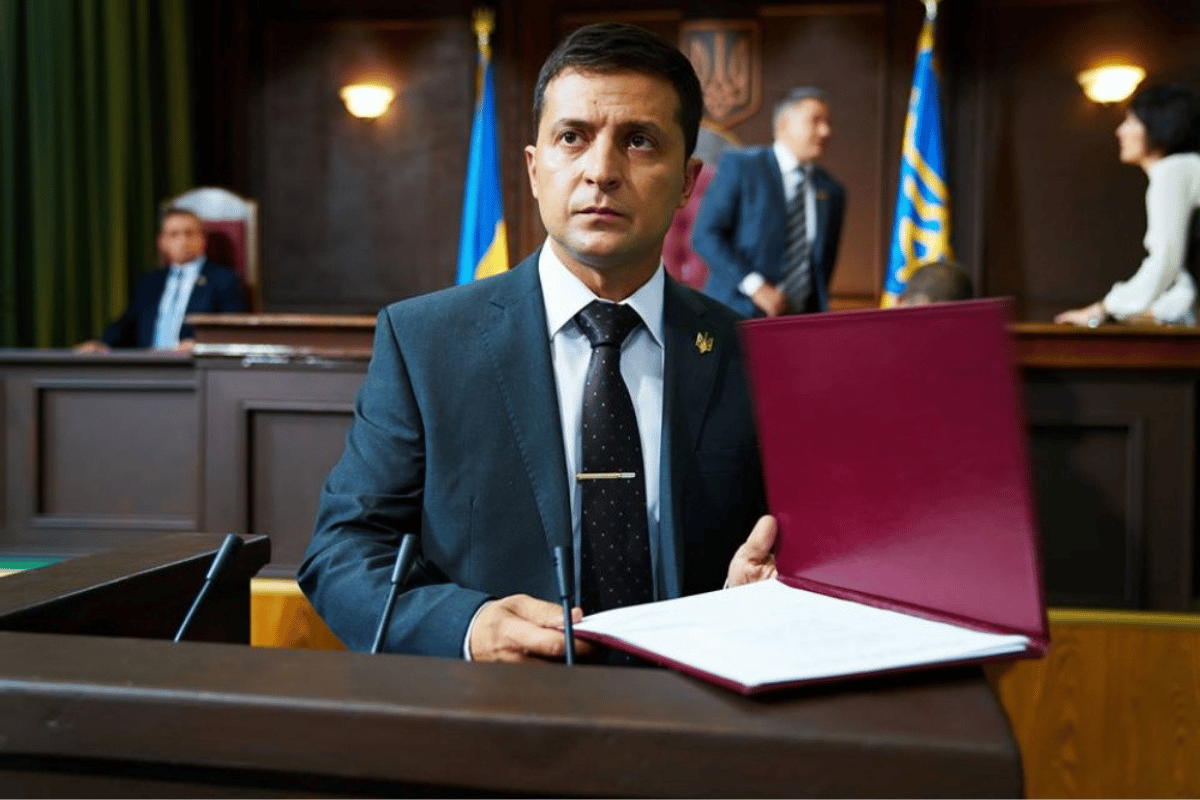 Zelensky in Servant of the People 2015. Image: Kvartal 95/Netflix. Servant of the People was actually produced by Kvartal 95: a film production company owned by Zelensky. The show faced criticism in Russia: not just because of the political content depicted, but also the man behind the series. After Ukrainian media outlets reported that Zelensky's company Kvartal 95 had donated 1 million hryvnias (Ukrainian currency) to the national army, some Russian politicians petitioned for a ban on Zelensky's television and comedy shows in Russia.