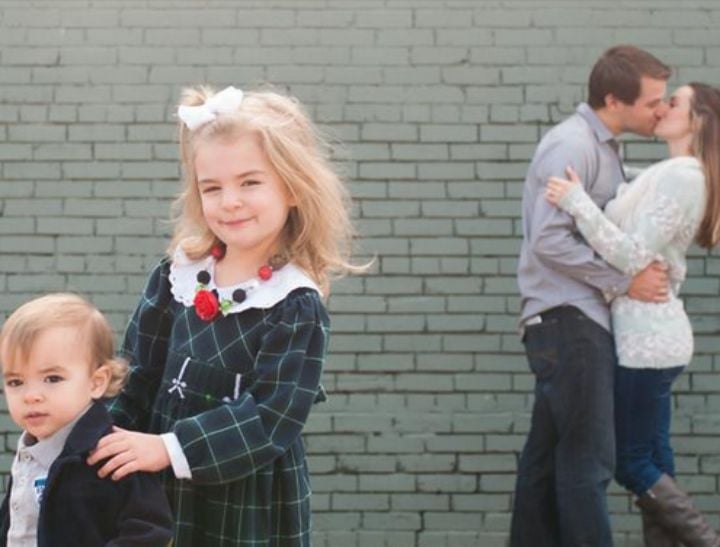 Strike gold from the comfort of your own home.
Did you ever see the viral video 'Good Looking Parents Sing Disney's Frozen'?
It's fairly self-explanatory, but basically a couple filmed themselves lip-syncing a song from Frozen while driving with their young daughter in the backseat.
Haven't seen it? Watch it here:
Fairly unremarkable, one would think. But the two-minute video been viewed more than 21 MILLION times.
The self-titled 'good-looking parents' are Sam and Ria Radar – "a God-fearing family of four" from Texas. They are professional vloggers, who share the intimate details of their family life on YouTube every single day.
Related: Just last week we watched as her husband told her she was pregnant,
but today some devastating news.
Earlier this month, their pregnancy announcement racked up close to 14 million views, then a few days later, their miscarriage revelation reached another 4 million-plus people.
(The day after that, Sam announced he had quit his job as an emergency room nurse due to the success of their channel.)
Our tiny baby brought 10M views to her video & 100k new people into our lives. She turned our life around & brought us closer together.

— Sam&Nia (@SamAndNia) August 9, 2015
While the Radars have received some criticism for broadcasting their private lives online, they – like many successful vloggers – are raking in the cash.
And they are not the only family making a mint from life's everyday minutiae. There are plenty more (and better-known) family vloggers out there in the rapidly expanding market. For some reason, the online community seems to be mesmerised by the intimate details of the lives of complete strangers.