Mary Katherine Backstrom was having a 'terrible twos' moment with her daughter Holland at a chicken shop. So she took a photo of her two-year-old red in the face from crying and sent it to her husband to show him how their daughter was giving mum a hard time.
Later, she came across an anonymously written poem in a mums' group that struck her in such a profound way, she had to share it.
The 33-year-old from Florida shared the photo she'd taken of Holland that day with the poem, written from the perspective of how a two-year-old like her daughter might've be feeling during a moment like that.
"I am 2. I am not terrible…I am frustrated. I am nervous, stressed out, overwhelmed, and confused. I need a hug," the poem began.
You can read the full poem in the Facebook post below.
"Today I woke up and wanted to get dressed by myself but was told "No, we don't have time, let me do it." This made me sad. I wanted to feed myself for breakfast but was told, "No, you're too messy, let me do it for you." This made me feel frustrated.
"I wanted to walk to the car and get in on my own but was told, "No, we need to get going, we don't have time. Let me do it." This made me cry. I wanted to get out of the car on my own but was told "No, we don't have time, let me do it." This made me want to run away."
The poem went on to show a different side to those difficult tantrums parents deal with in supermarkets or in the line at the post office that often end in sympathetic stares or leaving your shopping trolley half full.
"I am 2. No one will let me dress myself, no one will let me move my own body where it needs to go, no one will let me attend to my own needs. However, I am expected to know how to share, "listen", or "wait a minute"," it continued.
"I am expected to know what to say and how to act or handle my emotions. I am expected to sit still or know that if I throw something it might break….But, I do NOT know these things. I am not allowed to practice my skills of walking, pushing, pulling, zipping, buttoning, pouring, serving, climbing, running, throwing or doing things that I know I can do. Things that interest me and make me curious, these are the things I am NOT allowed to do.
"I am 2. I am not terrible… I am frustrated. I am nervous, stressed out, overwhelmed, and confused. I need a hug."
Let's talk numbers: how much does a baby really cost in the first year? We discuss, on our podcast for imperfect parents. Post continues after audio.
Backstrom's post went viral – since it was first posted on March 4, the post has been shared almost 200,000 times by parents who were similarly struck by the poem's message.
"LOVE! Little doesn't mean lesser! Little guys and gals need big love and someone ready to stop talking and listen, even when no words are said. Respect your babies," one person commented.
"This about made me cry," another person wrote. "I wish this would come with each newborn. I'm a grandma and a great grandma. I had my son at a very early age and wish someone had told me these things or shown me this."
Another commented, "This made me cry. I try so hard to be a great mom. I have a 7 year old and a 1 year old. I let my 7 year old dress herself and I try to work with both in learning how to do things. Life itself is chaos but the little moments with your children last a lifetime. They will never remember why we are in a hurry or why we are late. They will remember Mom let me do this or that on my own. I would rather be late for something than destroy my children's memories. But that's just me."
For Backstrom, sharing the poem served as reminder to herself for the next time her daughter has a 'terrible twos' tantrum.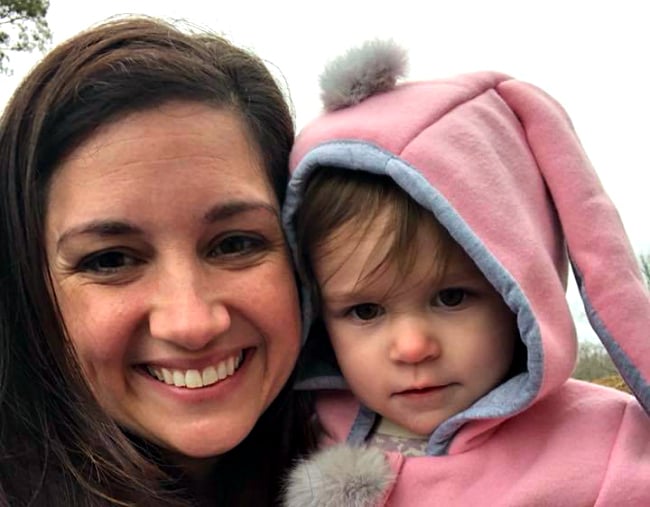 "I consider myself an empathetic individual but I had never seen such an excellent exercise in empathy from the perspective of a struggling toddler," she told Mamamia.
"When I read it, I instantly remembered the pictures I'd taken [that day at the chicken shop]. Now I know she wasn't giving me a hard time, she was simply having a hard time.
"I hope I'll never forget that lesson."
Did you have or are you having a tough time with your two-year-old? How does this poem make you feel?
Shout out to all Dads! Here at Mamamia we are always looking for ways to make Mamamia even better. Dads, we need you to help us do that by filling out this quick 15 min survey for us. Click the button below for your say.