Known as the street art capital of Australia, Melbourne's CBD laneways are lined with colourful murals, patterns and portraits.
But the writing is on the wall for a creation by award-winning artist Vincent Fantauzzo.
The British-born painter and sculptor, who is married to actor Asher Keddie, last week adorned the tarmac in Strachan Lane with a mind-bending black-and-white chequed pattern in the style of Alice in Wonderland.
"It was a work in progress," he wrote on Instagram this morning. "Now Melbourne City Council want it painted over."
According to The Herald Sun, City of Melbourne has instructed an unidentified adjacent business to remove the artwork within the next few days, as regulations do not permit the painting of public roads.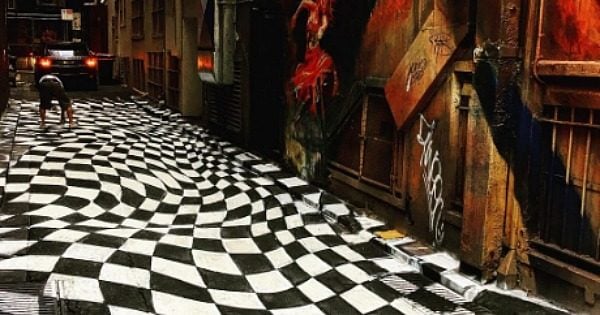 Fantauzzo, who is a part-owner of Strachan Lane restaurant Harley House, has been met with support from followers, dozens of whom left messages of support on his Instagram post.
"Looks fantastic! What is the matter with Melbourne City Council?" wrote one. "It's so awesome, a great attraction!"
"Oh come on @lordmayormelb let it stay!" wrote another. "It looks amazing."
Fantauzzo is a a four-time winner of the Archibald Prize People's Choice award.
His first was won in 2008 for a painting of Heath Ledger, captured just weeks before the actor's death. This was followed in 2009 by his depiction of child actor Brandon Walters, then Asher Keddie in 2013 and his son, Luca, in 2014.
Mamamia approached Melbourne City Council for comment, but did not hear back by time of publishing.