This post and video contains confronting images.
A video filmed by Channel 4 as part of a documentary series entitled Inside Aleppo, captures the birth of a seemingly lifeless baby after an airstrike in Aleppo, Syria.
His mother, identified only as Mayissa, was in labour and on her way to hospital when the bomb hit.
Making the journey by foot, Mayissa endured a broken arm and leg, as well as serious shrapnel wounds.
More than 40 people were killed in the airstrike, and dozens were injured.
The video captures Mayissa arriving at hospital unconscious with a faint pulse and shrapnel piercing her stomach.
The doctors are concerned that the wounds would have killed the baby.
The hospital itself had been struck and is filmed in a state of total chaos, with blood and equipment sprawled across the floor.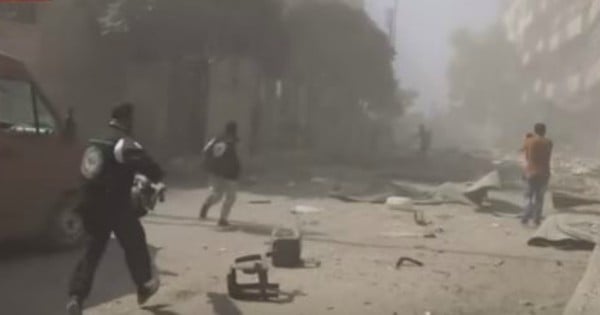 Despite the conditions, doctors rush  to perform an emergency C-section. But the fight isn't over.
A doctor can be heard asking: "Is his heart beating?"
The response is: "No, no. I'm sorry."
The doctors then attempt to resuscitate the tiny, white, lifeless body.
Then, as they clear his airways, his umbilical cord can be seen twitching, ever so slightly.
Within moments, his body - as white as the hospital tiles - turns to a beautiful, healthy pink. As they lay him down, his expressionless face suddenly contorts into an incredible, loud cry.