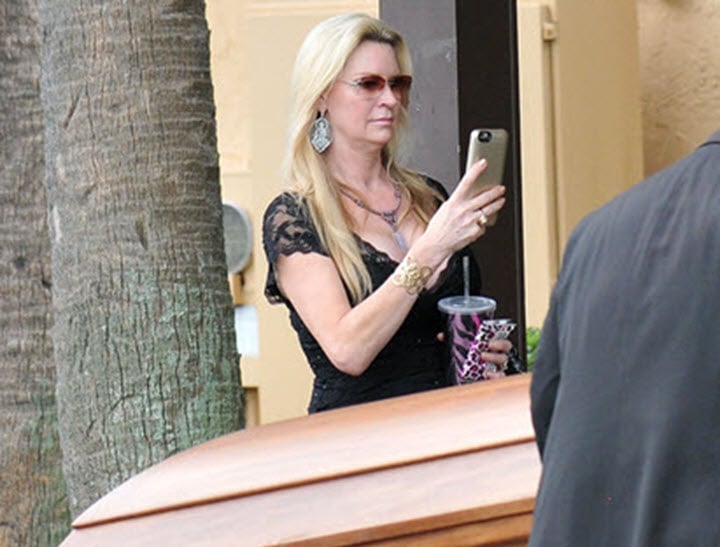 Jackie Siegel, matriarch of the 'Queen of Versailles' family has responded to the public's reaction towards her behaviour at her 18-year-old daughter Victoria's funeral last week.
You'll recall that Siegel was seen last week taking photos or filming her daughter's casket on her smart phone and smiling and posing for pictures. She's the same mum who famously said that she had never changed any of her eight children's nappies and she would often go for days without seeing them, despite living in the same enormous house.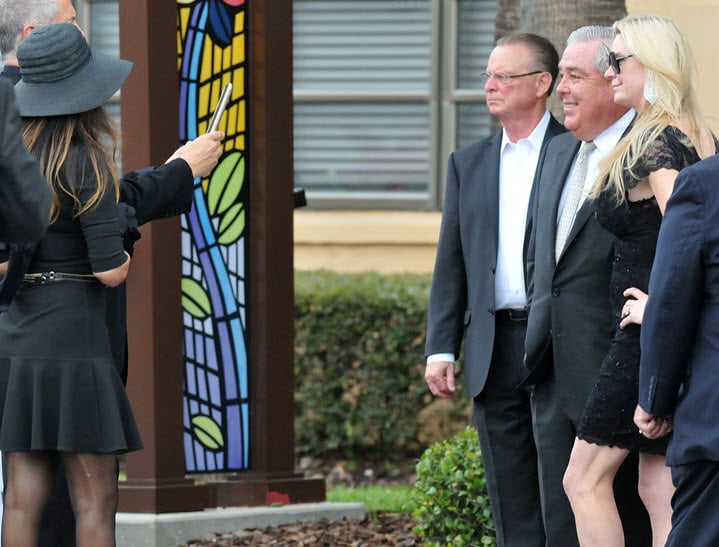 The family's lawyer and official spokesman, Michael Marder, has issued a statement on Jackie's Facebook page. He says the images are not indicative of Siegel's reaction to the loss of her daughter from a suspected drug overdose.
"People deal with grief differently," Marder said in a post on Siegel's official Facebook page.
"Mrs. Siegel is grieving as we all are. I have been with the family starting from the very first moment they learned of Victoria's death and I can tell you that she has cried … a lot … and has been on an emotional roller coaster. There is no authoritative manual that tells us how to grieve. The entire family has been sleeping together in the large family room of the house since this horrible tragedy happened. They are talking together, crying together, and caring for and loving each other. The family has been through a terrible tragedy and has been hurt enough, and the way Mrs. Siegel is being portrayed by some in the media is just adding additional pain, not only to her, but to the entire family."
Marder also added that the negative public and media attention heaped on the family since the funeral is only contributing "additional pain" to the Siegel family.
Previously Mamamia reported…
Clad in a low-cut, lacy dress, clutching an enormous iced drink, smiling, posing for pictures and snapping photos of the casket on a mobile phone: it's not how we expect people to behave at a funeral.
This is the woman whose 18-year-old daughter is in that coffin.
Of course, there are many ways to mourn, and everyone deals with their grief differently.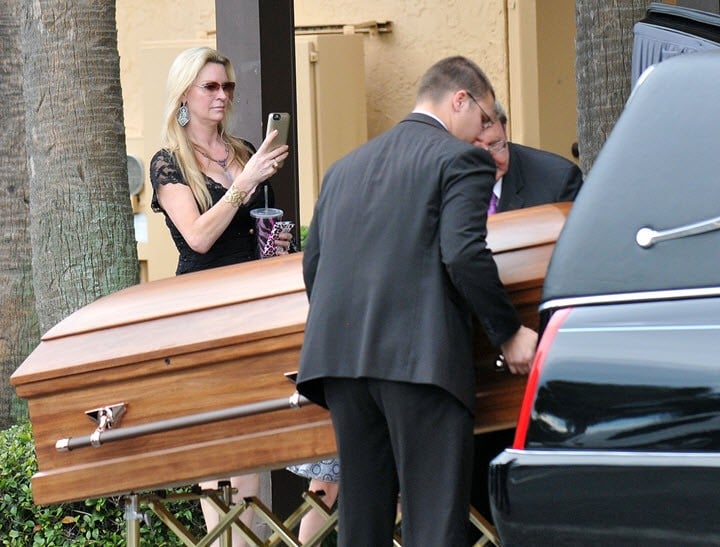 The eldest child of one-time billionaire David Siegel, 80, and his wife Jackie, 49, died suddenly in the family's Florida mansion on the weekend.
Eighteen-year-old Victoria Siegel, who went by the name Rikki, was found by a housekeeper in her bedroom at Seagull Mansion on Saturday while her family was out of state at a wedding.
The family are reality stars of sorts. Her mother Jackie was the main focus of an award-winning documentary about the family's attempt to build America's largest single-family home based on the Palace of Versailles in France, called The Queen of Versailles.
Victoria had recently left a drug rehab facility after struggling with an addiction to medication she began taking for seizures.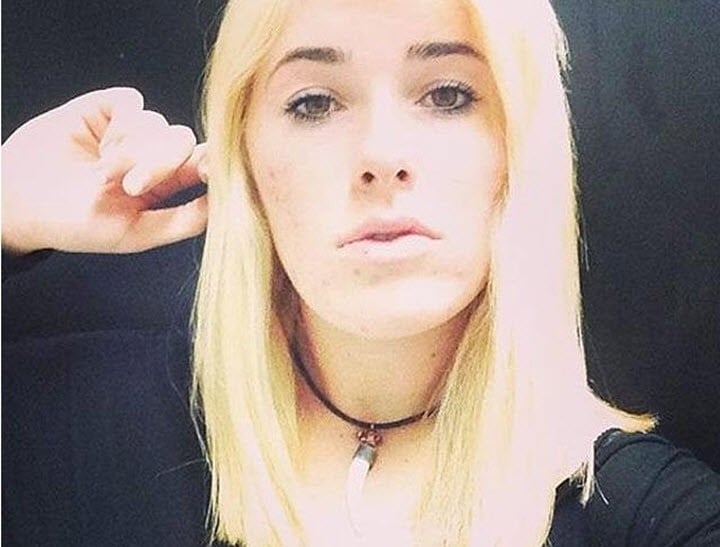 Toxicology reports have not yet be released, but a family spokesman has indicated that Victoria was still fighting her drug addiction.
"The Siegel family is devastated and heartbroken by the loss of their beloved Victoria. They are hurt, deeply wounded and they are grieving," Tim Marsden said in a written statement to the Orlando Sentinel.
"It is likely that Victoria ingested one or more drugs prior to her death; however we cannot determine at this time whether or not the drugs she took were in fact prescribed medication, something else, or where and how these drugs may have been obtained."
Jackie Siegel recently starred in an episode of Celebrity Wife Swap which aired just days before Victoria's death.
In it, Siegel said that their current home is so enormous that the parents could "go days without seeing some kids."
She added that it wasn't a problem, because they all had mobile phones and there were many nannies to care for them.
The episode ended with the Siegels agreeing that they needed to spend more time with their children, the youngest of whom are seven-year-old twins.
In The Queen of Versailles, Jackie and David Siegel's hands-off parenting, Jackie's excessive spending and the plethora of children, nannies and pets in their house made for a bizarre and chaotic-looking home life.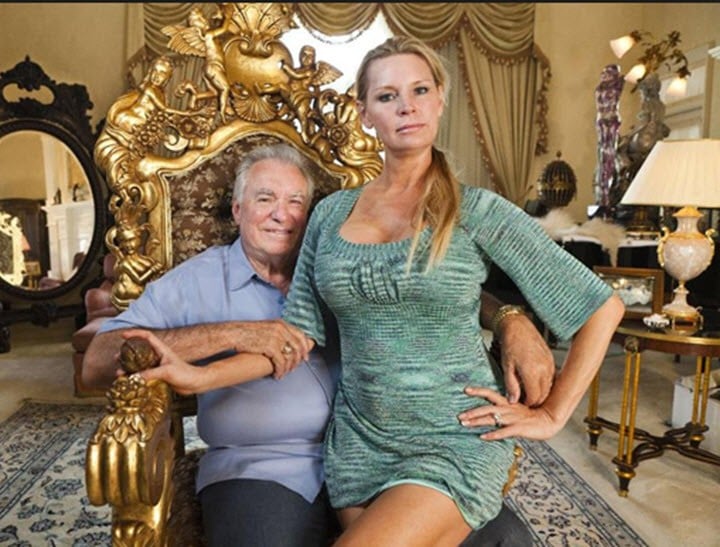 Victoria Siegel herself said on the film, "Nothing's really normal about this life."
The family solicitor indicated that Victoria had also been the victim of bullying before her death.
"The ex-girlfriend of Victoria's boyfriend used his phone to send cruel and hateful text messages using the boyfriend's phone. These messages were sent early on the morning of Victoria's death," Michael Marder said in a statement posted on Jackie Siegel's Facebook page.
"These messages were clearly intended to hurt Victoria and while we cannot be sure may have affected her emotional state at a time when she was emotionally vulnerable."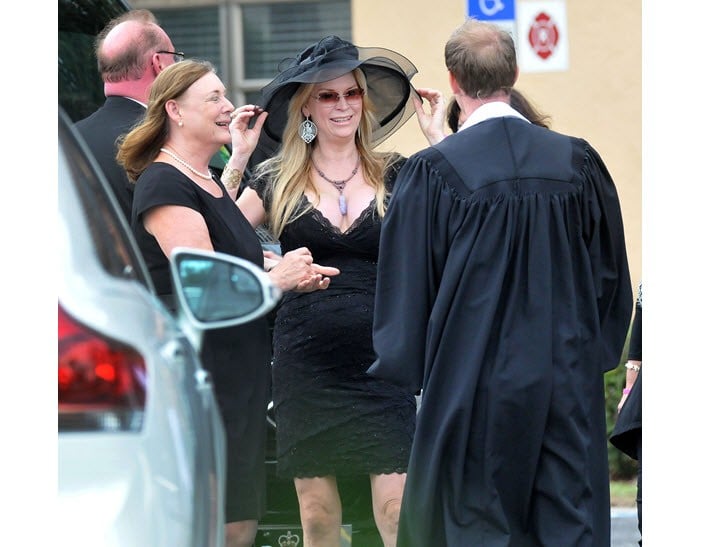 The film documents the family's changing fortunes and the Versailles project stalling when the financial crisis hit.
In recent years, Siegel's timeshare company Westgate Resorts has gotten back on track and construction on the monstrosity, which includes a bowling alley, indoor skating rink, and a two-storey cinema, has resumed.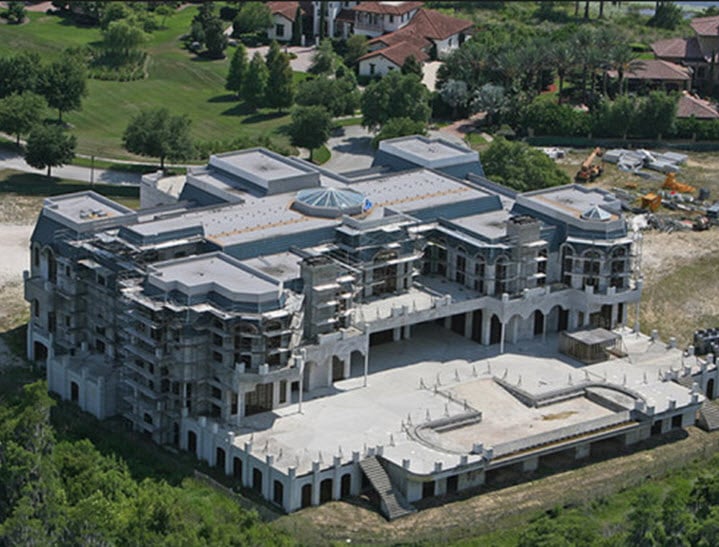 Jackie Siegel has spoken about having her own reality TV show, and last year signed a deal with NBC Universal.
She wanted to repair the impression that her husband "is a failure".
"A reality show … will do damage control for what the movie was," she told the Orlando Sentinel. 
When asked whether he'd be appearing in the show, David Siegel responded, "I don't like reality shows."
Do you think it's understandable that Jackie was behaving like this at her daughter's funeral?