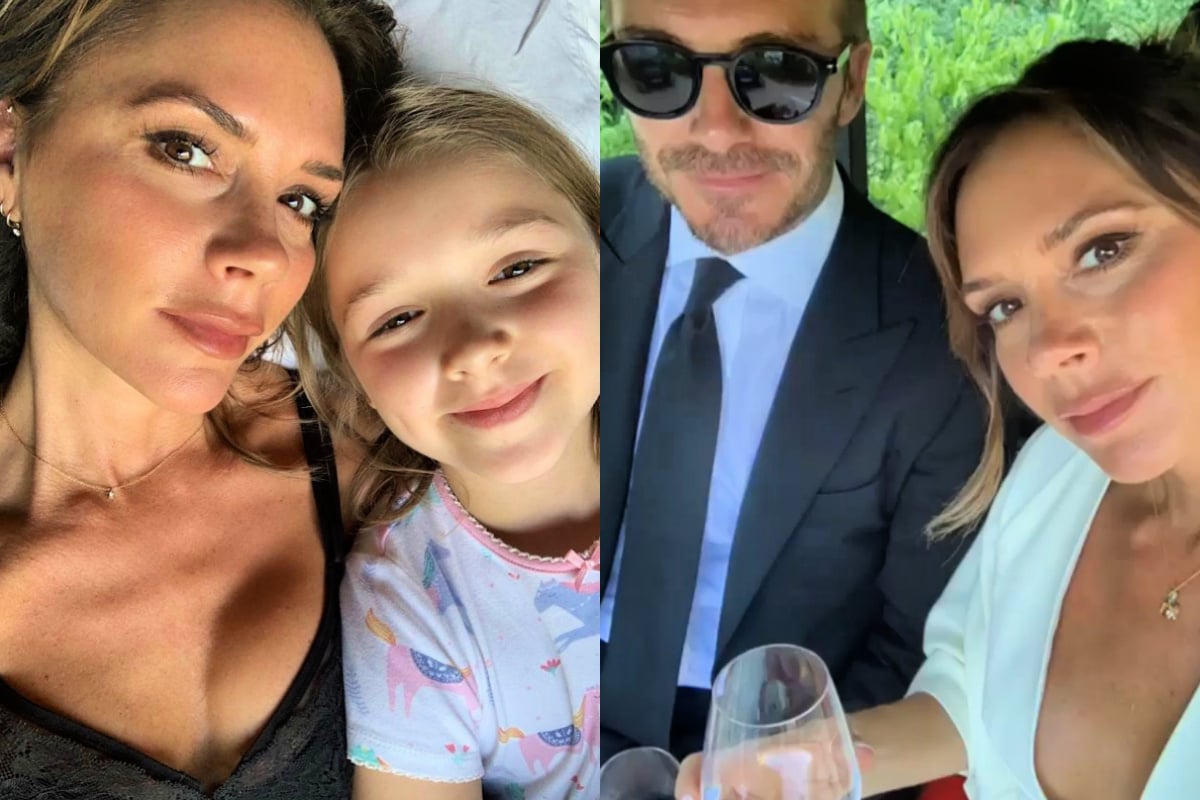 The character of Victoria Beckham has always been an enigma.
From getting her start as Posh Spice in the 90s girl band The Spice Girls and marrying British soccer royalty David Beckham, to completely rebranding herself as the oversized sunglasses-wearing and pouting figure of the couture fashion world, the fashion designer, entrepreneur and mum-of-four has never really let her polished act slip.
But now, in a candid new interview in GLAMOUR UK's AW19 issue to launch her new Victoria Beckham Beauty line, the megastar said she's leaving her tightly controlled image behind.
"I want to be honest. In the past, I've probably hidden behind my armour – the not smiling publicly, for instance. There's less of that now,' the 45-year-old said.
The interview, while light and fluffy in some parts, offers brief but never before heard glimpses inside the life of being a Beckham.
From being bullied at school to her relationship with her body, here's eight things we never knew about Victoria Beckham.
Side note – Mamamia's The Spill podcast delved deep on Victoria Beckham's interview below. Post continues after audio.
1. Her experience with bullying.
"I was never the popular girl at school and I never found anything easy and I was told 'No' constantly. I was bullied a lot at school, mentally and physically," Beckham said.
"It made me insecure, but it also made me realise if I want something, I'm going to have to work hard at it. Nothing ever came naturally and that's OK."
When asked if she still feels out of the place, she said, "Not so much anymore… But I was, and I'll never forget that, and I can really use that now. The fact that I can talk to [daughter] Harper about that and how girls should be kind to girls… really I use my own experiences and share that."
2. Her approach to ageing.
Beckham spoke about how working on her beauty brand helped her look at ageing differently. In her GLAMOUR cover shoot, she made a point not to use photoshop to distort how she looks.
"There's something really liberating about embracing who I am at 45 years old and owning it, feeling confident, feeling content. Doing beauty has really helped with that – it's been very liberating. I want to spread the word that everybody should feel like the best version of themselves. To look after what you have. I want to tell people to own who you are. Yes, we – and I – have wrinkles, and that's OK!"
"Yeah, I accept who I am. I make the best of who I am!"
 

View this post on Instagram