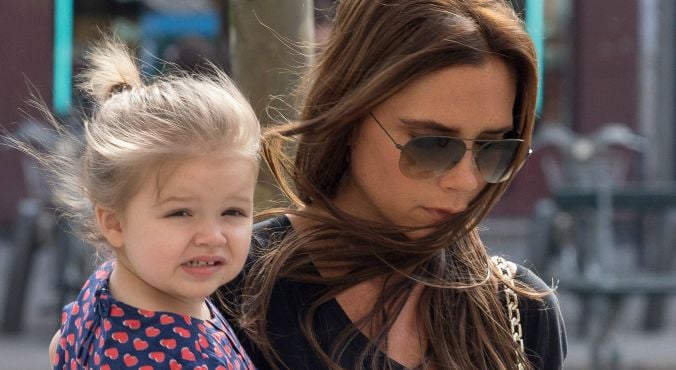 Image via Getty.
She may only be four years old but Harper Beckham has already decided in which of her parents' footsteps she will follow.
With mum Victoria a former Spice Girl-turned-seriously-successful-fashion-designer, and dad David one of the world's best footballers, there were always going to be big shoes (or boots) to fill.
Appearing on Good Morning America, Victoria Beckham spoke about the mother-daughter moment that she joked almost broke her heart.
"She said to me the other day: 'Mummy, I think I want to play football.' [It was] a dagger through the heart," she said.
"I have three boys who want to play football, come on – let one of them want to be in fashion!" (Post continues after gallery.)
The Beckham family album on Instagram.
"She loves fashion as all little girls do, she loves putting makeup on and playing with my shoes [but] she's a tomboy" she said.
Victoria has four children – Brooklyn, 16, Romeo, 13, Cruz, 10, and Harper, four, who all sat front row alongside Vogue editor Anna Wintour for her recent Spring/Summer 2016 show at New York Fashion Week.
Even Harper prefers soccer to fashion, it seems like VB may get her wish to have at least one of her children on her side of the fence.
Oldest son Brooklyn recently made his magazine debut, appearing on the cover of Miss Vogue UK.
"I was so proud. I mean, imagine, my baby on the cover of Vogue! Very exciting and Brooklyn loves photography, he actually wants to be a photographer," Beckham said.
Beckham also told GMA that one of the most important values she wanted to instill in her children is good manners.
"We've always been strict with the children, they have great manners and they always say 'please' and 'thank you' and I think that's very important but at the same time, they're still fun and they run around the house and kicking footballs around which I don't allow them to do, but that seems to be the only area that I can't discipline them in!" she said.
We can only wonder if Victoria ever joins in...
How do you encourage your children to pursue their dreams?