A woman in America is being hailed as a hero after she valiantly fought back after a man attacked her in a shopping centre car park.
The unidentified woman shot the man in the neck and the buttocks after he pushed into her car, lunged at her with a knife and demanded money.
John Ganobick had been following the woman through the centre before finally getting her alone in the car park lift.
Haunting footage captures their excruciating ride together and the beginning of the chase that launched as soon as the lift doors opened.
"The victim asked the suspect what floor he needed and the victim described the suspect as being out of it, possibly high or drunk, but when he said the sixth floor, the victim stated she became nervous," states the police report read out in court.
When the lift doors opened, she sprinted towards her car with him only two steps behind.
According to police and as reported by ABC7, the man forced himself in through the driver's door and gagged her mouth with his hand.
In a series of desperate movements, the woman twisted from his grip, dove into the passenger seat and shot him twice.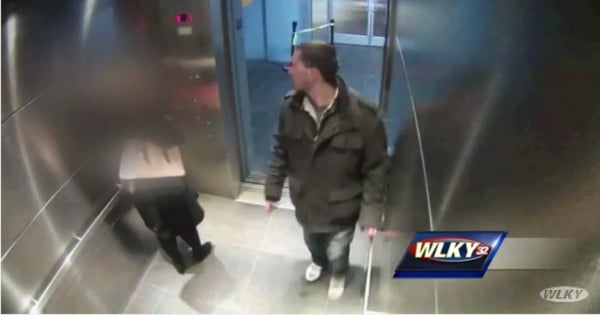 The arrest report captured her feelings in the following passage:
"The victim stated she was afraid that she would be raped or murdered and as she fell across the passenger seat of her vehicle, she was able to reach into her purse and grab her gun and attempt to fire a shot at the suspect."
According to the report, the woman made several attempts to fire the gun before it finally released.
Police arrested Ganobick and charged him with attempted murder, kidnapping and criminal mischief.
The woman has not been charged.
Watch: The moment the attacker enters the lift.