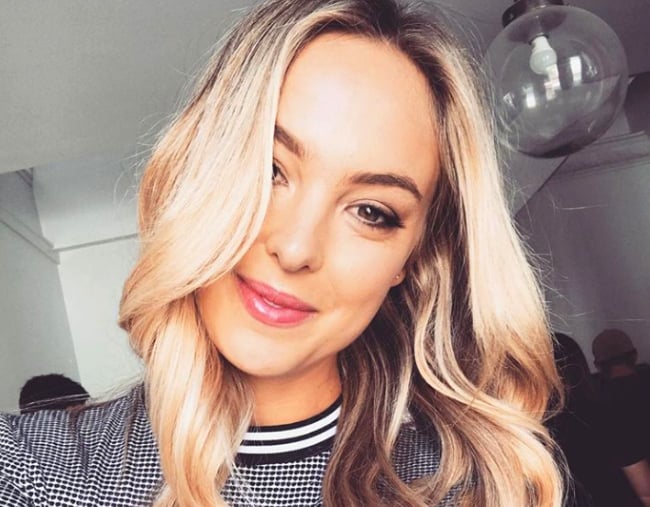 For some of us, dinner wouldn't be dinner without meat and three veg.
If the thought of going meat-free or vegetarian and saying goodbye to chops forever is a sad one, you might want to think about trying a plant-based diet.
There's growing evidence to support the benefits of eating less processed meat and more veggies, but where do you even start?
To get some much needed help, we asked clinical nutritionist and JS Health program creator Jessica Sepel to share her best tips for stepping away from the steak, even if just for one night a week.
Because, have you seen her Instagram? It looks bloody delicious.
1. Try going dairy-free
Want to try going vegan to see how the other half lives? You'll need to cut out diary.
Yes, not eating cheese would be devastating, but there are easy swaps you can make in other areas if you can't live without a good brie.
"Eliminating dairy is a great way to cleanse and gives your digestive system a break. When it comes to my one-a-day coffee, I love having a piccolo latte with unsweetened almond milk. It's got a subtle almond flavour and I also use it in cooking because it but doesn't overpower the taste of my recipes," Jess suggested.
2. Consume a range of protein
Jess recommends people wanting to eat meat-free meals should swap their usual proteins like chicken and read meat for plant-based alternatives. Do it with care, though.
"It's important to note that on their own, plant foods aren't considered 'complete' proteins," she told Mamamia.
"When following a meat-free diet, it's important that you consume all of the four important macronutrients: protein, healthy fats, fibre and complex carbohydrates.
"For this reason, I recommend consuming a combination of protein-rich foods such as legumes, beans, quinoa, seeds, nuts and pea or rice protein."
3. Think about your iron levels
Most women in their 20s have probably been told to watch their iron levels at one point or another.
This is something vegetarians have to be cautious of, however, if you're wanting to incorporate one or two meat-free meals into your week, you don't need to worry too much.
Jess's advice for upping your meat-free iron intake?
"Increase your iron levels by consuming dark leafy greens, lentils, tahini and nuts."
4. Don't forget about good fats
Luckily for us, good fats help us feel fuller for longer, and are coincidently really delicious. So, chuck them into your meat-free meals.
"Don't neglect your good fats, these include avocados, walnuts, flaxseeds, chia seeds and extra-virgin olive oil," Jess said.
5. Add more veggies
"Make sure your plate is colourful and filled with veggies. They're rich in fibre, which is one of the three essential macronutrients you need for optimal health," Jess advised for your meat-free cooking.
In other words, more is more. Especially the leafy green kind, because iron, remember?
6. Go heavy on the seasoning
If you're not used to your dinner including a juicy steak or grilled chicken, going meat-free might seem a bit bland. That's why Jess reckons you should really go heavy on the seasoning.
"There are so many delicious, flavoursome ways to finish off a plant-based meal. I love adding some hummus, a drizzle of tahini or a handful of nuts and seeds. Oh, and a squeeze of lemon adds a nice tang and is great for digestion."
7. Meal prep. Always.
One of the great things about meat-free meals is that they're ridiculously easy to prep. Veggies, beans and legumes will last a few days longer than cooked meats, and require little effort to put together.
"Every Sunday, I love to roast a big batch of veggies, make some healthy cookies and bliss balls to last me through the week. That way, when you're hungry or need a snack, you've got some wholesome options ready to go," Jess said.
Jess Sepel's favourite meat-free recipes
Now, for the good bit. The food.
"There are so many fresh, flavoursome meals that you can create without any animal protein or diary," Jess said.
Here are a few of Jess' favourite meat-free recipes to give a chance this week.
Creamy Unsweetened Acai Bowl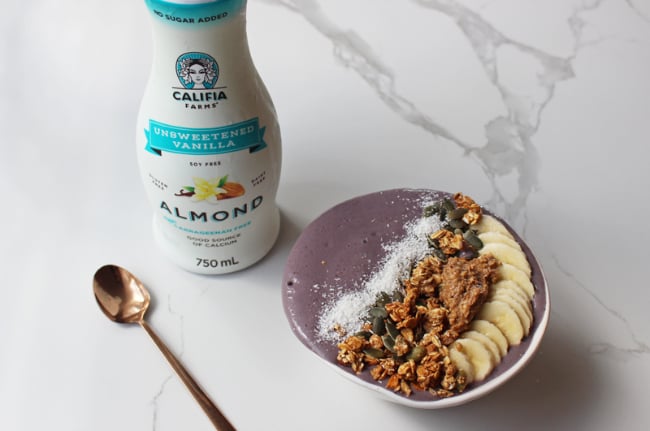 "I don't know about you, but a creamy acai bowl is one of my favourite weekend breakfasts. To stick with the healthy life principles, I've re-created a version that's refined sugar-free and nutritionally balanced. It's full of fibre, essential fatty acids and it has plenty of protein. I've used my favourite Califia Farms Unsweetened Vanilla Almond Milk, which gives a subtle almond flavour and a little sweetness without overpowering the overall taste."
Ingredients:
1 packet of unsweetened acai, frozen
1 frozen banana, sliced
1 heaped tbsp almond butter
1 tbsp chia seeds
1 tsp stevia powder or raw honey
1 cup Califia Unsweetened Vanilla Almond Milk
1/2 tsp cinnamon
pinch of sea salt
1 serve vanilla protein powder (optional)
For the topping (optional)
1 tsp almond butter
1 tsp dessicated coconut
Fresh berries
Method:
Place all of the ingredients in a blender and blitz until they form a smooth, creamy texture.
Once the mixture is thick, pour into a bowl. Top with crunchy granola, a dollop of almond butter, dessicated coconut and fresh berries.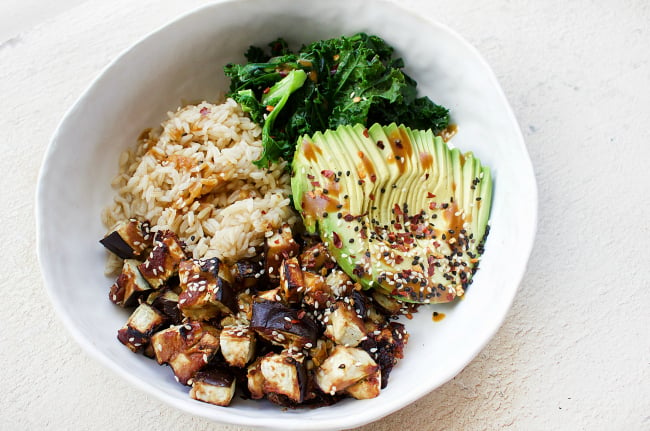 "JSHealth Bowls are my favourite go-to for quick and easy nutritionally balanced meals! This yummy Miso Eggplant bowl is a great option when you want a delicious and filling meal that won't leave you feeling heavy."
Serves: 2
Ingredients:
1 cup brown rice or quinoa
1 eggplant
3 cups of shredded kale and/or baby spinach
2 tsp olive oil
1 avocado, sliced
Sesame seeds & chilli flakes (optional) to serve
For Miso sauce:

2 tbsp white miso paste
2 tbsp tamari sauce
1 heaped tbsp dijon mustard
1 tbsp sesame oil
1 tbsp sesame seeds
1 tbsp honey or maple syrup
1 tsp grated ginger
1/4 cup warm water
Method:
Set oven to 180° Line a baking tray with baking paper.
Dice eggplant and lay out on baking tray, spray or drizzle with olive oil. Prepare miso sauce by mixing all ingredients together then drizzle over eggplant. Place eggplant in oven and cook for 20mins or until soft and lightly browned.
Rinse rice or quinoa, then cook as per instructions on packet.
Heat the rest of the olive oil in a frying pan on medium heat and add greens. Sauté until bright green.
Divide cooked eggplant equally into 2 bowls, adding the greens, rice and sliced avocado to each. Sprinkle with sesame seeds & chilli flakes to serve.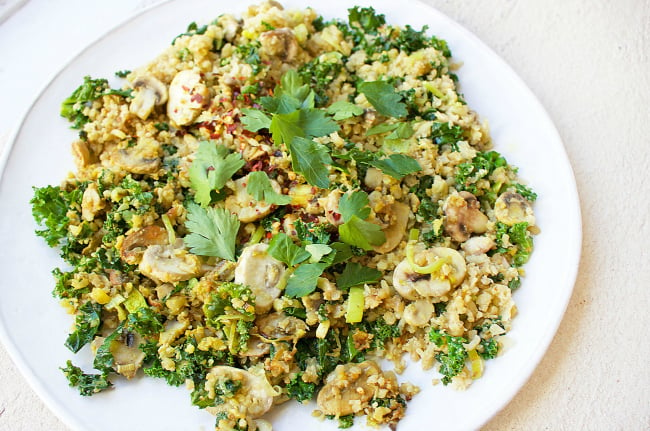 "This recipe is so quick to make that it's one of my go-to meals when I'm strapped for time. Enjoy it as a side with your protein of choice, or finish it off with fresh avocado, a handful of greens and a squeeze of fresh lemon for a plant-based meal."
Serves: 2-4
Ingredients:
2-3 tbsp olive oil
1/2 leek, finely chopped
1/2 head cauliflower, pulsed in a food processor to form 'rice'
250 button mushrooms, sliced
1/2 bunch kale
sea salt
1 tsp curry powder
chilli flakes (optional)
parsley, chopped, to garnish
Method:
In a heated, medium-sized frying pan add 1 tbsp of olive oil, then throw in the chopped leeks and sauté until the turn translucent and golden.
Add the cauliflower rice to the pan and sauté for 2-3 minutes, or until they start to brown.
Add the mushrooms and kale to the cauliflower rice and stir, continuing to sauté for another 4-5 minutes, or until cooked through. Season with salt, curry powder, remaining olive oil and chilli flakes, if using.
Garnish with fresh herbs. Enjoy!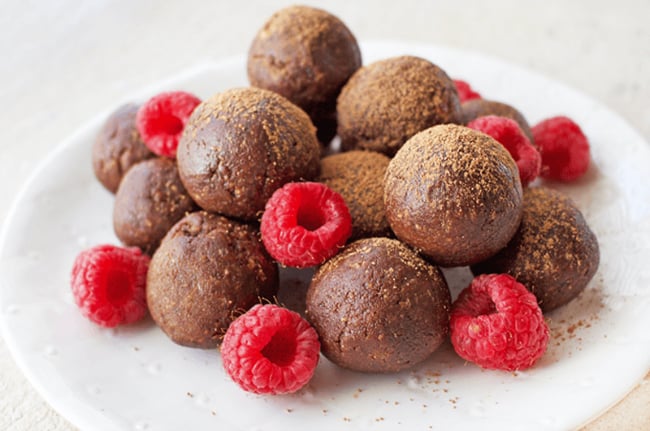 "Who doesn't love the rich, chocolatey taste of Nutella? These days I make my own sugar-free version of the hazelnut spread, but these bliss balls pack the incredible flavour into a healthy and portable snack. Another delicious bliss ball recipe to add to your arsenal!"
Makes: 8-10 balls
Ingredients:
1 cup fresh dates, pitted
2 heaped Tbsp. almond butter
1/2 cup hazelnuts
1 Tbsp. cacao
Pinch of sea salt
1/2 tsp cinnamon
Method:
Add all ingredients to a food processor and blend.
Roll into balls, then roll balls in cacao, cinnamon or crushed nuts.
Refrigerate for 20-30 minutes, and store in a tightly sealed container in the fridge for up to a week.
You can find out more about Jess and her recipes on the JS Health website or by following Jess on Instagram. You can also find out more about Califia Farms Almond Milk here.