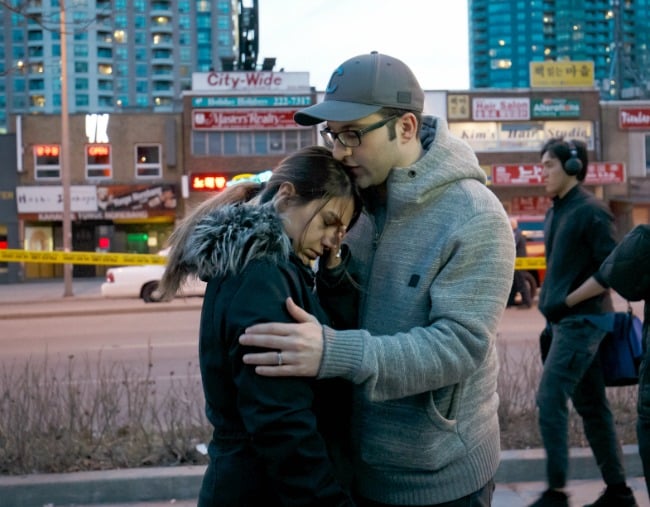 A rented van has ploughed down a crowded Toronto footpath, killing 10 people and injuring 15 before the driver fled and was quickly arrested in a confrontation with police, Canadian authorities say.
Witnesses said the driver was moving fast and appeared to be acting deliberately, but police officials would not comment on the cause or any possible motive after Monday's incident.
Speaking at a news conference on Monday night, Toronto Police Chief Mark Saunders raised the initial death toll of nine to 10, saying another victim had died at a hospital. He said 15 others were hospitalised.
Saunders identified the man detained after the incident as Alek Minassian, 25, a resident of the Toronto suburb of Richmond Hill. He said the suspect had not been known to police previously.
Asked if there was any evidence of a connection to international terrorism, the chief said only, "Based on what we have there's nothing that has it to compromise the national security at this time."
But a senior national government official said earlier that authorities had not turned over the investigation to the Royal Canadian Mounted Police, a sign that investigators believed it unlikely terrorism was the motive.
Authorities said witnesses were being interviewed and surveillance video was being examined.
Minister of Public Safety Ralph Goodale said it was too soon to say whether the crash was a case of international terrorism and the government had not raised its terrorism alert.
The driver was heading south on busy Yonge Street around 1.30pm and the streets were crowded with people enjoying an unseasonably warm day when the van mounted the pavement.
Ali Shaker, who was driving near the van at the time, told Canadian broadcast outlet CP24 that the driver appeared to be moving deliberately through the crowd at more than 50km/h.