As the majority of Australians traipsed into work this week with nostalgic holiday flashbacks in tow, the year ahead feels long and the work week slow.
But it doesn't have to be all faded tans and a constant struggle to snap your brain back into concentration, with the US Bachelor hitting our shores for its 21st season.
Because love can exist as much within the confines of your TV screen among a group of wannabe celebrities as it can between yourself and your holiday break. Or so I'm going to try and convince you.
The new season of the US Bachelor can, and will, fill the reality TV hole (or any other happiness void) you have in your life. And this is why.
Two words: Nick Viall
Nick Viall simultaneously stands as everything that is so wrong, and so right, about the US Bachelor. He is a shamelessly love-sick, reality-TV-addicted Bachelor star and his legacy will forever be the man who squeezed more fame from the Bachelor franchise than you could from a dry lemon.
Laura Brodnik and Jessie Stephens discuss the newest season of the US Bachelor on The Binge. Post continues after audio.
Viall first appeared on screens in 2014 on Season Ten of the US Bachelorette on Andi Dorfman's season. He fell madly in love, was a runner-up and had his heart pulverised for the first time. And it was the first time he really won his villain status, asking Andi, on live television after the finale, why she made love with him if she didn't love him. It was muchly awkwardly cringey.
Next was his appearance on Season 11 of the Bachelorette and Kaitlyn Bristowe's season. Even better, this time Viall asked to be a contestant after becoming "internet friends" with the Bachelorette. Like a bad dream, Viall fell in love, was a runner-up and had his heart pulverised for the second time. He also had sex with Bristowe mid-way through the season and fans and contestants alike lost their minds.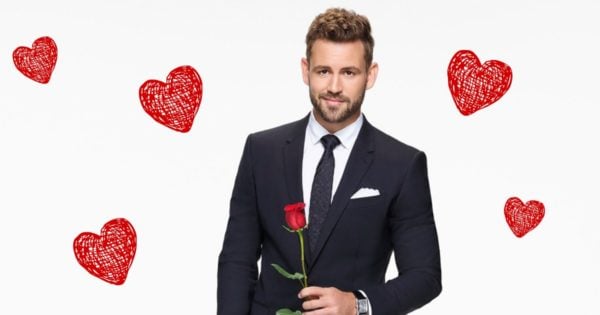 And then, of course, was his appearance on Bachelor in Paradise which again left him without a relationship and single enough for Bachelor producers to make him the next Bachelor for fear he really will never go away.