Oh The Bachelor… home of Sophie Monk, the rose ceremony, and semi-awkward meet-cutes that turn into blossoming relationships and more, and sometimes all in the one episode. However in this case, a show by any other name couldn't be more different, and essentially the US Bachelor is the Aussie version on steroids… more pashing, more private jets and more drama.
For example… the most lavish first date in the current US cycle where Arie Luyendyk Jr. (son of two-time Indianapolis 500 winner Arie Luyendyk) took contestant Becca K. on what was essentially a $30,000 USD ($38,001 AUD) shopping spree with designer Rachel Zoe, and gifted her with another $300,000 worth of Neil Lane diamonds. Casual.
But with the current season of The Bachelor (US) playing away, diamonds, ballgowns and all, and applications for The Bachelor (Aus) open right now, we thought now would be a good time for a revision lesson in how the two shows differ.
And oh how they do.

LISTEN: How taking sex out of the equation helped Sophie Monk. Post continues after audio.
1. The number of contestants.
Rule of thumb, on the US Bachelor there tends to be many, many more women. The most recent series of the US Bachelor featured 29 contestants vying for Arie Luyendyk's love. It's safe to say the more women, the more drama.
The Aussie version usually includes 24 contestants, though this season featuring Matty Johnson had 22 women competing for Matty J's heart.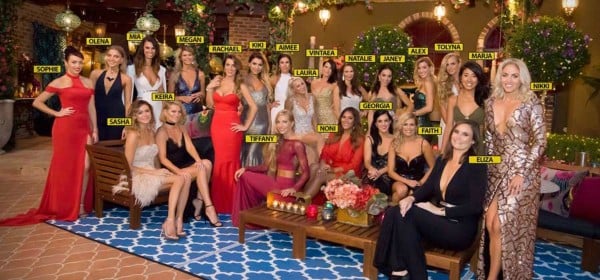 The original Bachelor contestants. Image via Channel 10.