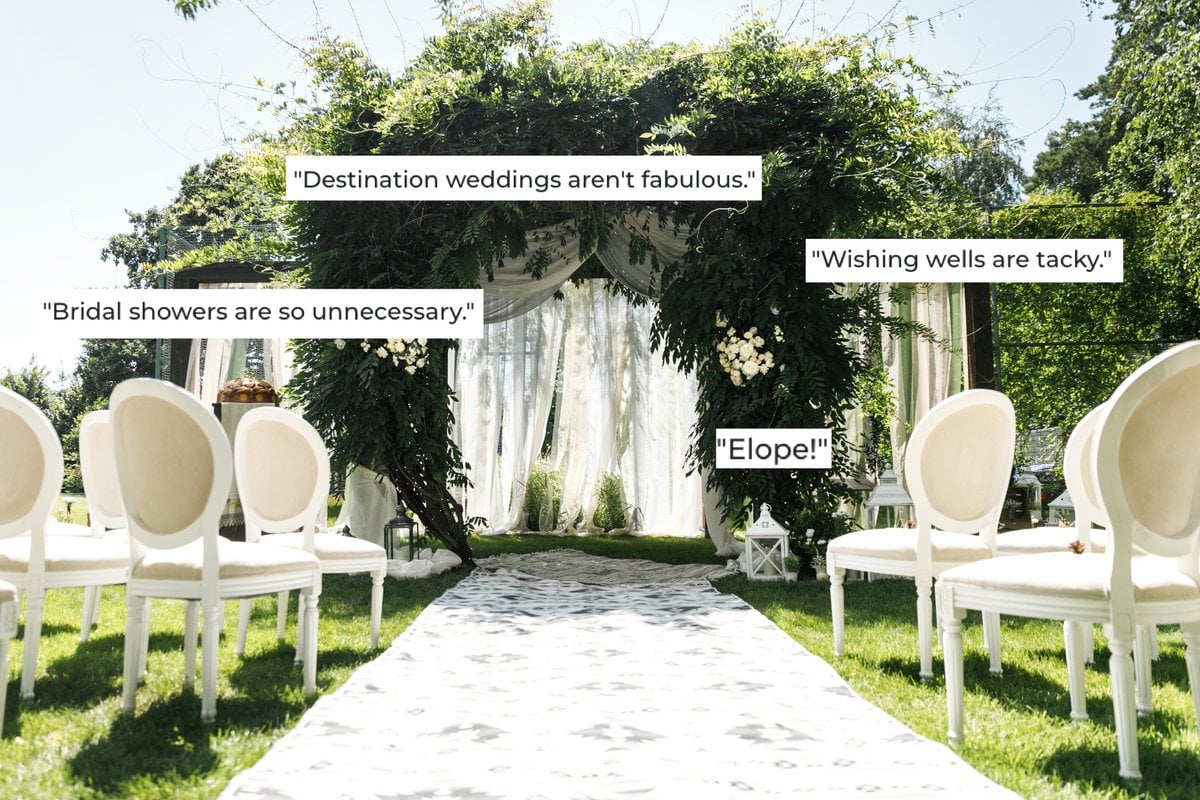 In case you haven't noticed, wedding season is coming in hot.
Couples across the country are getting married left, right and centre, after countless postponements and COVID-related setbacks over the past two years.
It goes without saying there is no such thing as the "perfect" big day, and when it comes to getting married (or not) our policy is very much you do you. 
But according to the Mamamia community, there are some things that just might not be necessary.
From wishing wells to bridal parties, here are 30 quite controversial wedding opinions.
But first, here are the first dance songs celebrities used at their weddings. Post continues after video.
1. "I am not a fan of the bouquet and garter toss at all. It feels awkward and desperate. I didn't do one at my wedding."
2. "Not seeing the groom before walking down the aisle. Who cares? The day goes so quickly I wanted to see him and spend time together before the ceremony."
3. "Bridal showers are so unnecessary, especially if you're having an engagement party and a hen's party. Expecting presents at all of the pre-wedding events is also a lot to ask of wedding guests!"
4. "Having your dad as the default person to walk you down the aisle is super outdated. Both my parents raised me so both of them walked me down the aisle."
5. "Destination weddings aren't fabulous and just give your guests a mental load they didn't need. Plus, the additional expenses on top of a gift or cash to give you."
6. "'Bridal party' - how ridiculous. All you need is a bride and groom. Everyone else is a bit extra and unnecessary. Besides, they should all be looking at you anyway - you're the whole reason anyone is there."