The man dragged from a full United Express flight by airport police in Chicago is a Kentucky physician who was convicted more than a decade ago of felony charges involving his prescribing of drugs.
But while the passenger's unflattering history quickly became the focus of attention, there's no indication that his past influenced how he was treated or that the airline or police were aware of his background.
A person with knowledge of the Sunday evening flight who was not authorised to publicly release the information said the passenger was David Dao, 69, of Elizabethtown, Kentucky.
Screaming can be heard on the videos that were uploaded to social media, but nowhere is Dao seen attacking the officers.
He appears relatively passive both when he was dragged down the aisle of the jet and when he is seen standing in the aisle later saying quietly, "I want to go home, I want to go home."
The chief executive of the airline's parent company initially released a statement saying that United wanted to talk to the man. But Oscar Munoz later began defending his employees, describing the passenger as "disruptive and belligerent."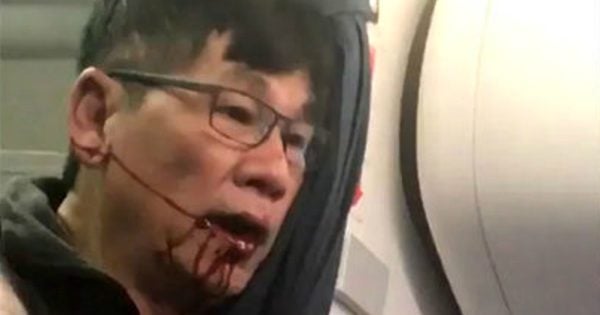 On Tuesday, Munoz issued another statement describing the removal as "truly horrific" and offering his "deepest apologies."
"No one should ever be mistreated this way," he said.
Munoz pledged to review the company's policies for seeking volunteers to give up their seats, for handling oversold situations and for partnering with airport authorities and local law enforcement.
However, in a letter to United staff leaked to US television network ABC, Munoz reportedly revealed the company had been trying to make room for four employees of a partner airline, which resulted in four passengers being told to disembark.
"We sought volunteers and then followed our involuntary denial of boarding process (including offering up to $1,000 in compensation) and when we approached one of these passengers to explain apologetically that he was being denied boarding, he raised his voice and refused to comply with crew member instructions," Munoz said.
According to records from the Kentucky Board of Medical Licensure, Dao went to medical school at the University of Medicine of Ho Chi Minh City in Vietnam, graduating in 1974. He was licensed in Kentucky with a specialty in pulmonary disease.
His legal troubles started in 2003, when his medical license was suspended after an undercover sting operation at a Louisville motel for allegedly writing fraudulent prescriptions.
According to the documents, the licensing board had learned that Dao had become sexually interested in a patient and hired the patient as his office manager.
That man later said he quit his job because Dao "pursued him aggressively" and arranged to provide him with prescription drugs in exchange for sex.
Dao was ultimately convicted in late 2004 of several counts of obtaining drugs by fraud or deceit and was placed on five years of supervised probation and surrendered his medical license.
His longtime effort to get his license back finally succeeded in 2015, when the licensing board allowed him to practice medicine again.