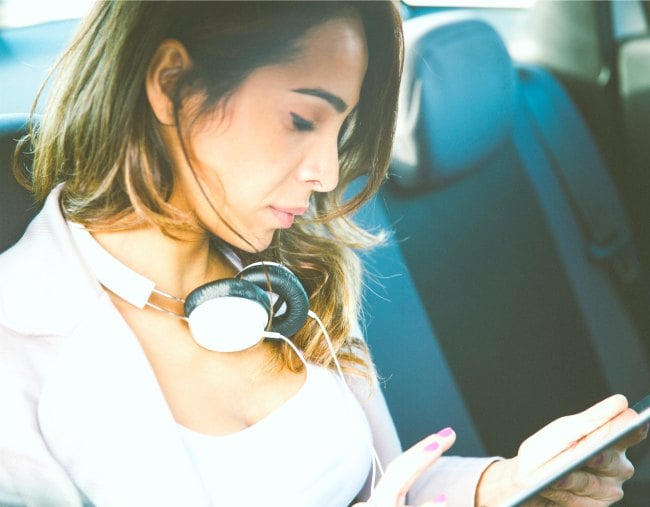 Let's be honest, our love of Uber has… well, waned.
Surge pricing, cancelled bookings and unfair ratings have cooled our once fond feelings for the ride-sharing service.
And so with that in mind, we checked out four other apps on the market to see which might make the best Uber alternative.
Shebah
Shebah is a ride-sharing app with a unique point of difference – it's all female. Yep, the app has a network of only women drivers, who only pick up women, along with their children (including boys aged up to 18). Men can also travel with Shebah, but only if they're travelling in a pre-booked car with their female partner and small child. Plus, every driver has a car seat handy for small children, and is able to transport kids unaccompanied.
Shebah creator George McEncroe wanted to offer female customers the comfort of knowing they'd be picked up by a lady and offer female drivers the chance to earn a good income.
George told Mia Freedman all about how and why she created Shebah in an episode of No Filter:
Want to hear to more?  Subscribe to No Filter.
Shebah drivers are currently picking up customers in Melbourne, Geelong, Bendigo, Ballarat, Hobart, Canberra, Sydney, Adelaide, Perth, Brisbane, and on the Gold Coast and Sunshine Coast, with plans for the service to soon be available in Darwin.
GoCatch
GoCatch is another Australian-owned Uber alternative. The ride-sharing service has the added advantage of charging none of that annoying surge pricing. It also allows customers to book at least 30 minutes ahead, up to 12 months (if you're super organised).
So far the app is established in Sydney, Melbourne, Perth, Adelaide and Brisbane.
Taxify
Taxify offers very similar pricing to Uber and using the app is a pretty similar experience. So far the app only advertises drivers in Melbourne and Sydney, but it's worth checking out if you live in one of these cities – if only to compare during peak periods.
Ola
Ola has launched in Perth, Melbourne, Gold Coast, Brisbane, Canberra and Sydney, but so far there are less drivers on the road than alternatives. Price-wise the Indian company is very similar to Uber. Like Taxify, it's worth downloading to compare prices during peak times when surge pricing might make your 10km trip home otherwise unaffordable.
More Uber alternatives…
Meanwhile, if you're in Perth, Shofer might be worth a look, and Melbourne and Geelong commuters can ride with the newly launched Didi.
Do you use a ride-sharing service other than Uber? How do you find it?