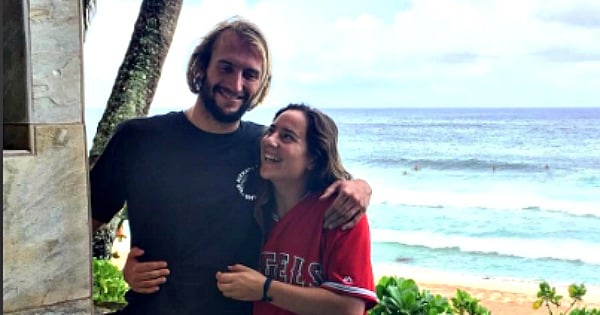 Reigning surfing world champion Tyler Wright has revealed she nearly quit the championship tour after her brother Owen Wright was seriously injured during a warm-up surf at Pipeline in Hawaii.
"I was at crossroads a lot of the time because I could have easily said, 'I'm pulling out of the 2016 season to look after Owen', and I wouldn't have had a problem with that, I would have done it," she said.
Former world-number-three Owen suffered a traumatic brain injury and minor brain bleed after being pummelled by waves at Banzai Pipeline in December 2015, the day before the Pipeline Masters event began.
In his first major interview since the accident, Owen told Australian Story he asked Tyler to stay with him in Hawaii, because he had a feeling "something would happen".
"I was like, 'I feel like I'm going really good Tyler, something is gonna happen, I feel it. Don't know what it is, you've got to stay'," he said.
Three-time world surfing champion Mick Fanning was out in the line-up with Owen that morning.
They both caught a couple of waves, and then sat on their boards waiting for the next set.
"When the next wave came he [Wright] was probably 10 feet in front of me and we both just duck-dived it, and I got rag-dolled and shaken around a fair bit," Fanning said.
"I looked back and he was 20 feet behind me. And I didn't really think anything of it, I just thought, 'oh, maybe he just got stuck in the wrong spot'."
They caught one more wave, then paddled in and walked back up to the house. Everything seemed fine.
Tyler made Owen breakfast, and then feeling exhausted after the morning session, he went to have a nap.
When he woke up he couldn't move.
Mick said Owen was crying and going in and out of consciousness.
"When that happened I was like, 'wow, this is really serious, this is actually a lot worse than what we really thought'."
Tyler pushes surfing aside to care for Owen
Tyler said Owen looked "panicked" when he woke up in Hawaii.
"You could tell in his eyes. My brother never looks panicked. He's always been very calm and collected under most situations. In his eyes, his eyes, it was like, the scariest thing I've ever seen," she said.
Tyler went with him to the hospital in Hawaii, and at 21, she instinctively moved into the role of primary carer.
"She was adamant that everything had to go through her," Fanning said.
"She became nurse, mother, sister, and that's a lot to take on for any person."
Tyler slept on hospital floors. She listened to the doctors and made medical decisions on Owen's behalf. And she credits her mum with allowing her to do it.
"Normally it would be a mum that would come in and do all that stuff," she said.
"But I have an enormous amount of respect for her, that she actually let me learn these lessons in life, and how hard it must have been for her to let one of her younger kids take [that] on.
"I made a lot of mistakes. Also, I did OK because he didn't die, so that was sweet," she laughed.
Renowned for her carefree attitude on the world tour, just two months before her brother's injury Tyler had shocked her competitors by declaring she was finally getting serious — she was going to win her maiden world title in 2016.