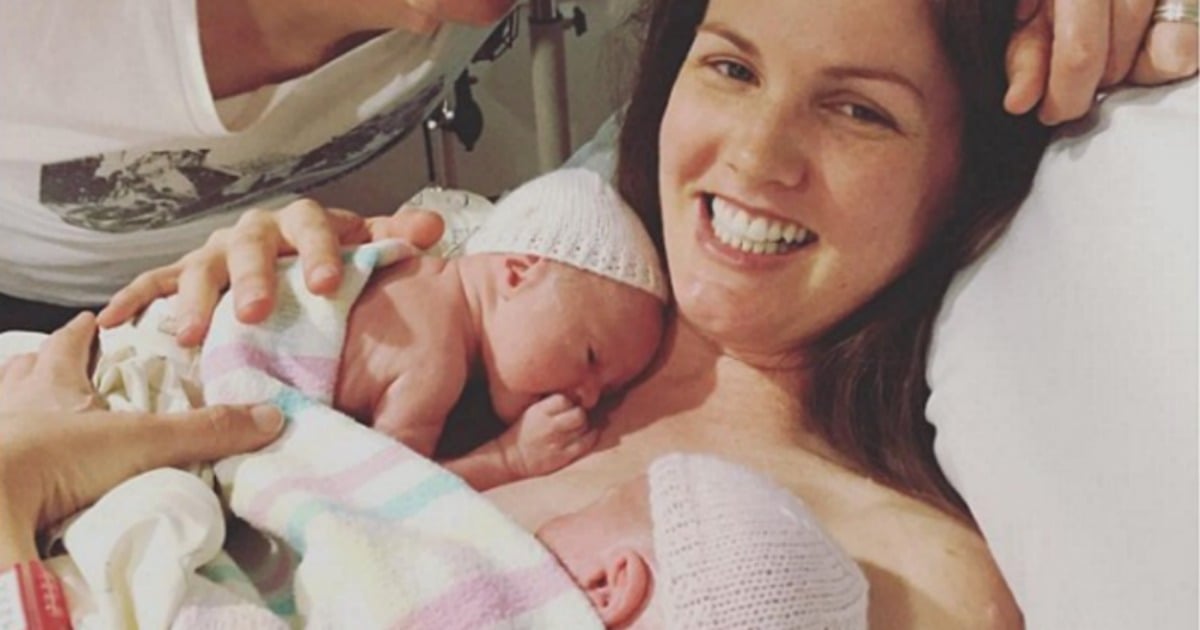 A Queensland mum has beaten the odds and had two sets of identical twins – in a family with no history of twins at all.
The Burstow family from Brisbane have welcomed their delightful babies Evie and Georgia into the world just two weeks ago – joining big brothers, four-year-old Oliver and Harrison.
Doctors say the chances of a couple conceiving two sets of identical twins is one-in-100,000.
Simone and John say they were "blown away" when they were told their pregnancy was once again twins.
She wrote on Facebook that at six weeks she had an early scan due to an ectopic pregnancy late last year, but she never expected two little blobs to pop up on the ultrasound.
"Total utter disbelief but it did help explain the terrible morning sickness. The phone call to my husband was one for the books too," she wrote on her Facebook page. "It's twins again."
"We have no history of twins in the family so I was blown away to find that we were having a second set of twins – and for them also to be identical is so very special," Simone told The Courier Mail.
Simone had previously admitted to being "petrified "at having four small children but she told Mamamia that so far the family of six were taking things "one day at a time."
"So far, so good," she said.
Watch Rebecca Judd, soon to be a mum to twins show us around her nursery. Post continues after video.
The family are breathing a sigh of relief at the healthy arrival of Evie and Georgia after a high-risk pregnancy.
"It was harder. I was sicker and a lot more uncomfortable," she told The Daily Mail.
The Queensland mother wrote on Instagram: "These twins are MCDA which means they are sharing a placenta… Although it means a lot of extra monitoring, I love getting to see them up close and personal during our scans!"
But being high-risk, come 35 weeks, it was time for the family of four to become a family of six when one of the girl's growth started to slow.
She was induced and after a four-hour labour Simone and John met their little girls.
The girls were in separate amniotic sacs and Evie was born first at two kilos and Georgia second, weighing slightly more –  2.2 kilos.
Simone said, while she had been worried how her four-year-old boys would react they were over the moon to meet their sisters.
"Harry and Ollie are very chuffed with their gig as big brothers and loved meeting their sisters," she wrote on Instagram.
Simone and John say they never expected to have such a big family and have had to adjust their life in ways they never expected – like upgrading their car to a people mover. She writes:
"I never thought in a million years I would be the owner of a people mover. I'm one of four children and we had a Tarago growing up. I was mortified travelling in the van and would often take the bus to school to avoid going in the Tarago. Fast forward a few years and here we are! I have to admit, the Kia Carnival is pretty awesome.. Plenty of room, extremely practical and very lovely to drive! My mum thinks it's hilarious I've ended up driving a van… Talk about coming full circle!"
The family's obstetrician, Dr Rob Butler, suggested they go for another record and try again for twins next year but Simone and John say they are happy at the moment just trying to work out which baby is which.
"We're finding the girls more identical than the boys," she told The Daily Mail.
"We've kept their hospital bands on at the moment because we're nervous. Their head shapes are a little bit different and that's what I'm using, but my husband is like "who have I got?"'