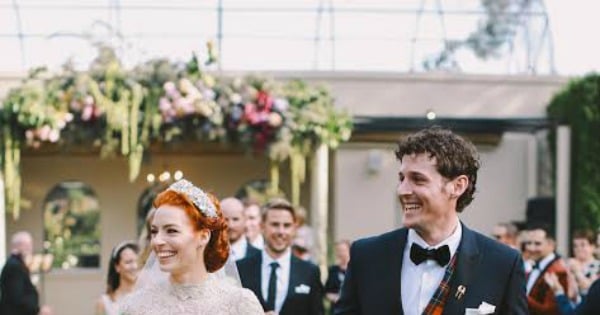 Yesterday, two of your favorite Wiggles tied the knot.
Yellow Wiggle Emma Watkins and Purple Wiggle Lachy Gillespie's relationship made international headlines when it was announced last year.
Almost 200 close friends and family of the couple attended the wiggly weekend wedding.
Emma wore an elegant ivory "vintage meets contemporary" gown by Australian designer Suzanne Harward and a diamond headpiece by milliner Viktoria Novak, who was also a guest at the wedding.
Her six bridesmaids also wore Suzanne Harward floor-length latte-coloured gowns, with each of the women wearing a simple headpiece of a single row of silver pearls. There were also two flowergirls in matching beaded tulle tutu-style latte dresses.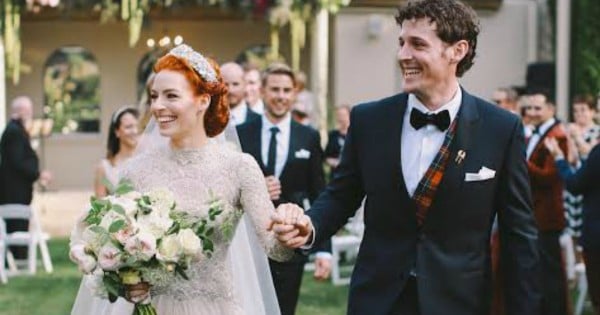 Emma wore an elegant ivory gown by Australian designer Suzanne Harward. (Image by Lara Hotz.) 
Lachy and his six groomsmen, including fellow Red Wiggle Simon Pryce, wore suits by Arthur Galan.
Along with other bagpipers from his regiment from his army days, Blue Wiggle Anthony Field wore a full regimental highland bagpiping uniform to play the bagpipes for Emma as she arrived and again when Emma, Lachy and the rest of the bridal party left the ceremony.
Both Emma and Lachy's wedding rings have Emma's Wiggles signature bow engraved and each are set with nine rubies, to signify the date of their wedding.
Emma and Lachy's wedding cake had a subtle nod to The Wiggles, with Emma's signature bow made from icing and a pale yellow and purple used to signify their Wiggles colours.
It was made by Sydney couture cake creative Felicity Beutler at Sugarbee Cakes.
Mamamia Confessions reveal the moment you knew he was "the one". Post continues after video. 
The Wiggles themselves – both original and current – were all in attendance, apart from original Wiggle Greg Page who sadly couldn't make it due to a prior commitment.
Special guest was friend Ben Elton who wrote the lyrics for a song that Lachy surprised Emma with during speeches later in the evening.
After a huge dinner full of special performances, poems and speeches, the guests danced long into the night with music by The John Field 10 piece band, led by John Field, brother of Blue Wiggle Anthony and Wiggles MD and ex-frontman of The Cockroaches Paul Field.
With so many talented musicians in the room, different guests came up to perform, including Paul Field, original red Wiggle Murray Cook and the groom himself, WAPAA graduate Lachy Gillespie.
The Wiggles themselves – both original and current – were all in attendance. (Image by Lara Hotz.) 
Lachy credits seeing Emma for the first time as his favourite part, "Seeing Emma was the most magical moment of my life. Everything else just seemed to melt away."
Emma summed up their wedding with just a few short words, "Lachy. Love. Laughter. The best day of my life."
Emma has a background in ballet, whilst Lachy is a singer and musician. In January 2013, Emma joined the group as a replacement for Greg Page, the Yellow Wiggle, while Lachy replaced Jeff Fat as the Purple Wiggle.
The couple's engagement was made with Anthony Field's blessing. (Image supplied.) 
From there the two began to form an initially secret romantic relationship. Emma is widely known as the first female Wiggle in the world's most successful children's entertainment group.
The proposal was made on a romantic date at Lavender Bay on Sydney Harbour. The proposal was traditional with Lachy on one knee, reading a poem to Emma.
As a gesture of courtesy, Lachy called Anthony Field (the Blue Wiggle) for his blessing pre-proposal.
Anthony's response was, "Lachy, I'm not your Dad!", but still gave his Wiggly blessing for the union.