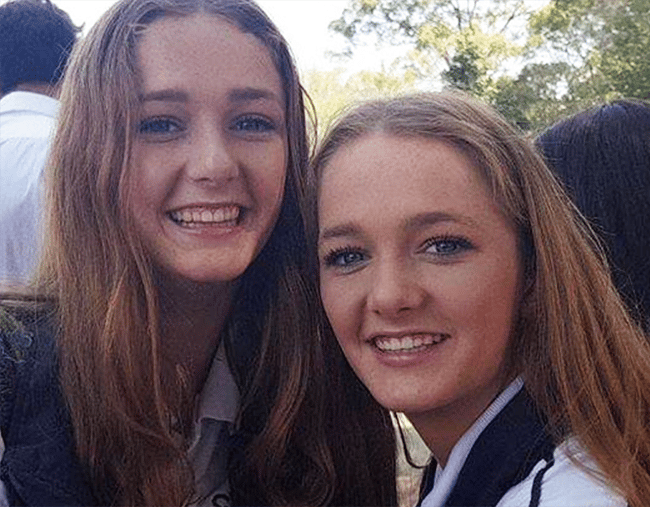 1. QLD teen's touching message to driver after twin sister dies in a car crash: "Don't blame yourself".
The twin sister of a teenager killed in a horror car crash in Queensland on Tuesday has a touching message for the driver of the car.
WATCH: Horror car crash on the Sunshine Coast, from Seven News. 
Jade Dixson, 17, was the passenger in her friend Adrian Fraser's Hyundai when the 17-year-old driver veered off the Sunshine Coast road and crashed into a tree around 11:30pm on Tuesday.
Passers-by desperately tried to help the teenagers, Daily Mail reports, but Jade died on her way to a nearby hospital. Adrian is still fighting for his life after being transferred to a hospital in Brisbane.
Now, Georgia Dixson, Jade's twin sister, has shared a touching message to Adrian via social media, Sunshine Coast Daily reports.
"We are always here for you," the grieving sister wrote.
"You're very strong and you will get through this, don't worry about what people say. Jade loved you very much and she wouldn't want you to be angry at yourself."
She ended the message with a "stay strong" and "love you".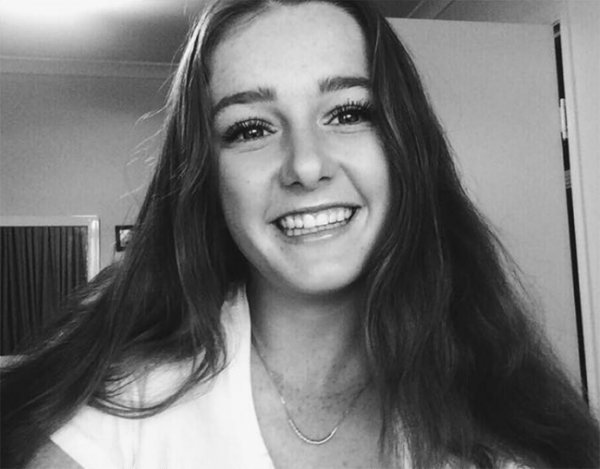 Meanwhile, tributes are flowing in for Jade, who is described as an "unbelievably talented' young footballer", Daily Mail reports.
"Everything came second to football for Jade; you don't often see passion like that," close family friend Andy Kinden, who is also president of the local football club, told Sunshine Coast Daily, adding Jade was a "bright and bubbly" girl.
"They are a family that sticks by each other... her and Georgia were very close.
"I couldn't even start to think how difficult this is going to be for them all."
Speaking about Adrian, Kinden said: "Adrian [who also plays football for the same club] is in a bad way at the hospital. He and his family need support."
Police are investigating the cause of the accident and, speaking to Sunshine Coast Daily, Senior Sergeant Gary Brayley applauded the drivers who stopped to help.
"(The teenagers) were very fortunate in terms of having some other members of the public who did stop and render first-aid," Snr Sgt Brayley said.
"I understand they've done an admirable job in doing that."
"The Forensic Crash Unit are investigating and every aspect of the crash will be looked at very thoroughly including driver behaviour, conditions, adherence to the road rules."
2. "She's the most determined person." Teen's remarkable recovery after falling 10m on a school camp hike.
Faith Butt, 13, was hiking with her Year 8 school camp when she tripped and fell 10 meters, landing face-first on the rocks below - a fall that cracked her skull and immediately rendered her unconscious.
Now, after 50 days in a coma with her parents being told "she might not make it", the 13-year-old is making a remarkable recovery.
"She's the most determined person I've ever met," Faith's mother Barbara told Seven News last night.
It took rescuers five hours to reach Faith after she fell, and the young teen was flown to the Royal Children's Hospital with critical head and chest injuries.
"It took about 30 or 40 [people] to walk up a hill to find her, and then they tried to stretcher her out because the helicopter couldn't get to where she was," Barbara said.
"I knew then it was very serious. We were told she may not make it."
Though there is still a long road ahead - Faith must now re-learn how to walk and talk - her doctor, Dr Juliet Clayton, told Seven News everyone is surprised at the speed of Faith's recovery.
And her attitude is one to reckon with: There are photographs of the 13-year-old smiling in her hospital bed, her "determination" well and truly shining through.
3. Cricket coach Darren Lehmann had "no idea" about ball-tampering, as Smith and Warner are each handed 12-month bans.
James Sutherland insists footage of Darren Lehmann from the third Test has been misconstrued, suggesting the stunned coach demanded Peter Handscomb find out "what the f*** is going on!?".
Cricket Australia (CA) has finalised a formal investigation of the cheating scandal, with every member of the touring party cleared apart from Steve Smith, David Warner and Cameron Bancroft, AAP reports.
The host broadcaster captured images of an alarmed Lehmann shortly after Bancroft attempted to cheat by scuffing the ball with sandpaper.
The footage shows Lehmann using a walkie-talkie to contact 12th man Handscomb, who then runs out a message to Bancroft.
It has been widely alleged that Lehmann wanted Bancroft to conceal the evidence, something the side's most inexperienced player spectacularly failed to do when he shoved the sandpaper down his pants.
CA chief executive Sutherland says his organisation's head of integrity Iain Roy, who investigated the scandal by grilling players and support staff on Monday, found that to be untrue.
"It's been verified by others that on the walkie-talkie... he radioed down and said 'what the f*** is going on!?'," Sutherland told reporters.
"He said to Handscomb, 'find out what the f*** is going on'.
Lehmann then interrogated players himself at tea on day three of the Test in Cape Town.
Captain Steve Smith and vice-captain David Warner have been banned from international cricket for a year and stripped of their leadership positions, with the latter branded 'never to lead again' by Cricket Australia (CA).
Cameron Bancroft has also been given a nine-month suspension for his role in the Cape Town cheating scandal that has triggered nation-wide outrage.
4. NSW skydiver honoured for bravery after he died trying to save a teenage boy whose parachute malfunctioned in a freak accident.
When Samantha Rokov learnt her husband Antonio had died trying to save a teenage boy during a freak skydiving accident, she was not the least bit surprised by his selflessness.
She says the NSW skydiving instructor, who will on Thursday be awarded a Star of Courage for his bravery during the 2015 incident, had always put others before himself.
"We all just went 'of course he would've'," Ms Rokov told AAP.
"That's Tony. That's what he would do. He would make that sacrifice."
Mr Rokov was on a tandem skydive with a then 14-year-old boy near Goulburn Airport in NSW on November 21, 2015 when a freak gust of wind folded their parachute in half just 20 metres from landing.
The boy was flipped horizontally as they plummeted towards the ground, but Mr Rokov twisted his body underneath him, taking the full force of the impact.
The boy was injured but survived the fall, while Mr Rokov - who had grown to love skydiving during a career in the army - died of his injuries.
Ms Rokov said she took some comfort in knowing her husband's death had not been senseless, but allowed a young man to live the long life ahead of him. She said she has been in regular contact with the boy's mother and been pleased to hear he is "doing really well".
"It makes a tragedy just seem a little bit easier to deal with, because it's something so positive," Ms Rokov said.
Mr Rokov is one of two Australians awarded the Star of Courage bravery decoration on Thursday, along with Lindt cafe siege victim Tori Johnson.
Ms Rokov said the recognition would help her son, who was particularly young at the time of the accident, to understand what his Dad had done.
"(He'll) be able to go, my Dad's been remembered for his bravery," she said.
"We miss him every single day. It's just really hard, with his parents especially and his family, and our family as well.
"But I'm just so proud of him. So proud of him. Right to the very end."
5. Vaginal mesh labelled a "torture device letting women down" and should only be used a last resort.
A Senate committee has recommended transvaginal mesh only be used as a last resort after victims told an inquiry harrowing stories of devastating physical and mental scars, AAP reports.
The mesh has been used since the 1990s to treat stress urinary incontinence and pelvic organ prolapse in women, with many experiencing severe impacts.
A report tabled in parliament on Wednesday made 13 recommendations including mandatory reporting of adverse effects on women, more information about the risks of implants and better training for doctors and surgeons.
"Many women who have had transvaginal mesh implants have had devastating complications resulting in ongoing emotional trauma, embarrassment, shame, depression, debilitating pain, recurring infection and a poor quality of life," committee chair, Greens senator Rachel Siewert said.
Independent senator Derryn Hinch said the committee had heard frightening stories of complications for women who had been let down by the Therapeutic Goods Administration.
"Having first been told there's only a one per cent chance of an adverse reaction, they have since been treated like mushrooms," Senator Hinch said.
"Kept in the dark and fed bulls*** by doctors, hospital administrators, the drug companies and sadly even the TGA."
The committee recommended the mesh be used only with fully informed consent and as a last resort when other treatment options have been properly considered and determined unsuitable.
Establishing a register of all high-risk devices and providing information of how to seek treatment in the event of complications were among the report's other recommendations
"This should never have happened. We need to fix it. We need to be providing support for these women," Senator Siewert said.
Senator Hinch said the netting, which had led to relationship breakdowns, could become brittle, break away in shards and splinters to float around the body.
"No wonder these slings have been called a torture device."
6. Good girl pupper who died after being bitten by a snake comes back to life in "miracle" recovery.
Portia is a 10-year-old dachshund and a very, very good girl.
Two weeks ago, she was bitten by a venomous snake, an intruder in her Brisbane backyard. By the time she reached the vet, the little doggo was dead.
"She had no heartbeat; was not breathing; she had dilated pupils; and a blue tongue," Beachside Veterinary Surgery in Brisbane posted to Facebook.
But, in what's been described as a "miracle", Portia has come back to life and is making a full recovery. On Saturday, the clinic showed Portia heading home with only a bandage on her leg.
"She received intracardiac adrenalin, chest compressions which restarted her heart, ventilation for 18 hours, snake antivenom and oxygen therapy for 4 straight days (and a lot of other stuff)," the Facebook post reads.
"She's a fighter and so are we."